The Wu-Tang Clan carry an almost mythic weight, so it's no surprise that their origins have become a breeding ground for storytelling. There's a drama series about their early days in development at Hulu, as well as a docuseries about the group, Of Mics And Men, that just premiered at Sundance ahead of its spring debut on Showtime. Now, RZA will draw upon the members' upbringings with a flick of his own, one that, befitting the group's aesthetic, will frame the events as a "suspense horror thriller."
This comes via Deadline, which says the film—titled Angel Of Dust—is "inspired by true stories that happened around the hood to members of the global iconic rap group when they were growing up in and around the Staten Island Projects." Ghostface Killah and Wu-Tang manager Caruso are credited with the story, while the script comes from Matt Leslie and Stephen J. Smith, who penned last year's Summer Of '84. RZA will score the film in addition to directing it, while Wu-Tang will provide an original soundtrack produced by Ghostface.
The story will follow Casey, a smart, young rapper who squares off against a serial killer with "seemingly supernatural powers," one the media has dubbed the Angel Of Dust. Along the way, he'll cope with the mysterious death of his parents and a cavalcade of "gangs, corrupt cops, junkies, and bullies."
"The creative collaboration of RZA and Ghostface has stood the test of time through our music," RZA told Deadline. "Now the opportunity to put our creative energies together onto the silver screen has arisen and I'm turbo charged. Bong Bong!"
This year, RZA will release another directorial effort in Cut Throat City, a heist thriller starring Ethan Hawke, Terence Howard, T.I., and Wesley Snipes. He'll also co-star with Eric Roberts (!) in the indie Hard Luck Love Song. 
G/O Media may get a commission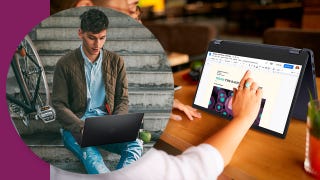 Ends August 15
Best Buy Anniversary Sale 2022
Ends August 15
Best Buy has a number of different promotions happening all for its Anniversary Sales Event. Laptops, tablets, TVs, you names it. Whether you're heading back to school or just trying to fill your home with some new tech, there is something here on sale that you've likely been waiting for.
Bong Bong, indeed.