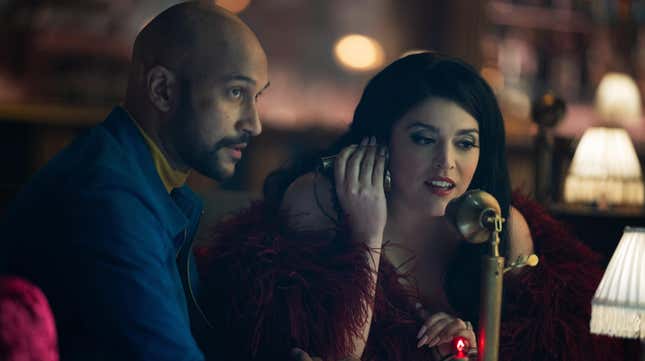 Season two of Schmigadoon!, dubbed Schmicago, is for a very specific type of theater kid—namely, the type who'd imagined what it would be like for Sally Bowles to make flower crowns with the Hair tribe, the Kit Kat Klub dancers to audition for A Chorus Line, and Sweeney Todd to collaborate with Miss Hannigan on a new ingredient. So yeah. If jazz hands and fishnet tights scare you, you've been warned. After spoofing the saccharine Golden Age musicals of the 1940s and '50s in season one, Cinco Paul and Ken Daurio's show, which kicks off its sophomore outing on April 5 on Apple TV+, spotlights the edgier, darker ones of the 1960s and '70s.
In The Heights' Olga Merediz has spent a decade with Abuela Claudia
In the season premiere, after returning to their real lives post-Schmigadoon, Melissa (Cecily Strong) and Josh (Keegan-Michael Key) are too touched, too moved, too changed by their experience. So the now-married couple dons their backpacks and goes out in search of Schmigadoon once more. Instead, they stumble upon Schmicago, a town full of seedy clubs, shady characters, and all that jazz. Martin Short returns as the Leprechaun, who mandates that they have to stay until they make a happy ending. Naturally, the two wind up at the center of the town drama, this time in the form of a murder mystery.

If the juxtaposition between season two's grittiness and season one's bright-eyed and bushy-tailed tributes to musicals like Brigadoon, Carousel, and Oklahoma! feels jarring, then the show has done its job. Musicals like Chicago, Cabaret, and Hair represented a change in the theatrical guard when they hit the scene, reflecting the fast-changing political and cultural landscapes of their times.

Yet despite the magnitude of these musicals when they premiered on Broadway, Schmigadoon! lovingly pokes fun at the self-seriousness of them, which is especially prevalent in a clear tribute to Sweet Charity's "Big Spender." What was seen as avant-garde half a century ago elicits shrugs from us nowadays. Still, if you can buy into the stakes, the world of Schmicago is sexy and seductive. The way the writers have cleverly woven together multiple musical motifs while peppering in as many winks as possible is genuinely impressive. The principal cast dazzles and delights, and it's nicely rounded out by a dynamite ensemble.
In a nod to Pippin's Leading Player and Cabaret's Emcee, the audience is gifted Tituss Burgess as a narrator to guide us through the story, whose knack for camp, charm, and comedic timing elevate every scene he's in. The other new principal cast member for season two is Broadway veteran Patrick Page, who seamlessly slips into his villainous character Octavious Kratt (an ode to Sweeney Todd's Judge Turpin) with his booming bass voice and sinister facial expressions.

Returning cast members are back too, inhabiting new characters: Dove Cameron becomes Jenny Banks, in reference to Cabaret's Sally Bowles; Jaime Camil is Sergeant Rivera, like Les Misérables' Inspector Javert; Kristin Chenoweth is Miss Coldwell, Annie's Miss Hannigan with the Cockney accent of Sweeney Todd's Mrs. Lovett; Alan Cumming is Dooley Finn, almost identical to Sweeney Todd; Ariana DeBose stops by to do her thing as Cabaret's Emcee; Ann Harada is Madam Frau, likened to Cabaret's Fraüline Schneider; Jane Krakowski is Bobby Flanagan, in an homage to Chicago's Billy Flynn, with some Roxie Hart overtones; and Aaron Tveit is now Topher, the leader of a tribe à la Hair and Godspell.

Phew. So. While all of the returners bring their musical-theater chops, Krakowski and Tveit end up shining the most. The former has an uncanny ability to be wholeheartedly invested in the world, but with a simple flutter of her eyelashes or sly grin, she lets us know that she is very much in on the joke—or, perhaps, that she even has a secret joke of her own. Tveit, whose resumé is filled with mostly serious, romantic leading men, proves that he has much more to offer, showcasing a strong understanding of farcical comedy with his playful performance.

The splendid scenic design and costume design bring in details that will make eagle-eyed fans squeal with glee, too. (Look for several buildings honoring the era's iconic musical theater songwriters Fred Ebb, Jerry Herman, John Kander, Stephen Schwartz, and Stephen Sondheim, plus Hair tribe member Michael sporting a vest in the style of Les Misérables' Enjolras.) And as for the music: After picking up an Emmy for season one's "Corn Puddin'," Paul once again skillfully captures the essence of the genre and time period here. There are plenty of catchy tunes to choose from, but a tribute to Company's "You Could Drive A Person Crazy" is our vote for the standout.
If this all sounds like the show's comedy comes from inside jokes and musical references, well, yes, a lot of it does. But luckily, Schmigadoon! doesn't take itself too seriously, which adds to its charm and helps bring in the non-theater kids who might not get this kicker: Leave your fields to flower, leave your cheese to sour, and join us in the wonderful and whimsical world of Schmicago.
---
Schmigadoon! season 2 premieres April 5 on Apple TV+