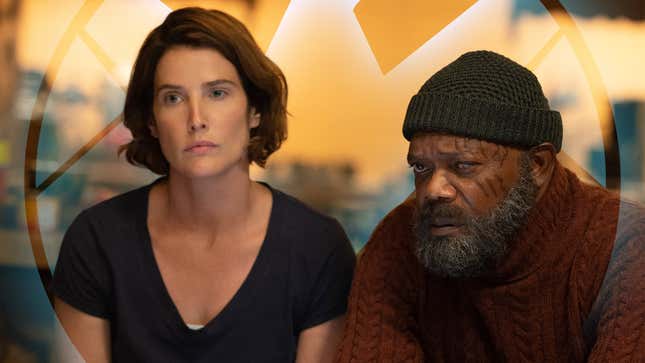 [The following contains spoilers from Disney+'s Secret Invasion.]

In every workplace, there are two types of people. There are those with impressive titles, whose clothes—be it their own or a uniform—are slightly flashier than everyone else's, who are louder and more noticeable, and who always get, or take, all the credit. They're the Avengers.
Florence Pugh's indie pals weren't happy when she joined the MCU
And then there are the people without whom the workplace would fall apart. They're quietly brilliant at what they do, loyal, clever and work really, really hard. And they do it all day in, day out and almost invisibly. They're Maria Hill.

Since her first appearance in the Marvel Cinematic Universe in 2012's Avengers, Maria Hill (Cobie Smulders) has been seen in around half a dozen of the MCU's films and TV shows, from Agents Of S.H.I.E.L.D. to Spider-Man: Homecoming.

She's been essential during that time, from being trusted with some of Nick Fury's (Samuel L Jackson) biggest secrets, like his use of Project T.A.H.I.T.I. to bring Phil Coulson back to life, to coming to the rescue of various Avengers, and just being an all around solid backbone through years of messy superhero/civilian politics and shenanigans.
Were it not for Hill's rescue, Steve Rogers, Sam Wilson, and Black Widow might well have died at the hands of Brock Rumlow and HYDRA in Captain America: The Winter Soldier. She held her own during Ultron's initial attack on the Avengers facility in Avengers: Age Of Ultron, being the first to load her gun and joining in as the Avengers attempted to destroy Ultron, even though she doesn't have healing powers or super speed or incredible physical strength.

And there's much, much more: She's great at staying calm in fraught situations, she's never afraid to get in the middle of a battle, and she can fight. She's basically a superhero, just without superpowers.

Brave, loyal—and undervalued
Hill's roles in the MCU's various properties have generally been small, partly because for a number of years Smulders' other filming commitments (like How I Met Your Mother) kept her from taking on something bigger. Even if she had been available to film a lot more, it's highly unlikely in the early days of the MCU that she would have been given much more to do, given that, well, she's a woman and the MCU hasn't historically been great at valuing women (see: Black Widow) or showing us their nuances (see: also Black Widow).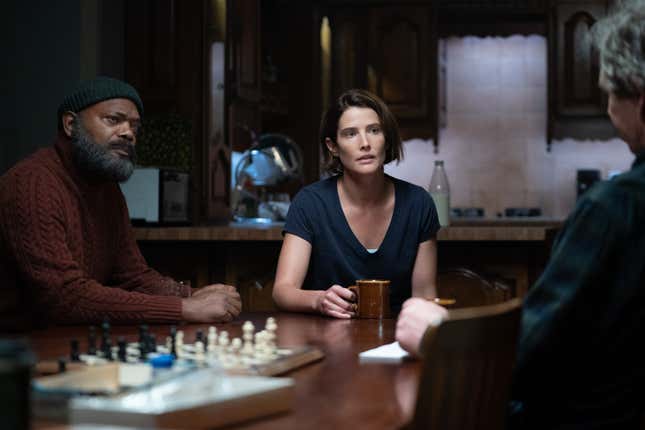 But Secret Invasion was supposed to be the show that finally gave Maria Hill the development and due she should have been accorded, and for a moment, it seemed that it would come through. Hill was proactive and right in the thick of things (as she usually is) and taking on a leadership role. And then Fury happened.

While Hill has always been loyal to Fury, she's never been afraid to question him, which makes her character even more essential and compelling. As far back as The Avengers, she was visibly skeptical of Fury throwing together a disparate group of superheroes in an unstable alliance. What's more, she was perceptive enough to know that Fury was manipulating the Avengers with the (supposedly late) Coulson's vintage trading cards, calling him out on it.
Years later, in Secret Invasion, her joy at welcoming Fury back to Earth is tempered by her concern for both an older, wearier Fury and the wider mission to stop a Skrull invasion.

"The Fury I knew was always three steps ahead," Hill says to Fury over a chess game in episode one, revealing she only called him back to help at the request of Talos (Ben Mendelsohn). Fury, for all his talent and hard work, has been off-planet trying to come to terms with everything that happened before, during, and after The Blip. Hill has been on Earth, facing everything head on, and not afforded that time.

"Your lack of contact over the past few years sent a pretty clear message," Hill continues in Secret Invasion. "You're not ready for this, Fury. There's a very real threat out there. You were never the same after The Blip. You always told me there is no shame in walking away when the steps are uncertain. So check your footing, otherwise someone's going to get hurt."

Marvel fridges another woman
Her words, of course, are prescient. Fury walked away, but his return does lead to someone getting hurt, and of course, it's Hill. In the final battle of Secret Invasion's first episode, Hill is shot by the Skull Gravik (Kingsley Ben-Adir). To make it all just that much crueler, at the time he's disguised as Nick Fury: her mentor, her colleague, her friend.

Fridging, and the fridging of women characters especially, is a trope that should long ago have been left in the past. The idea that the MCU pulled it out again (after doing it to Scarlett Johanssen's Black Widow in Avengers: Endgame) is anger-inducing. Dying in the way Hill did is a sad and unfitting end for a character who gave and gave and gave to Fury.

But perhaps it was inevitable. In the workplace, the loyal employees who keep everything running are rarely rewarded. Instead, they work and work and work until they burn out or come to the realization that they need to leave, because The Man is not going to value them unless they value themselves. Maria Hill was never appreciated enough within the MCU, and she never had the chance to get out and live her own life or show us who she was beyond work. And that? That will always be a tragedy.