In his feature-length debut, See You Yesterday, co-writer and director Stefon Bristol asks one of sci-fi's most indulgent questions: If you had the power to travel through time, what would you go back and change? When 16-year-old science prodigy Claudette Walker (Eden Duncan-Smith)—affectionately referred to as CJ by her friends and family—and her best friend, Sebastian Thomas (Dante Crichlow), successfully build a pair of time-traveling backpacks, they don't exactly have the luxury of securing riches or rubbing elbows with famous historical figures. Instead, they harness their newfound power in an attempt to save CJ's older brother, who is murdered by the police on his way home from a party about a third of a way into the story. It's a sobering twist on a classic premise, and such a dichotomy should result in tonal whiplash. Instead, See You Yesterday, which premiered at the Tribeca Film Festival before finding a home at Netflix, finds a striking-yet-natural balance between genre concept and a harsh reality that is achingly familiar to the people who have to navigate it every day.
An early scene at the Bronx High School Of Science is so emblematic of the film as a whole that it could double as its cinematic DNA. While CJ is intently reading Stephen Hawking's A Brief History Of Time, Sebastian and his friends peruse a copy of Kwanza Osajyefo's comic Black, which explores a world where only black people are genetically able to acquire superpowers. At the head of the class their teacher, Mr. Lockhart, is nose-deep in a well-worn copy of Kindred by Octavia Butler. Once Lockhart lowers his book, the audience finds themselves basking in a blessed cameo from Marty McFly himself, Michael J. Fox. All of it—Stephen Hawking, Black, the nods to Butler and Back To The Future—works together to uniquely shape See You Yesterday's identity. And with Spike Lee billed as a producer, it resonates like a hopeful passing of the baton.
Amid the host of things that Bristol and co-writer Fredrica Bailey accomplish nearly flawlessly in See You Yesterday, their ability to obliterate any false, ill-conceived walls between science, fantasy, and black culture resonates especially well. From CJ and Sebastian casually discussing physics in the streets of East Flatbush to the growing protests against police brutality that occasionally inform the background of the film, no effort is made to separate these two realities. To a demographic that is rarely centered in sci-fi, that's an important skill to maintain, and it proves vital when CJ's brother, Calvin (Astro), is gunned down by the police. Instead of abruptly halting the fantasy, this ripped-from-the-headlines element only contextualizes how differently genre takes shape in the hands of the marginalized. The transition from talking about gun violence to time jumps and proton packs feels no more disorienting than laughing at memes one moment and mourning a new, unarmed victim of state-sanctioned brutality the next—something that black and brown Americans understand far too intimately.
With a brand-new mission, CJ and Sebastian proceed to leap back in time in an attempt to alter Calvin's fate. Little more than shaking metal, orange static, and a generically heroic score signal their move through the space-time continuum, and that's just fine. Would it have been fun to witness a parade of expertly executed CGI? Maybe, but that might have squashed the youthful charm that See You Yesterday exudes in buckets, a charm that is only enhanced by Duncan-Smith and Crichlow's inherent chemistry.
G/O Media may get a commission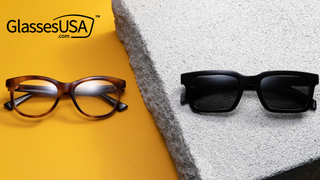 60% off frames
GlassesUSA.com Back to School Sales
In general, Bristol and Bailey more than prove their ability to creatively walk a very fine tonal tightrope in See You Tomorrow, never leaning too heavily on the fantasy or the harsh reality of CJ's circumstances. What we're left with is a tale that isn't meant to serve as an escape, but as an innovative continuation of an ongoing fight that illustrates the mental distances that black Americans have to traverse in order to even imagine a peaceful existence. More importantly, See You Yesterday expounds on a very simple truth right up to its cryptic ending: When you're up against a staunchly oppressive force, there is only so much you can overcome, even with the ability to bend time and space. But you have to keep trying.