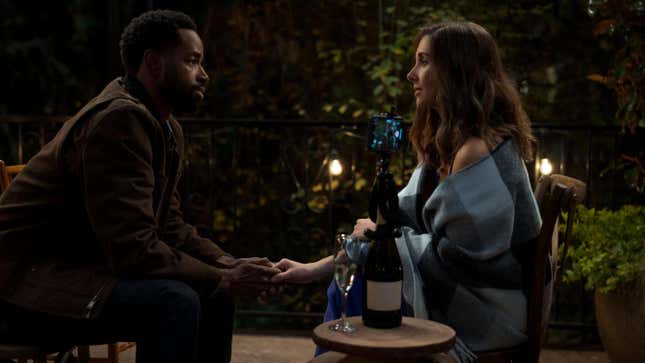 "You're not gonna pull off some Julia Roberts/My Best Friend's Wedding shit are you?" With that one line, Somebody I Used To Know both tips its hat to its most obvious inspiration and establishes enough winking distance to keep this latest Dave Franco/Alison Brie collaboration from feeling like a toned-down remake of that classic rom-com. Whereas that 1997 film brimmed with broad slapstick comedy as Roberts' Jules attempted to foil a wedding (in order to bag the groom for herself), Franco's 2023 twist aims for a more melancholy register.
Ally (Brie, doing double duty as co-writer and star) is at a crossroads. Her successful reality competition show is suddenly canceled. And while she'd love to go back to her documentary film roots, she's encouraged instead to take some time for herself which, in true rom-com fashion, requires this career-driven protagonist to head back to her hometown. There, a chance encounter with Sean (Jay Ellis), the ex she left behind, has her wondering if she made the right call leaving for L.A. all those years ago. The two still have great chemistry and can egg one another into chugging cheese sauce and every kind of beer available. It's as if no time has passed; he's the comforting blanket Ally needs as she reassesses what she wants to do with her life and whether her priorities are what they should be.
You'd be forgiven for thinking Franco and Brie have concocted a grown-up, maudlin-free riff on any given Hallmark movie. That is, until Ally finds out Sean is set to be married—that weekend—to a young, cool, queer, punk rock chick. And once she's not-so-nakedly flirting with the groom-to-be, Ally must wrestle with whether she wants to emulate Julia Roberts and become that desperate girl trying to mess up a wedding to reclaim what she once lost. If she does, how far will she go before she realizes what she's fighting for may not be all that good to begin with?
It is no insult to say that Brie is no Julia Roberts. The Community, Mad Men, and GLOW star has a more grounded on-screen persona. It's one that she's honed and perfected over the years and allows her to easily shuttle between network comedies and cable dramas, creating indelible characters that surprise you precisely because they feel so familiar. Her charisma, even in a character like Ally who makes up songs on the spot to her cat and who's keenly interested in naturism, is laced with a wistful sadness for what could have been.

If nothing else, Somebody I Used To Know is a welcome reminder that Brie remains one of our most undersung performers; you'll never hear "Semi-Charmed Kind Of Life" the same way after you hear what her Ally does to it. Ellis matches her beat for beat, proving as he did in HBO's Insecure that he can still make us swoon with just a playful glance. Such moments are what make this endearing film worth catching. Where else can you witness Haley Joel Osment doing the worm, Julie Hagerty playing a woman who's having all the daytime sex she could ever want, and Amy Sedaris as a live-action version of her BoJack Horseman character?
Amid all those standout moments, there's an ease to Somebody I Used To Know. It's not just that Franco has assembled a capable ensemble to surround Brie and Ellis (including Brie's Community co-star Danny Pudi and Hearts Beat Loud standout Kiersey Clemons). It's that Somebody I Used To Know doesn't pretend like it'll surprise its audience. Even if you haven't watched My Best Friend's Wedding, you'll easily surmise what will happen between Ally and Sean. So instead, the film finds an amiable groove where its characters wonder whether what they've told themselves they want is indeed what they most desire. And, in Ally's case, whether getting it is worth sabotaging her career and someone else's happiness.
Such a proposition may sound modest, but it's the register Franco and Brie are gunning for. The film's rom-com template feels more like a structure to play with, a solid foundation on which to question the very tenets of romance and comedy. After all, it's a genre that oftentimes sees love as a zero-sum game, where pairing up comes at the expense of, say, one's career, one's ambitions, or even one's family. Tackling those thorny subjects with a laidback comedic cadence, Somebody I Used To Know ends up working precisely because it puts an emphasis on the individuals, not the couples they make up.
(Somebody I Used To Know premieres on Prime Video on February 10.)