In Podmass, The A.V. Club sifts through the ever-expanding world of podcasts and recommends the previous week's best episodes. Have your own favorite? Let us know in the comments or at podmass@avclub.com.

---
To close out Jockdoughberfest 2017, Mike Mitchell and Nick Wiger finally go head-to-head with rivals Sean Clements and Hayes Davenport for the highly anticipated Great Shrimp Off. Meaning, this week's episode of Doughboys is an hour and a half of the guys eating exorbitant amounts of shrimp at Red Lobster. If that sounds a bit disgusting, it is. But the innately gross audio element is also what makes it so distinctly funny. The competition itself is ridiculous, which makes Mitchell's determination, Wiger's poor performance, Davenport's effortless eating prowess, and Clements' signature lax attitude the perfect storm of Doughboys content. Listening to them order in real time and have casual chats about everything from Everybody Wants Some!! to Scott Peterson, all while randomly shouting out how many shrimp they've eaten, is truly everything that fans of the Doughboys/Hollywood Handbook dynamic could hope for. The hosts all know what makes the others laugh ("Are we gonna get some of those biscuits? What do you put in those things?!"), yet it never feels performative. The unapologetically live recording quality brings listeners close to the action, a front-row seat to everything that makes these four the best frenemies in podcasting. [Rebecca Bulnes]
---
G/O Media may get a commission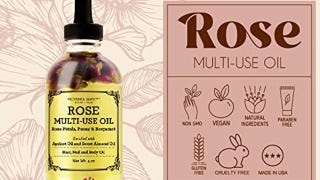 Provence Beauty Rose Multi-Use Oil
A new 10-episode series from Stitcher examines the UFO-worshipping Heaven's Gate cult, which effectively ended upon the mass suicide of 39 members in 1997 (though its website is still kicking). The show is written in part by Missing Richard Simmons' Dan Taberski and hosted by Snap Judgement's Glynn Washington. The early episodes reveal that, despite the group's fatal end, the founders of Heaven's Gate billed the church as the sole path to the afterlife that didn't require death to get there. Followers were ordered to change their appearance, cut off contact with families, and even adopt new names, usually with an "odie" suffix. One member's estranged mother published an advertisement looking to find other parents of children indoctrinated by the group. Her efforts helped organize members' families, but also led to a voicemail from her son, whom she had not heard from in five years. In the spaces between narrative, Washington speaks openly of his upbringing in the cultish Worldwide Church Of God, attempting to explain the thinking of those wholly consumed by messianic sects and their leaders. [Zach Brooke]
---
Welcome to the final wave in feminism in which, as Misandry With Marcia And Rae's hosts put it, "all men will be defeated for good." Brooklyn comedians Marcia Belsky and Rae Sanni bring the humor and facts as they discuss everything from Breaking Bad to R. Kelly through a strong feminist lens. This week, the duo tackles Facebook's misogynistic tendencies, pointing out numerous examples of hate speech made by men against women going unpunished despite the social media platform's policy promises. It gets more interesting, though, when Belsky shares her personal experience of being banned from Facebook after commenting "men are scum" on a thread of threats made by men toward women. This pattern of behavior speaks to Facebook's decision to view both misandry and reverse racism as punishable offenses equivalent to actual power systems of misogyny and white supremacy. Suffice it to say, Facebook is scum. But so are a lot of other things, which Belsky and Rae valiantly discuss throughout the remainder of the episode. [Becca James]
---
Playing Games With Jimmy Pardo
Nikki Glaser
Jimmy Pardo has a great voice for radio. Right from the start of his latest podcast venture, Playing Games With Jimmy Pardo, it's clear that the longtime comedian and Never Not Funny fixture has hosted game shows before, and along with co-host Matt Belknap (and this week's guest host, Nikki Glaser), Pardo puts that experience to good use. Competitors call in from around the country, "buzzing in" to answer questions by calling out their own names. The highlight of this episode would have to be the round in which contestants must identify a song by the first lyric, with Glaser offering hints by singing more of the mystery song; her renditions of "Genie In A Bottle" and "Baby One More Time" are hilarious. Overall, Playing Games With Jimmy Pardo has the feel of an old-school call-in program with a contemporary, game show podcast format twist. Throw in the comedic stylings and vocal quality of its hosts, and Playing Games is even more fun to listen to. [Jose Nateras]
---
Chicago-based Third Coast gives producers and listeners a multitude of ways to celebrate audio storytelling. One such offering, Re:sound, remixes "audio goodness from around the world," serving as a compilation of thematically related audio. The theme for this week's hour is "what we see—and what we want to see—when we gaze into our reflections in the mirror." Featuring three works by women who have created powerful stories and statements on the topic, including Cathy FitzGerald (BBC Radio 4), Rebecca Hertz (Snap Judgement), and Lea Redfern (ABC Radio National), each section remains thoroughly engaging, exposing listeners to numerous voices and ideas. A highlight includes Hertz's work for the 2012 Snap Judgment episode "Only Volunteers," which examines what happens to a TV producer when they begin work on a reality makeover show that they thought was going to help women realize their dreams, but ends up being something else all together. Re:sound takes a chance in terms of production and it pays off. [Becca James]
---
As tradition states, Saturday Night Movie Sleepovers closes out its annual month-long Halloween celebration with a film that actually takes place on Halloween. This year, J. Blake and Dion Baia look back on 1993's Hocus Pocus. Originally a flop for Disney, the film developed a cult following thanks to countless showings on the Disney Channel and ABC Family. It's a noteworthy episode, as this is one of the rare occasions when J. Blake has zero nostalgia for the film at hand, having watched it for the first time for this discussion. Baia—a bigger Disney fan than some—has much fonder memories of the film, particularly as a young man developing a crush on a witchy Sarah Jessica Parker. Per usual, there's lots of great background on the film (whose journey from script to screen took nearly a decade) and a compelling discussion on the notion of nostalgia and how fans develop their tastes. This also might be one of the only Hocus Pocus–focused podcasts that features a discussion of Dario Argento's Three Mothers trilogy. [Mike Vanderbilt]
---
The podcasting arena feels very much like the garage band explosion of the '60s. Any willing group of friends with a basement and some cheap gear can put out something worth listening to. Some people might even hear it. Six Pack And A Pod has a D.I.Y aesthetic to it, and its opening theme certainly has one foot in what rock critics call "lo-fi." The concept of three guys drinking and talking about pop culture doesn't break any new ground, but the charm of the three hosts—as well as their ability to move things along at a brisk pace—absolutely makes it worth listening to. This week finds the hosts exploring pop culture touchstones and declaring them overrated or underrated once and for all. Just a few of the items on deck are AIM, Mike Ditka, IPAs, Batman, and opening the door for people. For such a geek-centric show, there's an impressive knowledge of the NBA. The answers and discussions are quite funny and surprisingly deft. Six Pack And A Pod should certainly keep anyone who's ever slammed beers in a kitchen with friends and argued about their favorite Mario Bros. game entertained for an hour. [Mike Vanderbilt]
---
The concept of songwriting is a mystery to most, even those who have made a career at it. There are so many layers to the process—composition, recording, lyrics—that to break any song down to its component parts is a fascinating process. This week on Song Exploder, Kyle Dixon and Michael Stein of the synthwave outfit Survive look back on composing the theme for Netflix's hit series Stranger Things. While clocking in at only 13 minutes, the laser focus on the now iconic opening track covers lots of ground and is absolutely compelling. The composers explain how they came into contact with the show's creators, the Duffer brothers, and while they were signed on to score the show, Dixon and Stein weren't even sure if they would end up handling the main theme. The composers detail all the moving parts of the theme (which began as a demo from their back catalog) and explain how and why they used certain synthesizers to achieve the tones necessary to build the Carpenter-esque soundscape. The episode is sure to appeal to synth geeks both old and new. [Mike Vanderbilt]
---
You might also like The Losers' Club: A Stephen King Podcast from A.V. Club contributors Randall Colburn, Dan Caffrey, Allison Shoemaker, and Michael Roffman. Every week, the Losers talk about the latest Stephen King news, interview notable King collaborators, and meticulously break down the author's books and their myriad adaptations. This week's episode finds the gang digging deep into The Gunslinger, the first book in King's landmark series.