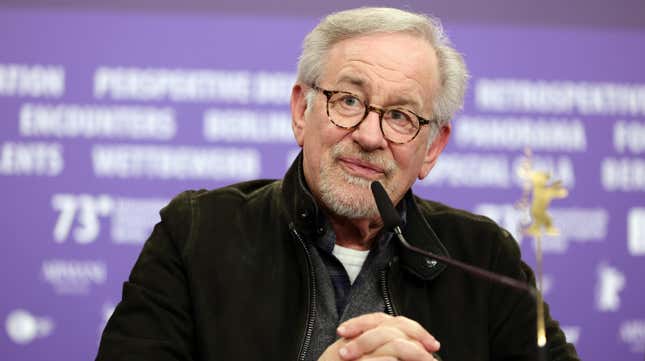 Steven Speilberg is a patient man. He famously waited years to make The Fabelmans, the Oscar-nominated film about his family. And he's been waiting years to make Napoleon, a miniseries based on the script by Stanley Kubrick from the film he never made. Now that Fabelmans is out of the way, it sounds like there may finally be forward momentum on Napoleon too.
Best thing about The Oscars? The Indiana Jones reunion
"With the co-operation of Christiane Kubrick and Jan Harlan, we're mounting a large production for HBO based on Stanley's original script Napoleon," Spielberg teased at the Berlin Film Festival (per Deadline). "We are working on Napoleon as a seven-part limited series."
Spielberg (who has ties to the late filmmaker through A.I. Artificial Intelligence, a movie Kubrick developed before handing the reins to Spielberg) has reportedly been involved with the Napoleon adaptation for at least a decade, with HBO on board for the last seven years, according to Deadline. Baz Luhrmann was one of the original candidates to direct the show, while Cary Joji Fukunaga's name was thrown into the mix in 2016. Spielberg has not committed to directing the thing himself, despite his recent declaration that he'd like a piece of the "long-form series" action. Elsewhere in the press conference, he said he has "no idea" what he's doing next as a director.
So, there's still no talent attached to Napoleon, in front of or behind the camera. Really, there's not much new news to this update at all, beyond possibly the number of planned episodes. Still, the fact that it's being brought up at all might be seen as a good sign for those looking forward to finally seeing "the greatest film never made."
Kubrick began work on Napoleon as he was completing 2001: A Space Odyssey, conducting extensive research into the life of Napoleon Bonaparte to write his 148-page screenplay (per the BBC). The auteur had plans to film on location in France and stage battle scenes with 50,000 extras, stating himself that it would be "the best movie ever made." Unfortunately, he never got the green light from MGM, and pivoted to making A Clockwork Orange instead.
But speaking with the BBC in 2019, Harlan, Kubrick's longtime executive producer, stated that a new medium would be the perfect way to bring his brother-in-law's vision to life. "TV now is technically superb, and a series of many hours and chapters is the ideal format for Stanley Kubrick's Napoleon," he stated then. "It will happen!" Well, we've heard that before.