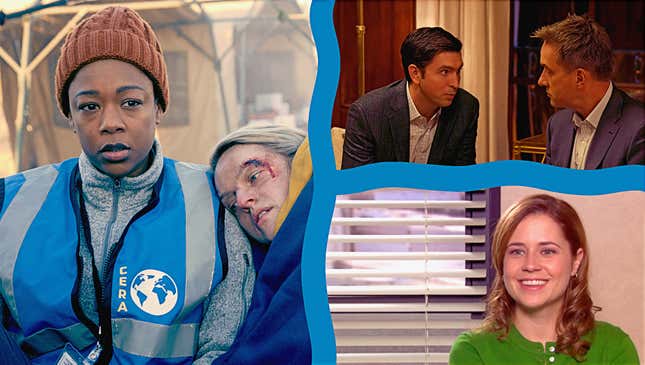 "Six seasons and a movie!" Per Community's Abed Nadir (Danny Pudi), that's the ideal shelf life for a TV show and the real-life rallying cry of that series' devoted fanbase, an episode-count pipe dream they willed into prophecy. (The Community movie, set for Peacock, will reportedly begin filming in summer 2023.) But, with all due respect to Abed and the many fans of that series out there, they're sorely mistaken: Four seasons is TV's sweet spot.
Tori Spelling on "90210", MTV, and "Love At First Lie"
Sure, a rare, exceptional few can get away with a pinch more, able to gracefully balance quality and quantity: The Wire and Breaking Bad topped out at five seasons each, The Sopranos and The Americans at six. Others, admirably, need even less: the two-season stunner that is Fleabag, all sex and grief and god; the sublime and surreal trilogy of The Leftovers; PEN15 managing to encompass the enormity of preteen girlhood in just 25 episodes. But, by and large, four seasons is a televisual Goldilocks, giving the benefit of breadth—for worlds to be built, for themes to be plotted, for casts to really gel, for feedback to be taken—without the fear of bloat.

Atlanta, The Good Place, and Ozark all complied with the four-season rule. Barry will when it finishes off later this year. And while many viewers mourned the recent announcement that Succession's fourth season, which premieres March 26, would be its final one, that Logan Roy's reign of familial terror would be coming to an end on HBO, we howled with the manic glee of Tom Wambsgans in, well, any scene with Cousin Greg. Because Succession resigning from the board after four seasons is doing so at the height of not only its popularity but also its potency, a move that doesn't just make sense for this specific series (giving each of the four Roy children their own "season" to rise and fall in their father's favor is tragically poetic, and means that it's time for the ConHeads hive to rise!), but for every show.

"We played out various scenarios: We could do a couple of short seasons, or two more seasons. Or we could go on for ages and turn the show into something rather different, and be a more rangy, freewheeling kind of fun show, where there would be good weeks and bad weeks," Succession's creator, Jesse Armstrong, told The New Yorker in February about his decision to conclude the Emmy-winning drama after this coming edition. "Or we could do something a bit more muscular and complete, and go out sort of strong."

G/O Media may get a commission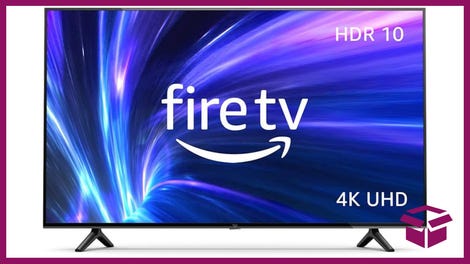 42% Off
Amazon Fire TV 50" 4K Smart TV
"I hope that no one ever thinks that we are outstaying our welcome—that we're going to do a dud season, or be stretching it out," Armstrong said. "I hope those concerns never occur to people. I know they do when I'm watching other people's shows, even ones I admire and like."

And it does occur, quite often, even to shows we admire and like. Yes, it's easy to make fun of the Grey's Anatomys and the Supernaturals of the world, once-snappy shows that spoiled over years—nay, decades—of sitting out on the shelf. But even prestige programs, the ones very comfortable at an awards show podium, have been known to lapse their sell-by dates.

The last truly great season of Game Of Thrones was the fourth (Dead Joffrey! Arya and The Hound! Pedro Pascal!), though it would exhaustingly go on for four more. Ditto Dexter, whose season-four finale—that bloody-good showdown between Michael C. Hall's Dexter Morgan and John Lithgow's Trinity Killer—is considered by fans to be the show's unofficial series end, as opposed to the lumberjack hot mess that would occur four years later.
The fourth-season rescue of the "Oceanic Six" could have—and should have, if creator Damon Lindelof had gotten his way—served as the natural conclusion of Lost, before things crashed even harder thanks to time travel and island lore. And we could have easily bid farewell to June Osborne after she finally enacted her gory revenge on Fred Waterford in season four of The Handmaid's Tale. (And yet, after an already egregious fifth season that regularly strained audience patience, the Hulu series is coming back for a sixth. Sigh.)
And the four-season rule need not just apply to high-concept dramas, ones whose mythologies and mysteries get tiresomely drawn out year after year. Even the most lovable of sitcoms—the second most forgiving genre when it comes to duration, after animated series—can grow mold over time. Many believe The Office shouldn't have continued past the season-seven departure of Michael Scott (Steve Carell), which ushered in a revolving door of miscast replacements (James Spader, Will Ferrell) and an era favoring broader comedy over the humorous realism of earlier, stronger seasons. But we'd argue that the day-to-day dealings of Dunder Mifflin could have been tightened up even further to a tidy four seasons, after the will-they-won't-they of Jim and Pam officially landed on the side of "they will." (And, really, the show would never again live up to the sheer cringe-comedy perfection that is season four's "Dinner Party," anyway.)

In an age that's more taken with binging television than merely watching it, it's no surprise that viewers should desire such massive catalogs, with dozens of hours of entertainment across nearly as many seasons. But we already have volume. It's the era of "Too Much TV," after all. What we're after now is vitality. Rather than bulk up our favorite shows with additives and filler, why not keep them lean and mean and good to the last bite?