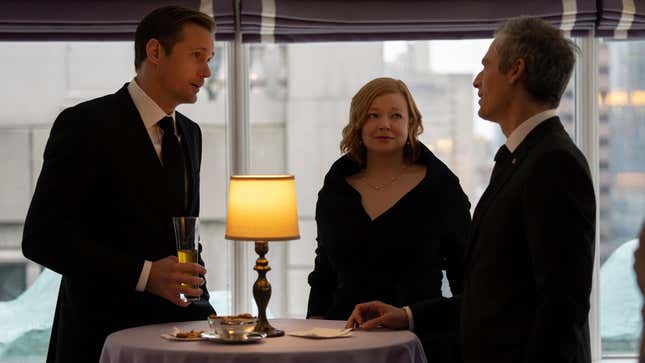 Welcome to the last power ranking before we know who, if anyone, walks away with all the marbles at the end of Succession. We strongly suspect that the answer will be "no one" or at least "it's complicated"—Jesse Armstrong isn't the kind of showrunner to give us simple answers—but it has been fun to watch the rise and fall and rise again from episode to episode in this final season. Bear in mind that this list isn't intended to be a prediction of what will happen or who will win the show, so to speak. It's meant to reflect the power each character gained, lost, or simply exercised within each episode.

Before we get into the ranking for "Church And State," there are a few minor players who deserve shout outs even though they didn't make the list. First, congratulations to Jess (played to perfection, as always, by Juliana Canfield) for finally moving on from Kendall and his toxic family. Like she said, it's time. We also have to commend Caroline for gathering that messy contingent of Logan's exes in the front row of the church (and giving us vibes from the musical Six). What could they accomplish if they all banded together? And finally, it looks like Ebba is pulling a Shiv and playing both sides—feeding useful intel to Hugo, and Kendall by proxy—only she's probably too smart to get caught. Even if she did, she has some pretty good leverage against Matsson, so she's essentially untouchable. Kudos to all of you, ladies.

Now, let's see where the rest of the characters have positioned themselves, one last time.