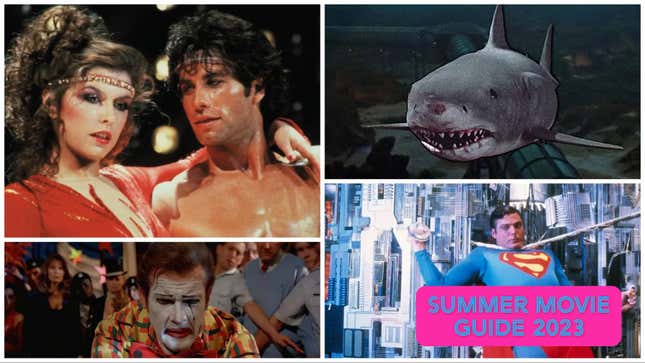 The word "sequel" doesn't have as many negative connotations today as it did 40 years ago. Back in the day, sequels were often extruded like tasteless gruel with barely a thought for advanced levels of storytelling or filmmaking. And the expectation that a sequel would make exponentially more money than its predecessor simply wasn't a thing. Today, when Marvel releases its umpteenth Thor movie or when a new Star Wars blockbuster comes to theaters, audiences expect it to be consistent in budget, craftsmanship, and quality with the previous entry, while the near-dystopian corporations who run the show expect higher and higher grosses.
Judy Garland's previously missing Wizard of Oz dress to be auctioned off
Even horror movies, which used to be notorious for crank-'em-out sequels, are expected to deliver more sophistication, scares, and whatever it is fans liked in the franchise's previous films. Case in point, 2023's Scream VI got decent reviews and made more money than any other entry in the series, even without final girl and series regular Neve Campbell. Then there's Evil Dead Rise, a reboot and the fifth installment in the horror franchise, which is earning critical acclaim—including from us— without Sam Raimi directing or Bruce Campbell anywhere on-screen.
Such critical and commercial success for sequels was hardly the rule in the summer of 1983, which brought us a shockingly long list of horrific follow-ups. Making that season even worse was the fact that this deeply disappointing collection of weaksauce sequels came on the heels of the 1982 summer season, which contained so many groundbreaking classic films that it changed movies forever. Movies such as E.T. The Extra-Terrestrial, Blade Runner, The Thing, Poltergeist, and Tron raised the bar impossibly high in the summer of '82, where the only sequel worth celebrating was Star Trek II (sorry Clubber Lang fans).
These films make Ewoks look good
Jump ahead one year to the summer of 1983, though, and it's a very different story. Instead of being emboldened by the wins of 1982, studios got lazy, cranking out an assembly line of predictable sequels to earlier hits. The No. 1 movie of the summer—and the entire year—was Return Of The Jedi, the much-anticipated final chapter in the original Star Wars trilogy. Although fans complained about the cutesy Ewoks and considered Return Of The Jedi to be the weakest link in the Star Wars franchise to that point, it would turn out to be the best of the sequel bunch that summer (in retrospect, considering the Star Wars prequels and sequels that followed, Return Of the Jedi actually reads as one of the better installments in the franchise).
A few weeks after Jedi arrived in theaters came Psycho II, a sequel to Alfred Hitchcock's 1960 standard-bearer Psycho. The sequel follows Norman Bates (Anthony Perkins) 22 years after the events of the first movie as he returns home and reopens the Bates Motel. Psycho II is suspenseful and stylish, but it was dismissed as an attempt to cash in on the success that slasher movies such as Halloween and Friday The 13th were enjoying in the early '80s ("You've got Michael Myers and Jason Voorhees? Well, we have Norman Bates!"). Psycho II was released about three years after Hitchcock died, so no one knows what the Master of Suspense would have thought of the slow-to-arrive sequel. We suspect he would have approved of it more than Gus Van Sant's 1998 shot-for-shot Psycho remake, but that's another story. In the summer of 1983, Psycho II took a stab at box office gold but couldn't escape the shadow of the original and its iconic director.
After Jedi and Psycho II, things went downhill fast that summer. On June 10, moviegoers had to choose between two embarrassing sequels: Octopussy and Superman III. Not only did Octopussy have a juvenile title, the sixth James Bond movie starring an aging Roger Moore as 007 also featured the actor dressed up as a clown during one sequence, which is not how audiences want to see their favorite spy. Speaking of clowning around, the presence of Richard Pryor in Superman III prompted Warner Bros. to market the movie as a campy romp that just happened to have the Man of Steel in it. After starring in two blockbuster Superman films, it was sad to watch Christopher Reeve team up with a wisecracking Pryor to battle ... a supercomputer. Both movies recouped their budgets, but critics were cruel. As it turns out, those same critics would be sharpening their knives to a deadly point for the sorry sequels still to come that summer.
So funny they forgot to laugh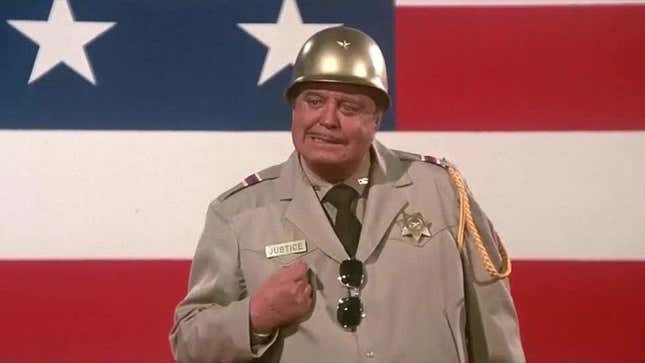 Some of the worst sequels in 1983 were marketed as "comedies," but that was just wishful thinking. Burt Reynolds, the titular Bandit in Smokey And The Bandit Part 3, only had a cameo in the desperate follow-up, leaving Jackie Gleason to try to carry the comedy as Sheriff Buford T. Justice. Similarly, the titular Porky (played by Chuck Mitchell) in Porky's II: The Next Day does not appear in the 1981 sequel to the sex comedy Porky's. The latter grossed over $105 million domestically, but the Porky-free sequel only dug up a little over $33 million. Another "comedy" sequel from the summer of 1983 missing a key player was Curse Of The Pink Panther. Since series star Peter Sellers had passed away, his character, Inspector Clouseau, is mostly offscreen in the maligned sequel. When Clouseau does make a cameo, it's Octopussy's Roger Moore filling Sellers' shoes!
Could the summer of 1983 get any worse? Yes, in fact, it could and it did. Which leads us to Staying Alive, the Sylvester Stallone-directed sequel to the hit 1977 movie Saturday Night Fever. Unlike some other sequels mentioned above, at least star John Travolta reprised his role as former disco king Tony Manero. Although Staying Alive was a financial success, it was universally panned by critics for its lack of grittiness and realism. A more obvious problem is the timing of the release, with the film coming a long six years after Saturday Night Fever. In that time, disco was barely staying alive and had been replaced by the exciting new music featured on MTV. Staying Alive and its soundtrack featuring songs by the Bee Gees and Frank Stallone (!) seemed hopelessly stuck in the previous decade.
This shark really bites
Since the concept of a "summer blockbusters" began with Jaws in 1975, it's fittingly ironic that the worst summer of sequels includes the soggy Jaws 3-D. Long gone are Steven Spielberg, Roy Scheider, and the original setting of Amity Island. Instead, the sequel directed by Joe Alves is set at SeaWorld in Florida with Dennis Quaid starring as a grown-up Mike Brody from the first two films. The in-your-face 3D effects are laughably bad, culminating in the final shot of a fake AF shark exploding and its jaws dangling for a protracted period of time on-screen in some kind of ... money shot.

What lessons can be learned from the sequels in the summer of 1983? If you want your sequel to have a fighting chance, make sure it's timely, it connects smoothly to the series' previous entry and it has characters who grow and who operate within an expanded world. Fail to heed these hard lessons nowadays and the penalty could be severe. In the pre-social media era, if your sequel was a stinker it could take weeks for the moviegoing public to cast its final judgment. Today, a sequel is deemed a disaster—or a triumph—within hours. The cultural and corporate expectations are that much higher today. So if you want your movie to swim away with all the summer blockbuster cash, you're going to need a bigger sequel.