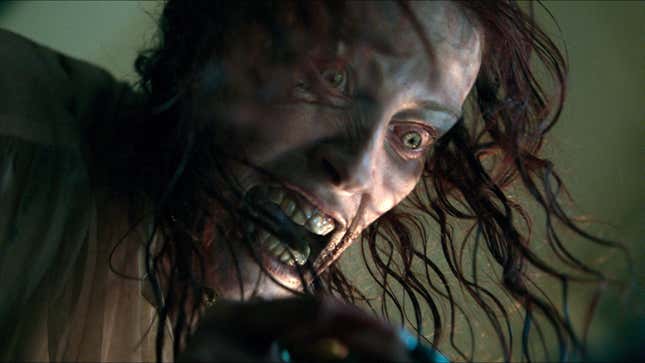 It can be argued that 1981's The Evil Dead, made on a shoestring budget when director Sam Raimi was barely 21, kicked off the 1980s boom in horror comedy, which would include Ghostbusters, Return Of The Living Dead, Re-Animator, The Stuff, Beetlejuice, Gremlins, and (in the early '90s) Peter Jackson's wonderful breakthrough film, Brain Dead (aka Dead Alive) which could be considered the best of the lot. The Evil Dead also had a direct influence on a whole string of Hong Kong films, some involving hopping vampires and others more directly borrowing Raimi's high-speed tracking shots and tree demons.

Movies that Matter: The Battle of Algiers - The False Documentary
Raimi's original trilogy, which also featured Evil Dead 2 and its successor, Army Of Darkness, set a high bar for any director tasked with continuing the franchise, even with Raimi and original star Bruce Campbell serving as producers on the ensuing projects. Indeed the 2013 Evil Dead remake was a more or less humorless repeat of Raimi's first feature, and it failed to measure up to its predecessors. But with Evil Dead Rise, the fifth film in the franchise, writer-director Lee Cronin puts the Evil Dead universe back on solid footing. His blood-drenched film is scarier, his characters are far more engaging, and he offers up an abundance of goofy comedy, though not the kind of Three Stooges goofy that Raimi increasingly indulged in during his trilogy.
The most noticeable difference with Evil Dead Rise compared to the previous films is the setting: After four outings in the woods, the body, as it were, of Evil Dead Rise takes place in a condemned Los Angeles high-rise. (There is a slightly distracting framing device that does have a cabin in the middle of nowhere.) As with the 2013 Evil Dead, there is no Ash in sight, not even a cameo from Campbell, who was the heart and soul of the franchise. So the new film feels more like a sequel to the remake than part of the canonical Raimi films.
The characters here are almost all women, with only one major male role. Beth (Lily Sullivan) is a rock 'n' roll techie, footloose and always on the road, frequently disparaged by her older sister Ellie (Alyssa Sutherland), as a groupie. When Beth discovers she's pregnant, she goes to visit Ellie, a mother of three already at a crisis in her life. Ellie's husband has left her, her building is slated to be demolished, and she has limited resources to find a new place. She also resents Beth's abdication of contact and responsibility in family problems.
When a brutal earthquake opens a hole in the building's foundation, Ellie's adolescent son Danny (Morgan Davies) finds—you guessed it!—the Necronomicon, a supernatural book whose spells unleash demons that are nearly impossible to vanquish, as well as some 78rpm recordings of an apparently demon-freeing chant. Danny has apparently never seen an Evil Dead movie, so he blithely plays the records. All hell breaks loose ... literally.
In short order, loving mother Ellie is possessed by a demon and starts attacking her own family. "I'm free from all you titty-sucking parasites," she screeches. Then, in the tradition of evil high-rise movies (Poltergeist 3, for example), this not-tree demon has taken control of the building. As the woods conspired to trap the protagonists in a cabin in the earlier films, the hallways and elevators trap them even more effectively in their apartment. You can feel a reference to The Shining being set up with the elevator, and Cronin does not disappoint.
It's hard to quantify, but the amount of fake blood spilled this time around certainly feels like a record for the franchise, which is quite an accomplishment. If you have even the slightest queasiness at the sight of gallons of spurting blood or outlandish mutilations or, toward the end, a grotesque multi-limbed, demonic hybrid of what were once characters we cared about ... you should definitely give this a pass. But for fans of the franchise, Evil Dead Rises marks a welcome return to the seamless blend of humor and genuine scares and creepiness that Raimi created 42 years ago.
---
Evil Dead Rises opens in theaters nationwide on April 21