Here's what's up in the world of TV for Friday, June 1, and Saturday, June 2. All times are Eastern.
TOP PICK
Firefly (1 p.m., Friday): At the risk of overusing this joke, we'll say it again: "There's Firefly!" Our coverage of Joss Whedon's much-beloved, much-beleaguered sci-fi Western allows you to re-experience the Fox network's cruel treatment of the show all over again, only now at the hands of us! Thrill as we review episodes out of order! Enjoy as we post reviews erratically, in different timeslots, sometimes in the wee hours of the morning! Become confused as we post reviews of certain episodes only on our Tumblr page! Okay, so we pitched that to Noel Murray and Donna Bowman, and they wanted to review the episodes in order, in a timely fashion, on the main site. Such killjoys!
---
REGULAR COVERAGE
Best Friends Forever (NBC, 8 p.m., Friday): Remember this show? You probably don't, but NBC is burning the last two episodes off tonight, and we'll be there to mark the time of passing. Specifically, Jessica Jardine will be there, and she'll let you know why it should have gotten a better shake.
Magic City (Starz, 10 p.m., Friday): The first season of this show concludes tonight. It's gotten better in recent weeks, though that raises it to the level of "pleasantly mediocre," but at least it's on an upward trajectory. Will Harris hopes that the already-announced second season will continue that climb.
Young Justice (Cartoon Network, 10:30 a.m., Saturday): This episode is called "Bloodlines." That is all we know about it because we're too lazy to run a cursory Google search. Let's all speculate about what this could possibly have to do with the DC Universe. Oliver Sava will probably know, so let's ask him.
G/O Media may get a commission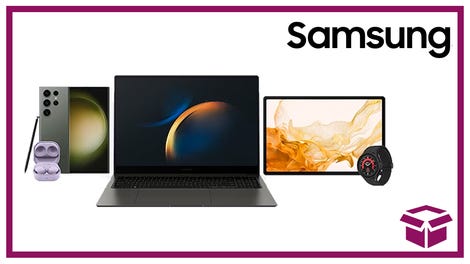 24 hour deals
Discover Samsung - Daily Deal
The Legend Of Korra (Nickelodeon, 11 a.m., Saturday): Korra quarrels with Councilman Tarrlok, and that noise you heard was a million super uncool parents just not getting it when their child attempted to describe the importance of that event to them. Don't worry, kids! Emily Guendelsberger understands!
---
TV CLUB CLASSIC
Babylon 5 (11 a.m., Friday): We're so pleased you can join us for "vaguely space-themed Friday" Fridays at TV Club Classic's summer schedule. We got the idea from the old Nick at Nite block party summer. Today: Rowan Kaiser starts his coverage of this series with the show's original pilot movie. It gets better.
Chappelle's Show (3 p.m., Friday): We know how much you like sketch comedy, so we asked Ryan McGee to offer his take on one of the recent classics of the form. He didn't disappoint, and he'll begin his summer-long run-through of the series with the first two episodes today. Keep your catchphrases handy!
Animaniacs (11 a.m., Saturday): The state of modern-day Saturday morning cartoons is pretty sad. CBS airs something called Horseland. Horseland! So park your kids in front of this show's DVDs, then force them to read Genevieve Koski's reviews of (beginning today), so they can properly appreciate the series.
The X-Files/Millennium (1 p.m., Saturday): Hard to believe, but the last time we covered these shows, it actually predated the beginning of What's On Tonight, so we can't look back and see what we last said. Anyway, Todd VanDerWerff drops in on the debuts of the series' sixth and third seasons respectively.
Pulling (3 p.m., Saturday): We still don't know quite what to make of this Britcom that Margaret Eby pitched to us, but that could be because we haven't watched any of it. But with its combination of funny, acerbic humor and well-written female characters, it sounds right up our alley, no?
---
WHAT ELSE IS ON
Abismo De Pasion (Univision, 9 p.m., Friday): The plot of this telenovela sounds like the standard love triangle stuff, but we really like that its title translates, literally, to "Abyss Of Passion" in English. As such, it provides a pretty good pick-up line: "Let's head back to my place and check out my abyss of passion!"
Whale Wars (Animal Planet, 9 p.m., Friday): Another season, another series of attempts to stop people from killing whales. Which, honestly, we can get behind. Nobody wants more dead whales. We're just shocked that this series has somehow lasted five seasons. Get a reality show on basic cable, run forever.
The Culinary Adventures Of Baron Ambrosia (Cooking, 10 p.m., Friday): We hear this show is the most delightfully weird cooking/food show you'll ever see, so we're going to check it out next week, once we have some screeners. In the meantime, you might want to check out tonight's first episode, just for fun.
Motor City Rising (Ovation, 10 p.m., Friday): This new reality series follows the lives of artists living in Detroit and trying to revitalize the city's cultural scene. Heavy stuff. Ryan McGee is there to let you know if they're ever going to do anything with that abandoned train station in downtown. It's beautiful!
City Beneath The Waves: Pavlopetri (Discovery, 8 p.m., Saturday): This new Discovery Channel documentary visits the famed underwater city—which you probably could have guessed from the title—that's in the Mediterranean just off the coast of Greece. Sounds like a good way to kill an hour to us.
Iyanla, Fix My Life (OWN, 10 p.m., Saturday): Author and motivational speaker Iyanla Vanzant gives viewers advice in the debut of this new series, which we're mostly just covering because we like its commanding title. Joshua Alston will be there to let you know if Iyanla gave him any great tips.
Red Dawn (AMC, 8 p.m., Friday): Feed your strange nostalgia for the Cold War, when we knew who our enemies were at all times, and the Soviets could have invaded at any time, dammit, with this cheesy action film about a bunch of high schoolers fighting off a Russian invasion of their little town.
Meek's Cutoff (Showtime, 9:30 p.m., Friday): For maximum cultural whiplash, we highly recommend switching over from Red Dawn's hyped-up action movie trappings to this spare, meditative film about pioneers running the risk of dying on their long trek out West, one of our favorite movies of last year.
Alice Doesn't Live Here Anymore (TCM, 8 p.m., Saturday): Complete your movie weekend with this Martin Scorsese classic that won Ellen Burstyn an Academy Award, then was improbably adapted into the TV sitcom Alice, which will seem even more bizarre if you sit down and watch the film.
NBA Eastern Conference finals: Game 3: Heat at Celtics (ESPN, 8:30 p.m., Friday): The NBA wants its Heat vs. Spurs NBA Finals, and it's going to get its Heat vs. Spurs NBA Finals. Honestly, we're not sure which team we'd want to root against less in that scenario. The Spurs, maybe? Gross. Gross gross gross.
Women's Softball: College World Series Game 9 (ESPN, 6 p.m., Saturday): We had no idea the women's college softball world series went on this long, nor did we realize that the teams play multiple games over the same day. Anyway, we don't know who will play in this game, but if it's your team, go them!
---
IN CASE YOU MISSED IT
Summer Survey (Thursday): Our summer survey says you should check out our new series covering some of the best episodes of TV ever made, all centered on a single theme. We're starting with an eight-week look at adolescence, and we're beginning that with The Wire. C'mon. You know you like The Wire.