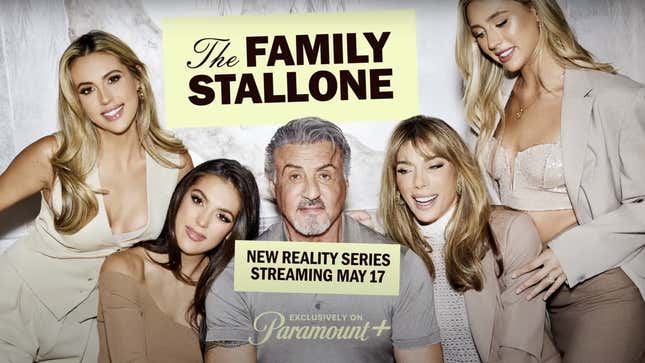 Is it any surprise that after 50 years in showbiz Sylvester Stallone would be a bit of a camera hog? The venerated action star was apparently against the idea of a family reality show, "Yet he sees a camera and he's like, 'Am I in the frame?'" cracks his daughter Sistine in the new trailer for Paramount+'s The Family Stallone. Hey, a gig's a gig!
Surprise: Al Pacino is procreating again
It's a little unexpected to see Al Pacino and Dolph Lundgren appearing as guests on a family reality series, but the Stallone sisters seem born for it—they even have predetermined "roles." Sophia, the oldest, is "the heart," middle child Sistine is "the risk taker," and Scarlet, the youngest, is "the scene stealer." (In one scene of the trailer, an emotional Scarlet finds out she's won a part that turns out to be for her father's show Tulsa King.) Coming off of their podcast Unwaxed, the three women are ready to step away from the mic and join their dad in front of the cameras. "We're in our early 20s. It doesn't get much better than this. Brain-wise, body-wise, looks-wise, we're at our peak, ladies," Sistine declares.
Then there's mom Jennifer Flavin, "The Queen," Stallone's wife of 25 years with whom he reunited after a brief split in the summer of 2022. "I know we're insane, I know we're crazy, but we love each other so much," the family matriarch shares in the trailer. And of course, Sly himself, who spends the trailer dropping pearls of wisdom, disparaging the concept of reality TV, and doting on his pets, which is funny because he's a tough guy movie star, right?
In case you forgot that little fact (unlike the guys Sophia is dating), the family takes a trip to the Philadelphia Art Museum "Rocky steps." This star isn't totally just like us, even if he is painstakingly brushing out his cat's tail when he's at home. For the full picture of the family man, myth, and legend, tune in to The Family Stallone on Paramount+, premiering May 17.