The last week of the annual Just For Laughs Festival in Montreal is an important one for the U.S. comedy industry, when over 100 new and established comedians come together for a marathon of shows, conferences, and schmoozing. It's also a good barometer of what's going on in comedy at the moment. This year, the festival fell between the U.S. Republican and Democratic National Conventions, providing a political backdrop for the shows. (Although, with Sarah Silverman and Al Franken speaking at the DNC, G.E. Smith playing at the RNC, and Colin Jost and Michael Che bringing Weekend Update back for both, it was more like Saturday Night Live had returned from hiatus.)
It's safe to say the 2016 election season has been a complicated one for comedians. To start, the stakes are higher. Consider the things that helped ruin candidates' reputations in 2008 and 2012, respectively: Howard Dean's overzealous scream and Mitt Romney's car elevator. In 2016, not even Trump calling Mexicans rapists or Hillary Clinton almost being indicted are slowing the candidates down. Comedians have more serious issues to take on than ever before.
Lewis Black, who performed an hour of stand-up at Just For Laughs this year and did a live chat with Greg Proops appropriately titled "Living In Fictional Times," feels like there are almost too many setups for jokes. "There's a level at which it's not material anymore," Black said in an interview. "The satire is, in a sense, already written. How am I supposed to satirize something that's already inherently satiric?"
Of course, the entrée on every (even mildly) political comedian's plate is Donald Trump, and no one had more to say about him at JFL than Andy Kindler in his annual State Of The Industry address, which he has been delivering for two decades. His usual material on comedians who he loathes (*cough* Bill Maher) and other industry-insider material was accompanied by a slew of jokes about Trump, whom he called "an insult comedian with no material," "Evil Rupert Pupkin," and of course Hitler ("At least Hitler was a self-made dictator," was just one).

G/O Media may get a commission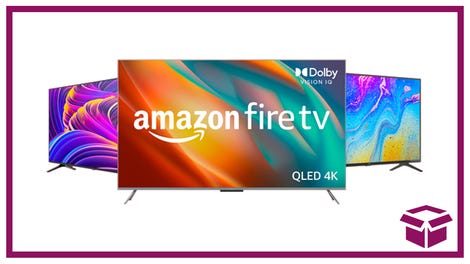 Ooh. stunning.
New Amazon Fire TVs
Kindler also chastised SNL's Lorne Michaels for giving Trump such a huge platform: "Who wouldn't Lorne Michaels allow to host? Pol Pot?" He left the audience with the disturbing imagery of either the future first female president or an "insane fascist" doing "Carpool Karaoke" with James Corden before November.
The 2012 election was dominated by Jon Stewart and Stephen Colbert (the character), and their absence in this election cycle became immediately obvious following each of their brief returns to television on The Late Show during the RNC. New late-night hosts like John Oliver, Samantha Bee, and Trevor Noah have picked up the slack with hard-hitting segments on Brexit, Trump supporters, and police violence—topics that aren't getting covered as clearly or effectively on traditional news programs. In the ephemeral stand-up world, not everyone is too excited about mocking the candidates themselves.
Like comedian David Cross, who hosted a gala of comedians at JFL at the tail end of his six-month Making America Great Again tour, and whose Netflix special of the same name premieres Aug. 5 (read the A.V. Club review here). In his new act, he takes on political topics like gun control and touches on the GOP primaries, but unlike the title suggests, it's not an hour of political material or a one-man show about Trump.
"That was a bit of a mistake," Cross said ahead of his JFL show over the phone. "It makes it feel like [the special] is pointedly political, when that wasn't necessarily my intention. When I first went on tour, it was at the end of January. Trump was a joke back then. Nobody thought he was going to dispatch 17 other nominees. I just thought it was a goofy thing to point out how vapid that kind of stupid, simplistic idea is."
Australian comedian and JFL performer Charlie Pickering, host of news satire show The Weekly in his home country, which has been compared to John Oliver's Last Week Tonight, summed up the comedian's Trump dilemma well. "Part of Trump's political cunning is to generate such a volume of bullshit that his opponents will get stuck in the weeds trying to respond to all of it. There's a similar challenge for comedians," he said before leaving Montreal. "You could literally just articulate a list of things he's said and done and people would laugh, but you wouldn't have said anything."
This was made most obvious at the most decidedly election-related show of the festival, Anthony Atamanuik and James Adomian's final Trump Vs. Bernie Debate. After over 40 live debates around the country since January, plus a Fusion TV special, it's fitting that the final performance would come the day after Hillary Clinton officially accepted the nomination.

While Adomian's Bernie Sanders is still fun to watch, with his pile of loose papers, proposed tax on microaggressions, and diet of "oatmeal and raw data," it's a bit harder to swallow that Trump—of whom Atamanuik's impression is spot-on—is the only one of the two who is still a viable candidate. This is made even more surreal by the fact that Atamanuik can simply repeat Trump's words verbatim (e.g., "I love the blacks") and make the audience laugh instead of cringe.
In addition to improving upon Trump's self-satire, another challenge has risen for comedians who support Sanders, of which there are many. While Sanders quickly sealed the comedian vote (Black, Cross, Adomian/Atamanuik, Sarah Silverman, and Janeane Garofalo are all supporters), now that he's out of the race, there can be pressure to support Hillary Clinton either in real life or within one's act—which is a bummer. At the end of the Trump Vs. Bernie Debate, it was almost sad to watch Adomian-as-Sanders concede that he endorsed Hillary, even though he suggested Vermont become part of Canada and admitted he's still running for president "for tax purposes."
Cross was also disappointed that Sanders didn't get the nomination: "I'm not a fan of Hillary Clinton at all," he said. "She's clearly a better candidate than Donald Trump, but that's not saying a lot." While he doesn't really get into Hillary jokes in his act, he shared one that didn't make the cut: "The one silver lining in Hillary Clinton being president is that I can finally criticize her without being accused of being sexist."
Fellow Bernie supporter Garofalo also performed an hour at JFL at the intimate MainLine Theatre, but she didn't get into politics, save for a few jokes about Chris Christie's penchant for pleated-front khakis. Following her set, however, she appeared at the Canadian premiere of Oh, Hello, where Gil Faizon (Nick Kroll) and George St. Geegland (John Mulaney) fondly remember that their 80-year-old Upper West Side neighbor is running for president ("Bernard? Our friend from the handball courts?"). She touched on her support for Bernie and subsequently Hillary during the "Too Much Tuna" segment, of all places.

With the constant absurdity of the primary campaigns being hard to top, and the fact that many comics are part of a deflated Bernie base, it makes sense that many comedians approach politics in terms of broader societal issues. Instead of mocking politicians themselves, comics focus their material on gun control, gender equality, racism, and the economy.
"You have to dissect the culture, the people, not necessarily the candidates themselves," Cross said, clarifying that he doesn't consider himself a "political" comic. However, one might have flashbacks to Cross' early George W. Bush material when he does material on Trump's supporters being blind to their candidate's obvious distaste for the lower-middle class. "They're supporting people who are doing everything they can to not help them," he said.
On the other hand, some comedians find it easier to compartmentalize their material and their political affiliations, the prime example of this election being Sarah Silverman, whose material has never been decidedly political aside from her funny and effective video PSAs.
One of the hottest tickets of the festival was for Silverman's hour at the beautiful Montreal Symphony House—her first comedy show in a month after a horrific case of epiglottis landed her in the ICU and nearly killed her.
Her first opener, 2016 New Face Ahamed Weinberg, joked that he was happy to be in Canada because he'll "have to move here soon," but Silverman didn't mention Trump or the election at all (except for a throwaway comment about how much she loves the theory that Trump is Andy Kaufman's longest con). Despite being an integral part of the DNC with her now famous "you're being ridiculous" message to the Bernie-or-Busters, which also resulted in her Twitter getting hacked, Silverman's act focused on tales of encountering the Westboro Baptist Church at a Planned Parenthood benefit, what it means to have a gift shop at places like the World Trade Center site and the Holocaust Museum, and something absurd she noticed while playing a guest part on The Good Wife.
At the festival, Ian Abramson, a Just For Laughs New Face in 2015, brought up another comedian's dilemma in 2016—a question that has baffled comics since the George W. Bush days but that still gets asked regularly: "After a show in Pemberton, British Columbia, someone asked me, 'Do you hope Trump gets elected so you have more material?' I was like, 'No, I don't want to live in a dystopia for a couple of jokes."
The election doesn't exactly result in material for every comic, nor do comics have a morbid wish to see things get worse for the sake of making fun of the train wreck. For now, perhaps the most definitive comedic takedown of Trump will be the one that prevents him from getting elected.