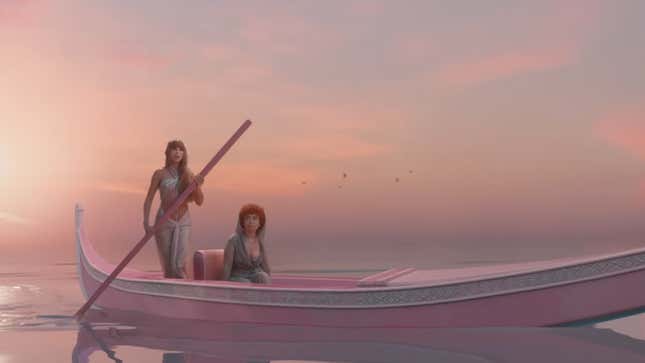 Taylor Swift and rapper Ice Spice made their brewing partnership official last night, with Swift bringing out the "Munch" performer at her latest Eras Tour show in New Jersey last night. Swift busted out the surprise guest spot alongside premiering a new video prominently featuring the two of them in various fantastical scenes, in which, say, Ice Spice is a cloud floating genially over a Taylor Swift landscape, or serves as her personal musical gondola passenger, a prized position in the sprawling Gospel Of Taylor.
As noted by Variety, Swift actually played her and Ice Spice's new remix of tour-closer "Karma"—off of Swift's latest, continually tinkered-with album, Midnights—twice for the crowd of people who managed to secure tickets to the show at Jersey's MetLife Stadium. First, she played the above video, which was then released at midnight last night—because we don't know if you've heard, but T-Swift is seriously into this whole Midnights thing—before bringing the rapper out on stage for a live performance. This, at the end of what was already a three and a half-hour concert, because say what you like about the blood sacrifices required to get those tickets, but Swift does seem bound and determined to give the lucky attendees their money's worth.
Taylor Swift speaks at NYU graduation ceremony
Ice Spice burst onto the musical scene last year when "Munch (Feelin' U)" began taking off on TikTok. Since then, she's released an EP, January's Like…?, and collaborated with Nicki Minaj for a remix of one of the songs off of it. The new version of "Karma"—in which Ice Spice adds to the list of things that are karma, which Swift has already explained is both her boyfriend and a cat—has been released on both of the special editions of Midnights, Til Dawn and The Late Night Edition.