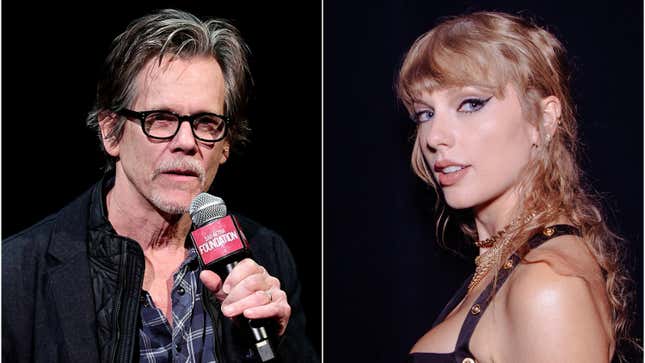 Back on the 1989 tour, Taylor Swift would invite all sorts of random guests to join her on stage, so much so that it became a meme. Some of them were fellow musicians, but not always—there was Kobe Bryant, Julia Roberts, Ellen DeGeneres, and of course a whole gaggle of models, but never Kevin Bacon. And though he knows it's a long shot, he would in fact like to be invited.
The FBI wants Swifties to know snitching is actually cool
Appearing on SiriusXM's Pop Culture Spotlight With Jessica Shaw, he mentioned that his recent performance with Billy Joel wasn't a bucket list item so much as part of the "NFW List" (as in, "no fucking way"). Swift is also on that list of impossible dreams: "That's obviously the right answer," Bacon said.
"I've never seen her" in concert, but "I really need to," he said. "I really do admire her though. I think she's a great songwriter and I think that what she's done with just her messaging and the messages she gives to young women, it's just, it's awesome."
Bacon is a known Swiftie. On his very active social media accounts, he's posted himself and wife Kyra Sedgwick dancing to the Midnights track "Karma" in support of the ACLU's Drag Defense Fund. "Drag bans are bad karma. Right now, drag performers and the LGBTQIA+ community need our help," he captioned the post.
On another occasion, he posted a duet with daughter Sosie Bacon covering Swift's tune "Anti-Hero"; they've also covered "I Bet You Think About Me," Swift's collaboration with Chris Stapleton.
Anyway, it seems like Bacon's a perfect candidate to revive the old "Please welcome to the stage…" on the next leg of The Eras Tour. Or she could stop by his new podcast, Six Degrees With Kevin Bacon. "Hey, if you're listening, come on," he encouraged the Grammy winner.