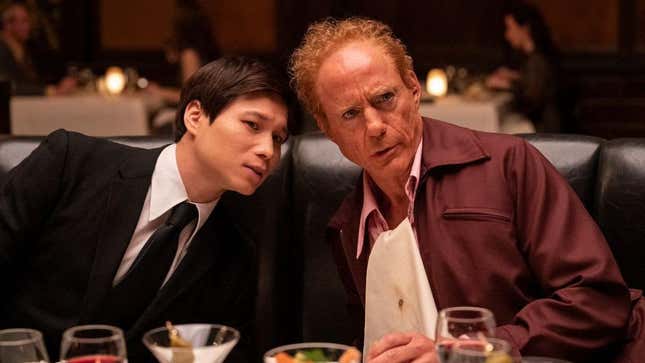 Forget Harry Potter, The Penguin, and even Young Sheldon because hidden in the deluge of HBO's HBO Max's Max's obscene press release scramble this morning was the teaser trailer for The Sympathizer, the latest limited series from the great Korean auteur Park Chan-Wook.
Based on Viet Thanh Nguyen's Pulitzer Prize-winning novel, the series is, per HBO's description, "an espionage thriller and cross-culture satire." It follows the exploits of "The Captain" (played by Hoa Xuanda), a half-French, half-Vietnamese communist spy who moves to America and pretends to be a South Vietnamese ex-pat to consult on a movie about the Vietnam War. But, more than that, it looks like a lot of fun.
Executive produced by Robert Downey, Jr, the series also stars the former Iron Man, who appears to be relishing the opportunity to play multiple roles. Honestly, after so many years of wearing sweatpants and Black Sabbath t-shirts in Avengers movies, it's nice to remember that he can do more than one thing. And he'll be joined by many other excellent actors, including Fred Nguyen Khan, Toan Le, Vy Le, Alan Trong, Vy Le, Ky Duyen, and Sandra Oh.
The Sympathizer will run seven episodes, with the first three directed by Park, who is also credited as co-showrunner with Don McKellar. City Of God and Two Popes director Fernando Meirelles will helm episode four, with Marc Munden assuming the camera for the final three episodes. Park released his most recent film, Decision To Leave, last winter, while his previous television series, Little Drummer Girl, debuted on AMC in 2018.

The Sympathizer hits HBO or Max or Discovery+ or HBO Max or HBO Max + Discover, or whatever it will be called by then in 2024.