Our main list of the year's best albums doesn't just appear out of thin air. It's tallied from ballots by a group of writers, each of whom is given 100 points to distribute over their favorites. The maximum number of points a writer can award an album is 15; the minimum is one. Below you'll find those individual ballots, including commentary on discs that didn't make the big list, as well as other thoughts on the year's best music. Your ballots are welcomed/encouraged in the comments.
THE BALLOTS
---
G/O Media may get a commission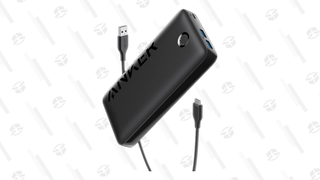 20% Off
Anker 335 Power Bank
SCOTT GORDON
1. The Roots, How I Got Over (15)
2. The Books, The Way Out (15)
3. Mose Allison, Way Of The World (10)
4. Superchunk, Majesty Shredding (5)
5. Big Boi, Sir Lucious Left Foot: The Son Of Chico Dusty (5)
6. Strong Arm Steady, In Search Of Stoney Jackson (5)
7. Coliseum, House With A Curse (5)
8. Call Me Lightning, When I Am Gone My Blood Will Be Free (5)
9. Ted Leo And The Pharmacists, The Brutalist Bricks (5)
10. El-P, Weareallgoingtoburninhellmegamixx3 (5)
---
MARC HAWTHORNE
1. Mark Ronson & The Business Intl., Record Collection (15)
The man best known for producing a good portion of Amy Winehouse's Back To Black closed out 2010 with a bang bang bang, expertly throwing myriad styles into his hook-filled blender. Featuring an odd mix of collaborators (Q-Tip, Boy George, a former Pipette, D'Angelo, Simon Le Bon, etc.), each of whom brought their A game, Record Collection is a vintage-synth celebration of the power of the pop song.
2. Jónsi, Go (10)
On his solo debut, the Sigur Ros frontman proved that he can still create big, beautiful songs without the assistance of his Icelandic bandmates, and he even ratcheted up the pop element that made Með Suð Í Eyrum Við Spilum Endalaust so great. Go finds Jónsi singing mostly in English, but the results are just as wonderfully exotic as when he's getting his Hopelandic on. 
3. Vampire Weekend, Contra (10)
These smarty-pantsed indie-rockers avoided the sophomore slump by sticking to their worldly guns and writing another batch of strong, clever songs. Producer/keyboardist Rostam Batmanglij already proved with his side-project Discovery that he knows his way around electro-pop, and the addition of it here does a good job of distancing Contra from its predecessor. 
4. Superchunk, Majesty Shredding (10)
Arriving nine years after Superchunk's previous disc, the lackluster Here's To Shutting Up, Majesty Shredding is easily the comeback album of the year. Majesty Shredding is a high-octane indie-rock explosion that's as invigorating and memorable as anything from the Chapel Hill quartet's early-'90s prime.
5. Broken Social Scene, Forgiveness Rock Record (10)
Go big or go home is how this Canadian collective approaches everything it does, and Forgiveness Rock Record is as fist-pumpingly awesome as what came before it. Frontman Kevin Drew loves to bring the drama, and his all-star cast of helpers—which here includes producer John McEntire—knows how to build a tower of sound without overwhelming the songs.
6. Holly Miranda, The Magician's Private Library (10)
Onetime Jealous Girlfriends singer Holly Miranda hooked up with TV On The Radio's David Sitek to make this moody, mesmerizing album full of horns, strings, mellotron, and whatever else the duo could get its hands on. Album highlight is "Slow Burn Treason," a duet with TVOTR's Kyp Malone that Kanye West gave props to on his blog.
7. JJ, No. 3 (10)
Led by the soulful-from-Sweden vocals of Elin Kastlander, No. 3 is the second full-length from this electro-charged dream-pop duo. 
8. Freelance Whales, Weathervanes (10)
Frontman Judah Dadone sounds a bit like Ben Gibbard and reviewers have found traces of The Postal Service in his band's music, but Freelance Whales aren't this year's Owl City. In fact, Weathervanes sounds more like Death Cab For Cutie than anything on Give Up, and with all that banjo, harmonium, and glockenspiel in there, not to mention the fact that it's a concept album involving a female ghost, it's one of the more unique indie-pop concoctions of the year.
9. Kate Nash, My Best Friend Is You (10)
Lots of girly retro-pop and boy problems make the second album from this fiery redheaded Englishwoman a delight from beginning to end.
10. The Morning Benders, Big Echo (5)
For its second studio album, Grizzly Bear's Chris Taylor helped move this New York-via-California indie-rock band out of the'60s and into a place where the atmosphere is just as important as the melodies.
---
JASON HELLER
1. Swans, My Father Will Guide Me Up A Rope To The Sky (15)
Michael Gira's revolutionary ensemble Swans conjured everything from ribcage-cracking noise to folk apocrypha during its original 15-year run. The band's first album since 1996, My Father Will Guide Me Up A Rope To The Sky, synthesizes all that's come before and draws a shaky yet sure line between drone and hymn. Feather-light threnodies and mauling heaviness never sounded so good, true, and pure together.
2. Janelle Monáe, The ArchAndroid (15)
3. Black Breath, Heavy Breathing (10)
Co-opted by the metal scene, Seattle's Black Breath is more of a hardcore band than anything else—although one that slurs, blurs, and bludgeons its own edges with metallic precision and double-bladed belligerence.
4. Dum Dum Girls, I Will Be (10)
5. Total Abuse, Mutt (10)
Harnessing the feedback-laced hardcore of Black Flag, Born Against, and Void, Austin's Total Abuse adds unsavory lyrical content and an unwholesome sheen of skronk to whip up Mutt. Squirrelly and perverted (song titles include "Eunuch," "Caligula," "14 Years Old," and "Fluid Exchange"), the album oozes sonic and moral squalor in equal—read: copious—quantities. 
6. Aloe Blacc, Good Things (6)
7. Deerhunter, Halcyon Digest (6)
8. OFF!, First Four EPs (6)
9. Trap Them, Filth Rations EP (4)
New Hampshire's Trap Them has been cranking out a lacerating jumble of grind, crust, and post-hardcore for a few years now. But with the EP Filth Rations, its first release for metal label Southern Lord, the group has crafted one its most concise and concentrated tantrums so far. There's not an ounce of fat, filler, or mercy on this fucker.
10. Titus Andronicus, The Monitor (4)
11. Nightmares For A Week, Don't Die (4)
12. Lower Dens, Twin-Hand Movement (3)
There was cause for concern when arty singer-songwriter Jana Hunter decided to submerge herself in a full band—but the debut by that band, Lower Dens' Twin-Hand Movement, put all doubts to rest. Husky, sultry, and teeming with echoes of '70s art-rock (particularly Berlin-era Bowie) and lo-fi psychedelia, the album haunts.
13. Wavves, King Of The Beach (3)
14. Thee Spivs, Taped Up (2)
A band of three throwbacks too young to have experienced the glory of '70s U.K. punk, England's Thee Spivs filter the buzz and cheekiness of some of that era's underdogs (The Adverts, Eater, The Boys) through the garage-rock thunk of Billy Childish's Hangman Records' roster. The result is youthful, stupid, tooth-rotting fun.
15. Young Livers, Of Misery And Toil (2)
Drawing equally from the strident art-punk of early Jawbox and the rabid, sludgy post-hardcore of Planes Mistaken For Stars, Young Livers' Of Misery And Toil isn't an album to be listened to lightly. There's some serious angst being flown up the flagpole—but it's done with a dark melodicism that barks, bites, and believes in the power of full-scale catharsis.
RUNNERS-UP
Autistic Youth, Idle Minds
Bridge And Tunnel, Indoor Voices EP 
Coliseum, House With A Curse
Envy, Recitation
Forgetters, Forgetters EP
The Fresh & Onlys, Play It Strange
The Goodnight Loving, The Goodnight Loving Supper Club
Cee Lo Green, The Lady Killer
Kings Go Forth, The Outsiders Are Back
Ted Leo And The Pharmacists, The Brutalist Bricks 
Joanna Newsom, Have One On Me
Ty Segall, Melted
Trash Talk, Eyes & Nines
Warpaint, The Fool
Weekend, Sports
---
STEVEN HYDEN
1. The Tallest Man On Earth, The Wild Hunt (15)
2. Call Me Lightning, When I Am Gone My Blood Will Be Free (15)
3. Deerhunter, Halcyon Digest (15)
4. Avi Buffalo, Avi Buffalo (13)
5. LCD Soundsystem, This Is Happening (12)
6. The National, High Violet (6)
7. Dum Dum Girls, I Will Be (6)
8. The Walkmen, Lisbon (6)
9. Futurebirds, Hampton's Lullaby (6)
10. Reading Rainbow, Prism Eyes (6)
THE NEXT 10
11. Jamey Johnson, The Guitar Song
12. The Soft Pack, The Soft Pack
13. The Sadies, Darker Circles
14. The Goodnight Loving, The Goodnight Loving Supper Club
15. Woods, At Echo Lake
16. Citay, Dream Get Together
17. Kanye West, My Beautiful Dark Twisted Fantasy
18. Harlem, Hippies
19. Wolf Parade, Expo 86
20. Gayngs, Relayted
TOP EPS
1. Real Estate, Reality
2. Megafaun, Heretofore
3. The Tallest Man On Earth, Sometimes The Blues Is Just A Passing Bird
4. Sharon Van Etten, Epic
5. The War On Drugs, Future Weather
TOP 20 SONGS
1. Real Estate, "Younger Than Yesterday"
2. Avi Buffalo, "What's In It For"
3. Deerhunter, "Desire Lines"
4. Drive-By Truckers, "Birthday Boy"
5. Beach House, "Silver Soul"
6. Woods, "Blood Dries Darker"
7. Wild Nothing, "Summer Holiday"
8. Futurebirds, "Johnny Utah"
9. The National, "Bloodbuzz Ohio"
10. Dum Dum Girls, "Jail La La"
11. Call Me Lightning, "Beyond The Beasts"
12. Arcade Fire, "Ready To Start"
13. The Soft Pack, "Answer To Yourself"
14. Gayngs, "Faded High"
15. Harlem, "Gay Human Bones"
16. The Tallest Man On Earth, "Kids On The Run"
17. Best Coast, "Boyfriend"
18. Phantogram, "Mouthful Of Diamonds"
19. Local Natives, "Wide Eyes"
20. Jaill, "Demon"
No. 1 album I realized I initially underrated after seeing the band live
Harlem, Hippies; Futurebirds, Hampton's Lullaby (tie)
No. 1 album I realized I initially overrated after seeing the band live
Midlake, The Courage Of Others
No. 1 album I least enjoyed panning
Neil Young, Le Noise
No. 1 album I most enjoyed panning
Salem, King Night
---
SPENCER KORNHABER
1. Titus Andronicus, The Monitor (15)
2. Best Coast, Crazy For You (11)
3. The National, High Violet (11)
4. Kanye West, My Beautiful Dark Twisted Fantasy (11)
5. M.I.A., Maya (11)
6. The Drums, The Drums (11)
7. Janelle Monáe, The ArchAndroid (10)
8. Wavves, King Of The Beach (10)
9. LCD Soundsystem, This Is Happening (5)
10. Avi Buffalo, Avi Buffalo (5)
---
GENEVIEVE KOSKI
1. Dessa, A Badly Broken Code (15)
2. Janelle Monáe, The ArchAndroid (15)
3. Robyn, Body Talk (15)
4. Dum Dum Girls, I Will Be (10)
5. Kanye West, My Beautiful Dark Twisted Fantasy (10)
6. Punch Brothers, Antifogmatic (10)
7. Yeasayer, Odd Blood (10)
8. Big Boi, Sir Lucious Left Foot: The Son Of Chico Dusty (5)
9. Gorillaz, Plastic Beach (5)
10. Black Mountain, Wilderness Heart (2)
11. Grace Potter & The Nocturnals, Grace Potter & The Nocturnals (2)
12. Mavis Staples, You Are Not Alone (1)
HONORABLE MENTIONS
Frightened Rabbit, The Winter Of Mixed Drinks
Nas & Damian Marley, Distant Relatives
Vampire Weekend, Contra
Zola Jesus, Stridulum
---
CHRIS MARTINS
1. Wavves, King Of The Beach (10)
2. Baths, Cerulean (10)
3. Flying Lotus, Cosmogramma (10)
4. Warpaint, The Fool (10)
A wave of depressive beauty echoing out the maw of Ian Curtis' grave. There are four of these women, and they are absolutely the sirens that Greek mythology spoke of, luring listeners into the dirt with an impossibly full sound typified by rolling basslines, flanged guitar, shuffling drumming, and swooning voices. Deathly beautiful.
5. Vampire Weekend, Contra (8)
6. Four Tet, There Is Love In You (8)
7. Arcade Fire, The Suburbs (8)
8. The Black Keys, Brothers (8)
9. LCD Soundsystem, This Is Happening (8)
10. Caribou, Swim (8)
A truly impressive reinvention for Dan Snaith who, like Four Tet, left the "indietronica" behind to dribble a cracked disco ball in four-four time across his impressively arty back-catalog. The results are nothing less than ebullient, and proof that guiltless pleasure isn't solely the domain of the douchebags. The nerds can get some too.
11. Avi Buffalo, Avi Buffalo (4)
12. Glasser, Ring (4)
This chick came out of nowhere with a debut that both Björk and The Knife would do well to study. That's not to say Glasser wasn't cribbing notes from them, but her album stands on its own two spritely feet, effortlessly emitting sparkling, elemental electronic pop like so much glitter.
13. Tyler The Creator, Bastard (4)
I'd rank this a hair above Glasser, but latching it to the evilest prime number seems appropriate. From a Tumblr bunker, this 19-year-old and his Odd Future crew unleashed a strain of rap punker than anything the genre's seen. Deadbeat dads, hyperviolent fantasies, and soupy beats bask in a blood pool supplied by the guy's own exposed heart. Watch out, 2011.
THE L.A. BEAT SCENE, FOR DUMMIES
The global electronic music scene has been rocked mightily by Angeleno artists over the past two years. Jazz-damaged scene godhead Flying Lotus made our best list with good reason, as did young buck Baths, whose soaring melodies shifted the landscape yet again. But what about the others? Believe the hype. This is a vibrant community where tomorrow's list-topper lurks just around the corner. All of these are must-owns in my book:
Asura, Asura (Non Projects)
A completely unique approach that comes from the man's background in classical music. Most of the sounds you hear come from acoustic sources, played with his own two hands, and his ear for arranging gives him an unparalleled advantage in the realm of subtlety. Lush in texture and musical at heart, but also unafraid to thump.
Lorn, Nothing Else (Brainfeeder)
The bruiser of the bunch. Lorn's work sears with synths, punishes with bass beats and dwells in dark texture. When you hear a hand clap, it's the sound of a palm splitting a cheek. This album is uniquely off-kilter without being the least bit off-putting. Rugged, road-tested, unapologetically dirty tunes.
Shlohmo, Shlohmoshun Deluxe (Friends Of Friends)
Shlohmo gets that when approaching funkiness, the highs are as important as the lows. His compositions span the entire sound field, anchored by burbling grooves and playful bass sequences, and lifted by crisp keys and skittering videogame effects. No cheap parlor tricks and very little moodiness—just a bunch of bright stoner funk.
Take, Only Mountain (Alpha Pup)
This dude is the classicist, taking your fond memories of vintage Aphex Twin, Squarepusher, and Boards Of Canada and giving them new life in a world that's already felt dubstep's quake. Take is nothing less than a sonic wizard. His pieces are layered to the gills and yet they never feel crowded.
Teebs, Ardour (Brainfeeder)
In a word: soft. While so many out-of-towners (and some L.A. denizens) focus solely on massive bass drops and dance-floor impact, Teebs' music feels as if it were painted onto the track with a chinchilla tail. African drums, lilting harp loops, tinkling chimes, and rainfall are the stuff of these instrumentals, which might be the most color-rich of the bunch.
My Favorite Mixtape: Sumsun, Super Spacey Sunburnt Summer
Seek it out: You will be warmed through-and-through. Effortlessly blended unheard-of jams that fan out under this Floridian's touch. A chillwave breeze that starts and stops at the whim of the beautiful beats underneath. Utterly. Epic.
My Effing Jam (non-album): Wallpaper, "STUPiDFACEDD"
Polarizing electro-funk misfit ditches the Auto-Tune, discovers a dastardly rap voice, laces the hook with a barf sound sample, and turns the bass up to 11. Wallpaper rides high on the back of this bone-crushing, blackout party track. Get Loko to this.
---
MICHAELANGELO MATOS
[In alphabetical order]
1. Big Boi, Sir Lucious Left Foot: The Son Of Chico Dusty (10)
2. Deadbeat, Radio Rothko (10)
3. F, Energy Distortion (10)
4. Flying Lotus, Cosmogramma (10)
5. Four Tet, There Is Love in You (10)
6. Friendly Fires, Bugged Out! Presents Suck My Deck (10)
7. Ted Leo And The Pharmacists, The Brutalist Bricks (10)
8. Pantha du Prince, Black Noise (10) 
9. Sleigh Bells, Treats (10)
10. Superchunk, Majesty Shredding (10)
---
CHRIS MINCHER
1. Kanye West, My Beautiful Dark Twisted Fantasy (15)
2. Raheem DeVaughn, The Love & War MasterPeace (14)
Before Raheem DeVaughn even had a chance to settle into his status as the newest superstar of R&B, he released The Love & War MasterPeace, an audacious attempt to singlehandedly make the genre relevant again. The album's title may be brash, but deservedly so: Whereas much of the recent soul scene has devolved into vapid, meaningless fuck-me ballads, DeVaughn addresses love with heartfelt sincerity while turning a sharp eye and heavy conscience toward social ills. It's not all so serious—there's a good dose of silliness and absurdity that openly pokes fun at R&B clichés—but his uncompromising foray into politics reveals an intention to pick up where Marvin Gaye's What's Going On left off. Instantly catchy, inventive tracks, glossed by DeVaughn's relaxed falsetto, lure you into to ruminations on war, taxes, the justice system, domestic abuse, gun control, religion, economic disparities, and street violence, with occasional interludes by poet Cornel West. By the end, the album's title doesn't seem exaggerated one bit.
3. Beach House, Teen Dream (13)
Beach House has always made good music, but the group hasn't always delivered good songs—where the hypnotic, down-tempo drone-pop began and ended felt almost arbitrary. For Teen Dream, the duo worked on packaging, and the results couldn't have been better. Recorded in a converted church, the album cultivates Beach House's lushly dark, tensely foreboding sound in 10 tracks that whisper and lurk in their own self-contained spaces. A hauntingly lonely atmosphere is transformed into emotional epics, where electronics, organs, shimmering guitars, humming keyboards, and a thudding drum machine underscore the moaning harmony of Victoria Legrand's husky, fragile vocals. Whereas Beach House's previous work endlessly wandered in the shadows of a doleful dreamworld, this record progresses and builds through a sequence of weary mental states and events, each striking in its own affecting way. Which makes them all a lot more memorable once you wake up.
4. The Octopus Project, Hexadecagon (12)
Hexadecagon was made to be played through eight-channel surround sound at a multimedia presentation that includes images from multiple video projectors. Ambitious, for sure, but judging solely by the album's musical offerings, the frills are unnecessary. A collection of instrumental electronica, Hexadecagon transports listeners to a trippy, wondrously weird world that feels ripped from the mind of Tim Burton—a fantasy land explored through magnificent soundscapes of intricately layered hooks and rhythms. It's a joyous, innocent romp through the excitingly unexpected, pulsing with energy and sonic flourishes before each journey bursts to a bright climax. Hexadecagon is a thrilling adventure to places we once imagined as children; places, it turns out, we don't need surround sound or video projections to return to.
5. The Walkmen, Lisbon (11)
6. Corinne Bailey Rae, The Sea (9)
Recorded after her husband's death two years ago, The Sea finds Corinne Bailey Rae torn by the turmoil of loss, the kind of emotions one can only acknowledge but never resolve. It is a deeply fascinating, revealing portrait of the inner conflicts that accompany mourning—reality against memory, intensity against resignation, confusion against clarity. Her songs are both forceful and fragile; when her delicate vocals strain with agony, the nuances of pain are conveyed more effectively than could ever be done lyrically. Sensitive and thoughtful, The Sea is ambitiously broad in scope, with ruminations on happiness, healing, and self that border on the metaphysical. There's a cycle to these songs that matches the emotional oscillation of grief, some tracks surging with positivity and determination and others drifting with disorientation. For the latter, Rae makes no attempt to stick to any structure or craft catchy melodies; instead, she finds expression through other mediums: From jazz to hard rock, she stretches the boundaries of soul music to suit her needs, whether or not anybody could ever sing or dance along to it. The Sea feels limitless in both its musical form and topical content, and that dissolution of her comfort zone captures the nature of sorrow best of all.
7. The National, High Violet (8)
8. Vampire Weekend, Contra (7)
9. The Black Keys, Brothers (6)
10. LCD Soundsystem, This Is Happening (5)
---
JOSH MODELL
1. The Walkmen, Lisbon (15)
2. The National, High Violet (15)
3. Frightened Rabbit, The Winter Of Mixed Drinks (15)
4. Kanye West, My Beautiful Dark Twisted Fantasy (10)
5. Sufjan Stevens, The Age Of Adz (10)
When people—by which I mean music critics—look back on the best albums of 2010 a few years from now, chances are good that The Age Of Adz will have sunk in. But the fact that it just came out, and that it's so incredibly dense and different than his last record, is probably going to stymie its chances this year. But it's a meticulous, fabulous collection that will reveal itself more and more over time.
6. Superchunk, Majesty Shredding (6)
7. Retribution Gospel Choir, 2 (6)
8. Yeasayer, Odd Blood (6)
9. Clem Snide, The Meat Of Life (6)
10. Jonsi, Go (6)
11. Tokyo Police Club, Champ (5)
EXCELLENT SONGS FROM ALBUMS THAT DIDN'T MAKE MY LIST
Usher, "Papers"
LCD Soundsystem, "Pow Pow"
Kele, "Everything You Wanted"
Cee Lo Green, "Fuck You"
Tired Pony, "Held In The Arms Of Your Words"
Arcade Fire, "Ready To Start"
Midlake, "The Courage Of Others"
Drake, "Miss Me"
Belle And Sebastian, "I Want The World To Stop"
Beach House, "Zebra"
Los Campesinos, "Straight In At 101"
Band Of Horses, "Factory"
---
NOEL MURRAY
1. The Walkmen, Lisbon (15)
2. Dungen, Skit i allt (15)
These Swedish psych-rockers head in a softer, more focused direction here, fusing early-'70s Pink Floyd, latter-day Flaming Lips, new age, and sunshine-pop. The record has a powerful structure, too, building in intensity over its first half, then peaking with the explosively catchy title track before tailing off purposefully and settling into melancholy.
3. Spoon, Transference (10)
4. Sharon Jones & The Dap-Kings, I Learned The Hard Way (10)
The champions of retro-soul return with a lusher, poppier album, as the commanding Ms. Jones plays off her background singers and competes with the blare of John Barry-esque horns. I Learned The Hard Way brings back the days of working-class musicians in three-piece suits, crafting catchy songs aimed at fans no richer or poorer than the people on stage.
5. Antony And The Johnsons, Swanlights (10)
Though less arresting and profound than last year's masterpiece The Crying Light, Antony And The Johnsons' fourth album serves as a sweet coda to their third, working on some of the same lyrical and musical themes, but in more exploratory, abstract ways. The earnest yearning survives intact.
6. Midlake, The Courage Of Others (10)
Unlike the warmly archaic The Trials Of Van Occupanther, Midlake's The Courage Of Others roams through the rougher, more squalling side of the past, and some fans of the earlier record didn't enjoy the trip. But the album wears well on repeated listens, as what initially seems like amelodic and aloof folk-rock gives way to a personal, deeply conflicted consideration of the way we used to be.
7. Panico, Kick (10)
This veteran Chilean band recorded its latest album in Scotland and added some of the region's resonating post-punk vibe to the usual mix of funky dance music and dreamy distortion. It's like early Santana remixed by the members of ESG, or like Jellybean Benitez taking on U2's Boy.
8. LCD Soundsystem, This Is Happening (8)
9. The Sadies, Darker Circles (7)
Here's 35 minutes of songs about bearing up against the grind, full of strong melodies, beautiful guitars, and the ghosts of an unsettled past. As always, brothers Dallas and Travis Good work with vintage sounds, evoking The Byrds, bluegrass, and '60s psych-pop, but the highlights of any Sadies song will always remain casual harmonies and dueling guitars: one filling the room with reckless reverb, the other delicately plucked.
10. The Gaslight Anthem, American Slang (5)
More varied in style than The '59 Sound, The Gaslight Anthem's third album is in some ways a Big Rock Move—the title track alone sounds like it was engineered to be a new radio-ready classic—and in some ways bandleader Brian Fallon's attempt to expand and reinvent. The band now knows it has the power to move people; these guys are just trying to figure out how to wield it.
30 GREAT SONGS (IN 30 SENTENCES)
Arcade Fire, "Suburban War"… A rebuke to all those who think The Suburbs was just one long rant about suburban sterility, this supple midtempo rocker eloquently describes shared moments of fellowship, undone by our habit of dividing into tribes as we get older and more self-involved.
Ariel Pink's Haunted Graffiti, "Round And Round"… Here's the great '80s-style art-pop ballad—all robotic sexiness and shopping-mall decadence—that Ariel Rosenberg has been trying to write and record since he first fired up a tape recorder and a Casio in his bedroom.
Bonnie 'Prince' Billy & The Cairo Gang, "Troublesome Houses"… Emmett Kelly's voice and guitar winds easily around Will Oldham's as the latter sings about the kind of tomcatting that ends relationships, in a recording that seems to come together spontaneously and miraculously—almost like two dudes just sat down together one afternoon and unexpectedly recorded After The Gold Rush.
Broken Social Scene, "Forced To Love"… The ad hoc Toronto collective's fourth album, Forgiveness Rock Record, features a smaller core of musicians than usual, and has producer John McEntire enforcing some discipline, but Broken Social Scene still makes the most of its natural sprawl on this booming, get-up-and-get-it-done rock anthem.
The Dead Weather, "Hustle And Cuss"… More dark, heavy, loud, and bluesy off-the-cuff rock from the garage-rock supergroup, played with a spontaneity and ferocity that resembles some lost Ten Years After festival performance.
Deerhunter, "Revival"… Though "snappy" isn't always the point with these Atlanta dream-merchants, it does help bring some dynamism and definition to Deerhunter's thick, pretty drone when the band steps up the tempo and tightens up the hooks, as on this brief paean to the wonders of clarity (even though it may be fleeting and false).
Drive-By Truckers, "Drag The Lake Charlie"… Patterson Hood weds one of his most scorching Southern-rock riffs to a half-funny, half-rueful lyric about a missing person who might be more valuable dead than alive.
Eternal Summers, "Silver"… This Roanoke two-piece makes a virtue of its limitations, matching concise rhythms to noisy jangle in the mode of older stripped-down indie-pop acts like Pylon, Orange Juice, and Unrest—then wrapping up this simple-but-catchy number in just over two minutes.
Field Music, "Them That Do Nothing"… Field Music's Measure is full of "just trying something out" experiments and fragmentary reprises, but it still contains arresting moments like this XTC-ish guitar-pop song, with its cheerful take-a-chance advice.
Glasser, "Glad"… Drawing on the tradition of quirky electro-pop chanteuses like Björk, Laurie Anderson, and Elizabeth Fraser, Glasser's Cameron Mesirow here delivers what sounds like an ancient tribal chant, reinterpreted by someone who's put in a few years at the Berklee College Of Music.
Gorillaz, "Stylo"… Plastic Beach feels more urgent and less fiddly than earlier Gorillaz albums, as evidenced by this moody club track, which features Mos Def rapping, Bobby Womack wailing, and synthesizers that sounds like they're scoring the last chase scene in the last movie ever made.
The Hold Steady, "Our Whole Lives"… The big complaint about Heaven Is Whenever is that it was light on fist-pumpers, but The Hold Steady have never recorded anything as perfectly stirring and self-defining as this stomping, curiously moving song about how "we're good guys but we can't be good every night."
Elton John & Leon Russell, "Jimmie Rogers' Dream"… John and Russell's The Union is a set of rootsy soft-rock light on memorable songs, but "Jimmie Rodgers' Dream" practically justifies the whole project, with its steel guitar putting a spring in the two pianists' poignant evocations of life on the road.
Kings Of Leon, "Radioactive"… Kings Of Leon's fifth album, Come Around Sundown, still relies too heavily on deep echo and giddy-up guitar instead of fully developed melodies and lyrics, but few modern rock bands are as skilled at generating pleasurable friction out of one textured sound rubbing against another, as on the exultant "Radioactive," a song about giving in and accepting our heritage.
Les Shellys, "The Late John Garfield Blues"… Tom Brosseau and Angela Correa strive for the intimacy of two people in a tiny room late at night, trying to keep the noise down while singing a gentle, unsentimental song about mourning too long.
Los Campesinos!, "Straight In At 101"… This furiously witty rocker attacks on multiple fronts, from arguing for meaningless sex over pointless navel-gazing ("I think we need more post-coital and less post-rock") to acknowledging that no matter how bad an individual heartbreak feels, it likely wouldn't crack the world's All-Time Top 100.
Janelle Monáe, "Tightrope"… As valuable as Sharon Jones & The Dap-Kings' throwback R&B may be, there's something to be said for artists who can borrow from the past while high-stepping into the future—and do so while performing a song that sounds like an instant classic.
The New Pornographers, "Sweet Talk, Sweet Talk"… If the album title Together wasn't enough of an indicator that The New Pornographers were working more in unison on their fifth album, this jaunty pop song makes the point more clearly, with its tight harmonies and interlaced, percussive sounds.
Joanna Newsom, "Good Intentions Paving Company"… Perversely (as always), Newsom's most dauntingly sprawling album also contains some of her most accessible songs, like this driving seven-minute piece, which sounds like three Joni Mitchell tracks—one from the '60s, one from the '70s, and one from the '80s—played simultaneously and at a slightly faster speed than required.
Mark Olson, "Your Life Beside Us"… Olson's Many Colored Kite features loose, twangy songs that wander a little too freely, but the lilting, string-aided "Your Life Beside Us" benefits from the openness, sounding like an immediate, inspired expression of how longing hangs us up between joy and fear.
Rafter, "No Fucking Around"… Rafter's fourth LP, Animal Feelings, is loaded with so many thick hooks and fat, dancefloor-friendly beats that it could've sailed right into the mainstream, if not for the frequent use of the word "fuck," as on this alternately cheeky and profound thumper, which reduces club music to its barest elements.
Robyn, "Indestructible"… And on the opposite end of the spectrum from Rafter, Robyn serves up a slick, old-school disco anthem that would make Giorgio Moroder weep with envy.
Sisters, "The Curse"… These noisy Brooklynites opened their album Ghost Fits with a chugging rocker built for people who like roaring, clanging guitars that start loud and get louder with each verse, and for those who relish the age-old tension between ear-bending sound and one scruffy guy's small, strong voice muttering against the crashing tide.
Superchunk, "Fractures In Plaster"… As thrilling as it was to hear Superchunk revive their roar on last year's "Learned To Surf" (reprised on this year's terrific comeback album Majesty Shredding), it was just as welcome to hear the indie-rock legends produce a perfect, poppy power-ballad like "Fractures In Plaster," complete with string section and soaring guitar solo.
Surfer Blood, "Swim (To Reach The End)"… This Florida quartet shows an infatuation with echoing percussion and tactile guitar on the torch-waving "Swim (To Reach The End)," stacking shout-against-the-gusting-wind volume atop nimble rhythmic shifts, and treating party music with a sense of urgency that borders on dread.
Teenage Fanclub, "Sometimes I Don't Need To Believe In Anything"… Teenage Fanclub's scattered influences coalesce beautifully on the opening track from the wonderful Shadows, which blends taut, propulsive guitar with the breathiness of Bread, then adds a chorus that blooms unexpectedly.
Rufus Wainwright, "Martha"… Appearing early on album that's both a house-cleaning and a soulful wallow, "Martha" directly addresses Wainwright's sister and pleads for calm amid the frazzle, with Wainwright's voice rising from the despair with breathtaking beauty, in a friendly rivalry with his rippling piano.
Paul Weller, "No Tears To Cry"… Weller's Wake Up The Nation is full of short songs suffused with a jittery vibe, as evidenced by this swirling, scaled-down take on Phil Spector-esque pop, which takes listeners on a trip to another world and then whisks us away again before we get too comfortable.
Wolf Parade, "Cave-O-Sapien"… These Montreal art-rockers closed out their magnificent Expo 86 in style with the frenzied "Cave-O-Sapien," which lives up to its memorable title with its snaky guitar/synth riffs and giddy, "Dancing With Myself"-style coda.
Wye Oak, "My Neighbor"… Finally, although the duo behind one of last year's most enduring LPs didn't release another album in 2010, they did tease fans with an EP containing one of the year's best songs: a stormy rocker that pauses periodically to catch its breath before leaping back into the maelstrom.
---
SEAN O'NEAL
1. LCD Soundsystem, This Is Happening (15)
2. Kanye West, My Beautiful Dark Twisted Fantasy (15)
3. The Walkmen, Lisbon (15)
4. The National, High Violet (10)
5. Big Boi, Sir Lucious Left Foot: The Son Of Chico Dusty (8)
6. Yeasayer, Odd Blood (5)
7. Deerhunter, Halcyon Digest (5) 
8. Spoon, Transference (5)
9. Local Natives, Gorilla Manor (5)
10. Arcade Fire, The Suburbs (3)
11. Sufjan Stevens, The Age Of Adz (3)
12. Foals, Total Life Forever (3)
13. Janelle Monáe, The ArchAndroid (3)
14. How To Dress Well, Love Remains (3)
15. Menomena, Mines (2)
NEAR MISSES
Active Child, Curtis Lane EP
Antony And The Johnsons, Swanlights
Caribou, Swim
Cee Lo Green, The Lady Killer
Delorean, Subiza
The Fall, Your Future Our Clutter
Gayngs, Relayted
Glasser, Ring
Grinderman, Grinderman 2
The Intelligence, Males
Liars, Sisterworld
Panico, Kick
The Roots, How I Got Over
Sleigh Bells, Treats
Titus Andronicus, The Monitor
Toro Y Moi, Causers Of This
Warpaint, The Fool
Wild Nothing, Gemini
GOOD SONGS FROM ALBUMS NOT ON THE LIST
Belle And Sebastian, "I Want The World To Stop"
Crocodiles, "Stoned To Death"
Crystal Castles and Robert Smith, "Not In Love" 
Department Of Eagles, "While We're Young"
Diamond Rings, "Something Else"
Drake feat. Nicki Minaj, "Up All Night"
The-Dream, "Abyss"
The Go! Team, "T.O.R.N.A.D.O."
Interpol, "Summer Well"
Les Savy Fav, "Clear Spirits" 
Robyn, "None Of Dem"
Twin Shadow, "Castles In The Snow"
ALBUM THAT MAY HAVE CHARTED HAD IT COME OUT IN TIME
Ghostface Killah, Apollo Kids
BIGGEST DISAPPOINTMENT
Nicki Minaj, Pink Friday
MOST IRRITATING SONG OF THE YEAR, AND POSSIBLY IN THE HISTORY OF MUSIC
Katy Perry, "California Gurls"
BEST REISSUE/REDISCOVERY
Bruce Springsteen, The Promise
HIP-HOP QUOTABLE OF THE YEAR
TIE: "I put the pussy in a sarcophagus" (Kanye West, "Monster"); "I'm shittin' on 'em like two girls and one cup" (Lil Wayne, "Gonorrhea")
HIP-HOP QUOTABLE OF THE YEAR (NON-HIP-HOP DIVISION)
"My baby calls me the Loch Ness Monster / Two great big humps and then I'm gone" (Grinderman, "Worm Tamer")
MISSED OPPORTUNITY OF THE YEAR
M.I.A.'s Lynn Hirschberg diss song "Haters," a dashed-off track that could have been a worthy, image-bolstering rejoinder to critics who take her to task for being a gold-bedecked bajillionaire hiding behind third-world imagery, but was instead a humorless, sloppy string of scattershot insults that was just as juvenile as tweeting Hirschberg's phone number. Further points deducted for not naming it "Truffle Fry."
MOST SHAMELESSLY BLATANT ATTEMPT TO CAPITALIZE ON THE "IT GETS BETTER" CAMPAIGN
Ke$ha's "We R Who We R," which she claims was inspired by the news surrounding the bullying of gay teens and how she'd been "really affected by the suicides that have been happening." So she wrote socially relevant, pro-tolerance lyrics like, "Got that glitter on my eyes / Stockings ripped all up the side / Looking sick and sexy-fied," and "We're selling our clothes / Sleepin' in cars / Dressin' it down / Hittin' on dudes / Hard." Feel better yet?
BIGGEST CONTRIBUTION MADE TO POP CULTURE BY A MUSICIAN (NON-MUSIC CATEGORY)
Kanye West's Twitter feed, the Associated Press of entertainingly asinine statements and a godsend to slow news days.
TREND I CAN TOTALLY GET BEHIND
White boy indie rockers like How To Dress Well and Gayngs trying to make loverman R&B. Awww yeah, that's conceptual, baby.
THE ROGER MURTAUGH "I'M TOO OLD FOR THIS SHIT" AWARD
Die Antwoord.
---
KEITH PHIPPS
1. LCD Soundsystem, This Is Happening (12)
2. Kanye West, My Beautiful Dark Twisted Fantasy (12)
3. Vampire Weekend, Contra (12)
4. The Walkmen, Lisbon (10)
5. The Hold Steady, Heaven Is Whenever (8)
6. Gorillaz, Plastic Beach (8)
7. The Roots, How I Got Over (8)
8. John Mellencamp, No Better Than This (7)
9. The National, High Violet (6)
10. Broken Social Scene, Forgiveness Rock Record (5)
11. The Black Keys, Brothers (4)
12. Spoon, Transference (2)
13. MGMT, Congratulations (2)
14. Arcade Fire, The Suburbs (2)
15. The New Pornographers, Together (2)
A FEW WORDS ABOUT THE ORPHANS ON MY BALLOT
At the beginning of 2010, I wouldn't have expected John Mellencamp to turn up on my ballot. He was always one of those guys who I liked just fine, mostly for a handful of singles that played all the time when I was a kid, but that I never gave any particular notice. But No Better Than This is a remarkably affecting album about the way time makes some bonds fray and others strengthen, and it's well served by its old-fashioned production, which might have been a gimmick for someone else. It's more than the best mono album you'll hear this year. It's also the sort of album a veteran artist records once he's been unburdened of the expectation of making hits.
MGMT's stereo-filling Congratulations comes from the other end of the audio spectrum but has a similar attitude. There's little in the way of hooks and much in the way of experimentation. Anyone expecting a companion piece to Oracular Spectacular will come away disappointed, and it would be a shame if a band with such a gift for catch songs would ignore it forever. But as modern psychedelia goes, nobody's doing it better.
I'm a bit surprised that neither The New Pornographers' Together nor Broken Social Scene's Forgiveness Rock Record made the main list. I think it may be a matter of taking veteran acts delivering terrific albums for granted, and I wouldn't be surprised if these were still in rotation longer than some of the albums that did make it. (I'm not naming any names.)
---
NATHAN RABIN
1. Kanye West, My Beautiful Dark Twisted Fantasy (15)
2. The Roots, How I Got Over (15)
3. John Legend And The Roots, Wake Up! (10)
4. Cee Lo Green, Lady Killer (10)
5. Merle Haggard, I Am What I Am (10)
6. MURS & 9th Wonder, Fornever (10)
7. Nottz, You Need This Music (10)
8. Strong Arm Steady, In Search Of Stoney Jackson (10)
9. Celph Titled & Buckwild, Nineteen Ninety Now (5)
10. Bilal, Airtight's Revenge (5)
RUNNERS UP
Guilty Simpson, O.J. Simpson
Rhymefest, El Che
Drake, Thank Me Later
Laura Marling, I Speak Because I Can
Little Brother, Leftback
---
KYLE RYAN
1. Frightened Rabbit, The Winter Of Mixed Drinks (15)
2. Robyn, Body Talk (15)
3. Superchunk, Majesty Shredding (10)
4. Arcade Fire, The Suburbs (9)
5. Motion City Soundtrack, My Dinosaur Life (8)
I am The A.V. Club's ambassador to all things pop-punk and emo, so I suppose I'm predisposed to the hook-laden, punky power-pop that is Motion City Soundtrack's specialty. Except that I wasn't really a fan of the band until last year. I remember checking out Commit This To Memory years ago, but it didn't grab me. That changed when I revisited it (and MCS' other albums) before reviewing their three-night stand in Chicago last December. All of their albums are pretty great, and the latest continues the phenomenon. There was a stretch of at least a week where I woke up with "Her Words Destroyed My Planet" stuck in my head. My Dinosaur Life subsequently became one of the most played albums on my iPod. 
6. The Roots, How I Got Over (7)
7. Dessa, A Badly Broken Code (6)
8. Matt & Kim, Sidewalks (6)
The Brooklyn duo's third album didn't come out until November, but I knew I'd spend a lot of time with it after playing it once. Again, I'm a sucker for hooks, and Sidewalks boasts plenty of them. Our reviewer Christian Williams suggested that Sidewalks' increased production values made the band's "bratty punk energy" flag, but I disagree. They stepped it up on this album—I love the big, fat synths on songs like "AM/FM Sound" and "Red Paint"—and it will likely become my favorite of Matt & Kim's releases.
9. The National, High Violet (5)
10. The Hold Steady, Heaven Is Whenever (5)
When Boys And Girls In America came out in 2006, it seemed The Hold Steady could do no wrong. The momentum faded a bit on 2008's Stay Positive (and fell to No. 6 in our year-end poll), and it's practically disappeared from this year's Heaven Is Whenever. I understand. The departure of Franz Nicolay is a big loss, and it took some time for this to grow on me. But "The Weekenders" is one of my favorite songs of 2010, and "Hurricane J" and "Soft In The Center" offer plenty of that Hold Steady charm. 
11. Clipse, Til The Casket Drops (4)
Last year I predicted that the new Frightened Rabbit and/or Clipse would top my 2010 best-of list. I was right about that, though Til The Casket Drops left me cold for months. Just about anything would have been a big comedown following Hell Hath No Fury, probably my favorite hip-hop album of the last decade, but I was still a little bummed when the duo abandoned the Hell Hath's masterful minimalism for something more mainstream ("Showing Out"). Clipse has been on the cusp of big things for an eternity, so I can't blame Pusha T and Malice for making one last push for the primetime. Once I got over my initial disappointment, though, I discovered that I really liked Casket. Opener "Freedom" is appropriately epic, and for as crass as "Showing Out" is, the beat and synths are undoubtedly badass. Casket fills all the space on Hell Hath No Fury with thick synthesizers, and though it turned me off at first, I've come around. 
12. Big Boi, Sir Lucious Leftfoot: The Son Of Chico Dusty (4)
13. Kanye West, My Beautiful Dark Twisted Fantasy (3)
14. Dum Dum Girls, I Will Be (2)
15. Call Me Lightning, When I Am Gone My Blood Will Be Free (1)
THE FIVE MOST PLAYED 2010 TRACKS ON MY WORK COMPUTER ITUNES
1. Robyn, "Fembot"
2. Frightened Rabbit, "Swim Until You Can't See Land"
3. The Hold Steady, "The Weekenders"
4. Motion City Soundtrack, "Her Words Destroyed My Planet"
5. Against Me!, "I Was Teenage Anarchist"
BEST SONG TITLE BACKED UP BY A GREAT SONG
"Pure Shit" by Call Me Lightning
---
CHRISTIAN WILLIAMS
1. Baths, Cerulean (10)
2. Big Boi, Sir Lucious Left Foot: The Son Of Chico Dusty (10)
3. The Black Keys, Brothers (10)
4. Ariel Pink, Before Today (10)
5. The Radio Dept, Clinging To A Scheme (10)
6. The Roots, How I Got Over (10)
7. The Soft Pack, The Soft Pack (10)
Whether it was a harder-driving Feelies on "Down On Loving," a drunk Walkmen on "Mexico," or Hot Snakes with 30 percent less sneering disdain on "Pull Out," The Soft Pack spliced some of indie-rock's most evolutionarily advantageous traits into its debut LP for a sound that flourishes in any environment that could use a little more tuneful shredding. 
8. Twin Shadow, Forget (10)
9. Wild Nothing, Gemini (10)
10. Tame Impala, Innerspeaker (5)
11. Woods, At Echo Lake (3)
12. Robyn, Body Talk (1)
13. Deerhunter, Halcyon Digest (1)
RUNNERS UP
The Depreciation Guild, Spirit Youth
Dessa, A Badly Broken Code
The Fall, Our Future Your Clutter
The Goodnight Loving, The Goodnight Loving Supper Club
The Intelligence, Males
Jaill, That's How We Burn
Kanye West, My Beautiful Dark Twisted Fantasy
Panico, Kick
The Walkmen, Lisbon
Arcade Fire, The Suburbs