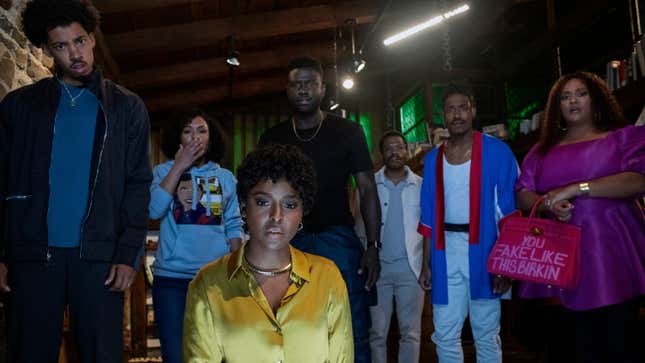 The basic premise of The Blackening, the new horror comedy from Barbershop director Tim Story, is right there in the tagline: "We Can't All Die First." The film (written by Harlem creator Tracy Oliver and Brooklyn Nine-Nine writer Dewayne Perkins), centers on a group of Black friends who find themselves drawn into one of those elaborate murder games that people are always wandering into in movies, complete with evil board games, complicated death traps, and a challenge to vote amongst themselves as to who the "blackest" is—so that they can die first.
The film stars Perkins, Antoinette Robertson, Sinqua Walls, Grace Byers, X Mayo, Melvin Gregg, Yvonne Orij, Jay Pharoah, and Jermaine Fowler—the latter of whom goes to some pretty extreme lengths, in the trailer, to convince his friends he's not as Black as the rest of them.
Comedies can always be hard to judge from trailers—it's not especially hard to find every line that got a laugh in test screenings and throw it into a trailer, depriving the movie itself of any fresh jokes—but The Blackening seems to be pretty smart and pretty cutting about the material it's tackling. (Including some fairly straight riffs on slasher parody material, with everyone audibly groaning when someone suggests they all split up, and one very good Rosa Parks joke.)
Story, for his part, has bounced all over the place over his last 20 years in Hollywood; in addition to 2002's Barbershop, his previous comedies include everything from Taxi and Ride Along 2 to the recent Tom & Jerry movie. (He also directed both of the 2000s-era Fantastic Four movies; Tim Story has had a fascinating career, actually.) The Blackening lands in theaters on June 16, 2023, just ahead of the Juneteenth holiday on June 19th.