Ever wonder what The Breakfast Club would be like today? No, well, you're about to find out anyway.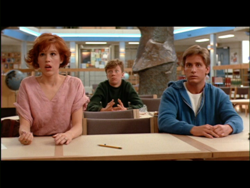 Strangely, it sounds a lot like
Unaccompanied Minors.

From The Hollywood Reporter:


Veteran producer Bridget Johnson will produce "Bumped," a modern-day version of "The Breakfast Club," with McG protege Anna Mastro attached to direct from a script by Lizzy Weiss.

"Bumped" is a comedy-drama revolving around five twentysomethings — including a corporate go-getter, a musician and a flirt — who normally wouldn't be friends but who get to know one another when they're bumped from a flight and wind up stranded at Chicago's O'Hare Airport.


It just got pointlessly nostalgic in here!

So, to today's twenty-somethings, high school detention is now O'Hare, the strict Principal Vernon is probably a particularly authoritative Delta ticketing agent, and the letter they write at the end is a very strongly-worded essay they're forced to email to Delta's Customer Service department. But what about the 1980s teenage archetypes that The Breakfast Club so expertly delineated and beat us over the head with? What are the "simplest terms and most convenient definitions" for modern youths?

This article only mentions three: the Athlete has transitioned into a Corporate Go-Getter, the Criminal is now a Musician, and the Basket Case has blossomed into a Flirt. I picture the Princess as a Failed ANTM Contestant (there are so many of them now it's practically archetypal), and the Brain is (obviously) a Ryan Gosling Impersonator. Because, really, aren't all twenty-somethings part Corporate Go-Getter, part Flirt, part Failed ANTM Contestant, part Musician, and part Ryan Gosling Impersonator?

The email that they craft to the Delta Customer Service department at the end of the film will be the new voiceover of a generation:


Subject: Your airline is a joke

Dear Delta Customer Service,

[see subject] We wasted a whole Saturday at an airport because of your ridiculous incompetence. Yes, we made friends and also a huge, obvious, broad point about our generation, but we think you're crazy for making us write an essay telling you who we think we are. Seriously, that's crazy. Why would we write an essay to an airline? Here's your essay: Fuck you. We want refunds. Please send them to us under our super-important generational archetypes: Corporate Go-Getter, Musician, Failed ANTM Contestant, Flirt, and Ryan Gosling Impersonator.

Sincerely, The Breakfast Club II