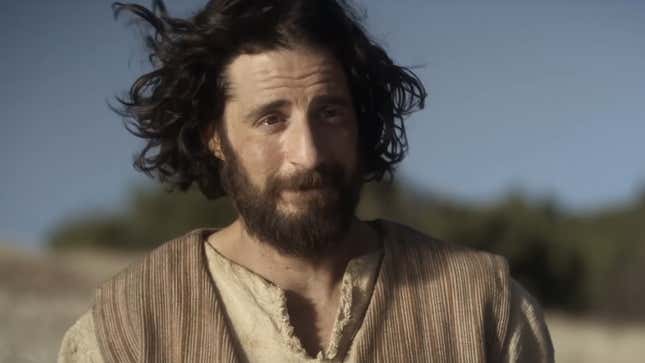 Announcing that it's getting involved in "the biggest IP of all time"—in much the same way that very boring people are always trying to lure you into religion by promising that it's "The Greatest Story Ever Told," even though it doesn't feature even a single monster truck—The CW has decided to get into the Christ business. Specifically, the network—which has spent the last year ruthlessly killing off pretty much all of its shows after being sold to a new owner—has announced that it's picked up three seasons' worth of The Chosen, a TV drama about the life of Jesus Christ, a notorious carpenter who created a great deal of hubbub in the Middle East some two millennia or so ago.
The pedigree on the show, which stars Jonathan Roumie as Jesus, is actually pretty interesting: It was created by Dallas Jenkins, son of one half of the writing team behind the Left Behind books, out of a desire to create "bingeable" content about Jesus. (Real quote from Jenkins, courtesy of Fox News: "I was binge-watching some shows at the time and I thought, 'There's never actually been a multi-season show about the life of Christ.'") Jenkins crowdfounded the show to record-breaking success, and then partnered with Christian company VidAngel—best known for its service that filters nudity and profanity out of DVDs, and then for getting into a massive lawsuit with the studios over said service—to broadcast the series. Viewership was slow at first, but then picked up when, during the early days of COVID-19, Jenkins and his team made the show free to watch for the masses. (Jenkins refers to this as—actual quote—"God's impossible math," drawing direct parallels to the parable of the loaves and fishes.)
Here's Patrick Stewart's biggest regret, according to Patrick Stewart
Having steadily picked up steam since, the show has become a genuine streaming success, and now appears on multiple services, including Netflix and Peacock. (It doesn't hurt that, by all accounts, The Chosen is pretty well-made by the standards of TV drama—which means it's exceptionally well made by the usual standards of Christian entertainment, with much praise being pointed toward its acting, production values, and its efforts to spin a compelling drama out of the lives of Christ and his disciples.) It even got some novelizations, courtesy of Jenkins' dad, Jerry B. Jenkins, which are screwing with our head because they're novel-style adaptations of a TV show that draws its inspiration directly from The Bible. (That's weird, right? It's sort of the non-secular version of someone doing novelizations of everything that happened on HBO's Game Of Thrones.)
All of which leads up to today, when The CW—which is, among other things, facing the crunch of the WGA writers strike, which makes pre-made scripted content extremely appealing—announced that it was picking up all three extant seasons of the show for network broadcast. The show will begin running on July 16, and then will just sort of keep running, culminating in the network airing the third season finale on Christmas Eve. No word yet on whether Jenkins' other four currently planned seasons are likely to get a similar treatment.