In the '70s and '80s, Pink Floyd's The Dark Side Of The Moon and The Wall were so ubiquitous that they may as well have been issued to every adolescent child by the government—like social security numbers or polio vaccines. The Dark Side Of The Moon was the impeccable record: the perennial best-seller, bought and re-bought with each new advance in stereo technology, and meant to be experienced as a kind of spiritual journey through the grand themes of life, from birth to business to madness to death. The Wall was a monolith too, but less universal and more personal. Its fragmented songs reflected the scarred psyche of a depressed rock star in ways relatable to anyone who felt ground down by authority and obligation. Both albums dominated rock radio, and became common cultural touchstones, which was an odd fate for Pink Floyd, considering that the band had emerged from the wilder, more exploratory side of '60s psychedelia—not the cutesy "Cups And Cakes" variety, but "Set The Controls For The Heart Of The Sun."
I never stopped liking Pink Floyd, even after I switched from album rock to alt-rock about midway through high school. Johnny Rotten may have scrawled "I Hate" on his Pink Floyd T-shirt, but most of the teen punks in my circle respected the Floyd, because ultimately the band made sad-bastard music about alienation. Sometimes the pangs of adolescence transcend any carefully crafted self-identity.
Still, I couldn't wholly claim Dark Side or The Wall or even Wish You Were Here as my own. I just didn't feel them as deeply; I wasn't like my friend James, who asked to hold a screening of the movie version of The Wall at our summer camp, then acted as though the administration's "no" was a crushing blow against individuality and youthful self-determination (and not, say, the understandable fear that letting 16-year-olds watch an R-rated film would get the program into trouble).
No, my gateway to Floyd fandom was the oft-neglected 1977 concept album Animals, which I bought used for four bucks on vinyl when I was a junior in high school and then listened to as obsessively as I was listening to The Cure and Black Flag back then. To me, as different as all those bands sounded, they were of a piece with what they were trying to express—musically or lyrically—about the ways our relationships with institutions and each other inevitably decay. Stretch that theme across five songs in 40 minutes, add some hypnotic guitar-strumming and synthesizer, and that's Animals, the perfect album for a pessimistic 17-year-old to listen to through headphones while working on homework well past midnight.
Pink Floyd's new Discovery box set shows how the band's thematic preoccupations defined it almost more than any one musical style. The Pink Floyd that recorded The Piper At The Gates Of Dawn in 1967 (Syd Barrett/Roger Waters/Richard Wright/Nick Mason) is literally not the same band that recorded The Division Bell in 1993 (by which time Barrett and Waters were long gone, and Wright and Mason were being led by David Gilmour). But even when taken a few albums at a time, it's obvious that Pink Floyd underwent some fairly radical changes year-to-year.
Piper is largely the product of Barrett's acid-fried imagination, as interpreted by three architecture students who were as interested in the artistic possibilities of rock 'n' roll as they were in getting audiences off. Barrett's friend Gilmour was brought in for 1968's A Saucerful Of Secrets when the frontman began behaving erratically, and once Barrett left for good, Pink Floyd became more of a proper collective, with each member contributing ideas. For the next five years, the band developed a reputation as one of the most powerful live acts around—at once exploratory and muscular—while its recorded output tended to be eclectic to a fault, mixing winsome folk with avant-garde noise and noodly soundtrack music. Various members of the band have pointed to the 23-minute song "Echoes" on 1971's Meddle as their real creative breakthrough, proving that they could stretch out and simplify simultaneously, making trippy, ambitious music that had genuine flow. The Dark Side Of The Moon, Wish You Were Here, and Animals—my favorite three Floyd albums, along with Meddle—followed the "Echoes" blueprint, minimizing waste and maximizing impact.
Discovery is somewhat disappointing as a consumer item. The remastered albums all sound terrific, and the just-under-$200 price point isn't too unreasonable for 14 albums (on 16 CDs). But the box itself isn't especially attractive, and the accompanying booklet offers only previously unseen album and tour art, with no information about the music within. The CDs too are bare bones, replicating the original liner notes but offering nothing new: no bonus tracks, no commentary.
G/O Media may get a commission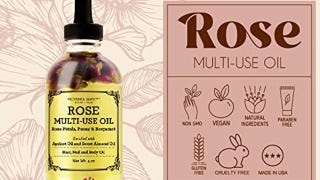 Provence Beauty Rose Multi-Use Oil
For bells and whistles, fans will have to spring for the series of "Immersion" box sets that the band is releasing. The Wall will be out next year, and Wish You Were Here next month, but currently available is a six-disc Dark Side box that comes with replica memorabilia, coasters, a pouch of marbles, a scarf, and an assortment of Dark Side-era audio and video. Again, the actual booklets in the Immersion Dark Side are scant on behind-the-scenes info, and all told, there's not much in the way of new music here either. The box contains a complete 1974 live performance of the album, and a complete 1972 mix (which is mainly noteworthy for having a spoken-word segment in the place of Clare Torry's vocals on "The Great Gig In The Sky"), along with a few live recordings and outtakes. Video-wise, the Immersion set features a couple of 1972 concert excerpts (under 20 minutes total, covering only two full songs), and examples of the films that were shown behind the band during their 1974-'75 world tour. Again, there's not much here to cast new light on a group of musicians who've tended to maintain an air of mystery.
The major exception: a 30-minute 2003 documentary about the making of The Dark Side Of The Moon, which features insights from Waters, Gilmour, Mason, and Wright about their eagerness to tackle big subjects with this album, and how the various songs—as well as the record's packaging—sprung from this notion to do something grand. In some ways, Dark Side was to be the last Pink Floyd album that was a democratic collaboration. In the documentary, Waters' mates praise his lyrics, which became at once more sophisticated and more direct with Dark Side. But in the years to come, they'd start to resent the way Waters alone would decide what a Pink Floyd album would be, effectively turning his fellow band members from co-creators to sidemen. Waters' dominance is a major problem with 1979's The Wall, which features some of the band's most brilliant and emotionally overpowering songs—especially "Comfortably Numb," which is one of the few tracks on the album co-written by Gilmour—alongside some of the most self-indulgent. (For more on the making of The Wall and its cultural impact, I refer you to Steve Hyden's excellent "We're No. 1" column of a few months ago.)
And yet, given Pink Floyd's post-Wall work, it's hard to be too annoyed with Waters for botching what had been a superior run. Pink Floyd's 1982 Wall follow-up The Final Cut is a complete Waters-fest, building out from a few Wall leftovers into a thoughtful (if too tuneless) exploration of World War II and its relation to the modern military mindset. Then Waters parted ways with the band, and Gilmour took the lead for 1987's A Momentary Lapse Of Reason and 1994's The Division Bell, two solid but largely personality-free arena-rock albums. None of these three records features the musicianship and rich interplay of the Dark Side/Wish You Were Here/Animals trifecta, but The Final Cut is at least idiosyncratic and often quite potent.
In retrospect, the creative and commercial success that Pink Floyd had is unusual, though understandable. Waters and company were an arty bunch, but rarely obscure. They weren't singing songs about ancient myths, and weren't aping the structures of classical symphonies. No, Pink Floyd mostly sang about lust and pain, set to music rooted in the blues and trance-y Euro-folk. Even what would seem to be the band's quirkiest trait—Waters' obsession with how WWII transformed notions of British manhood—weren't too far removed from other products of UK pop culture at the time. (See: Side one of The Who's Tommy, the movie Hope & Glory, et cetera.)
Mostly, Pink Floyd became huge because of a thematic arc that saw them contemplating the cosmic at the dawn of the '70s, and then hunched in a chair and staring at a dingy mirror by decade's end. In their particulars, Pink Floyd's songs are concerned with problems that have little to nothing to do with the lives of any ordinary teenage rock 'n' roll fan. But kids do know what it means to be awed by the sight of a flaming gong, and they also know how if feels to whisper to themselves in a cracked voice that one of these days they're going to cut everyone around them into little pieces.