Olympics-dominating gymnast Gabby Douglas has her story Lifetime-ized in The Gabby Douglas Story, and it's 90 minutes of treacly declarations and follow-your-dreams platitudes that waste the talents of both Regina King and S. Epatha Merkerson. Prominent female gymnasts immediately default to America's sweethearts in the public consciousness, so there's no reason to expect some sort of hard-hitting biopic about Douglas. Still, the biggest disappointment of the The Gabby Douglas Story is not what it is, but what it could have been.
Douglas and her mother, Natalie Hawkins, serve as executive producers of the film, which is both a blessing and a curse. Douglas was directly involved with production, performing stunts for her cinematic stand-in, Imani Hakim. Douglas' real performance footage is also used during competition scenes, making the re-creation of Douglas' technical prowess one of the more authentic aspects of the movie. But Hawkins and Douglas' involvement ensures a glossed-over view of the latter's journey to the Olympic podium in London.
Douglas' story is a comparatively interesting one. The youngest of four children, she was diagnosed with a rare blood disorder as a baby, branched-chain ketoaciduria, an issue that never truly seems to be resolved in the film's narrative. Her mother (King) is a proud woman who refuses public assistance despite living in poverty, instead preferring to teach her children the value of hard work. Natalie only relies on her mother, Miss Caroline (Merkerson), when migraines begin to incapacitate her. (Merkerson, a wonderful talent best known for her Law & Order days, is given so little to do, it's a wonder she's in the movie at all.) Natalie puts her youngest daughter in gymnastics classes, where her talent is immediately recognized as potentially elite. Cue the scenes of vision-board craft projects and training montages, as Douglas pushes herself to Olympic-level glory. Eventually, she moves from Virginia Beach to Des Moines, Iowa, where she is brought under the tutelage of Liang Chow (Brian Tee) and lives with a host family.
Douglas overcame a lot—that's not up for debate. But she overcame quite a bit more that's not in the movie. The most glaring omission from her story is seemingly the most obvious one: It's impossible to ignore that Douglas is a black woman competing in a sport that is predominantly white. Even while Douglas was a favored presence at the games, her race was an issue of discussion, ranging from NBC's botched coverage of her time in London to arguments about her hair. Douglas has not been silent on the issue, either. In a 2012 interview with Oprah Winfrey, Douglas explains she felt so isolated because of the racism she experienced at her original Virginia Beach gym, it was one of the reasons for her move to Iowa.
G/O Media may get a commission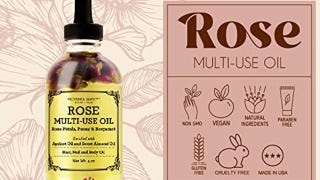 Provence Beauty Rose Multi-Use Oil
But these issues aren't at play in the movie's world. In The Gabby Douglas Story, Douglas harangues her mother into allowing her to train with Chow only after seeing his work with Shawn Johnson, whom Chow led to one gold and three silver medals in the 2008 Olympics. Douglas' race is touched upon in a few lines; when Natalie drops Gabby off with her Iowan host family, Gabby says to her mother, "No one told me there were no black people in Iowa." Instead of battling racial tensions, Gabby's main opposition from other gymnasts comes when one makes fun of her for being too short, which hasn't been a problem for a gymnast since the inception of the sport as a competitive practice. Race does not need to be the central focus of the movie, but considering it was a major talking point during the peak of Douglas' fame, its presence is too big to ignore.
Such expectations exceed the traditional boundaries of Lifetime movies, which have characteristically dealt in the sappy or the salacious—or both. But it's disheartening if only because Lifetime has become so much more ambitious as of late. The results may not be fantastic—the recent Flowers In The Attic adaptation was more of a camp-fest than a legitimate stab at quality—but this is the same network that recently aired directorial efforts from Mary Harron (Anna Nicole) and Allison Anders (Ring Of Fire), the same network seeking on-screen talent beyond the ranks of '80s TV stars. So why not get a little gritty with Douglas, talk about some of the real issues she faced rather than just the lighter fare? She can still work hard, demonstrate her determination, and retain her position as America's sweetheart, even if her story is not as neat as her biopic would lead you to believe.
Written by: Sterling Anderson, Maria Nation
Directed by: Gregg Champion
Starring: Regina King, S. Epatha Merkerson, Imani Hakim
Airs: Saturday at 8 p.m. Eastern on Lifetime
Format: TV Movie