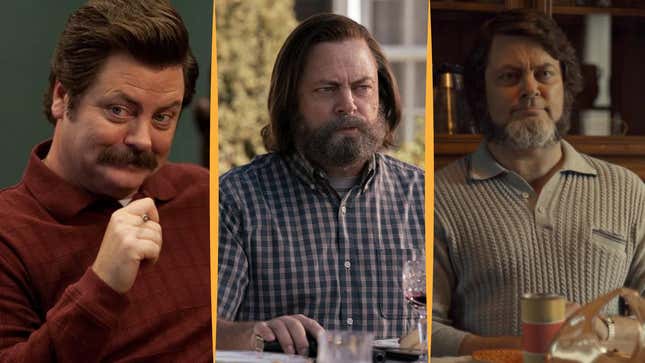 Nick Offerman has never won an Emmy, but there's a good chance HBO's The Last Of Us will change that. And, yeah, it's about time.
The actor is still best known for playing Parks And Recreation's gruff but secretly affectionate Ron Swanson. He essayed the role for seven seasons and gave the performance of a lifetime. Offerman's real-life traits seeped into Ron's personality—the woodworking, the saxophone, the Lagavulin. So, understandably, fans of NBC's beloved comedy associate him closely with it. After all, it's not every day we're rewarded with a sitcom character with a well-deserved spot in the TV hall of fame. He remained earnestly funny throughout Parks' run but didn't earn a single Emmy nomination. (He did, thankfully, win Television Critics Association's Individual Achievement in Comedy award in 2011.)
In his post-Parks career—that is, since 2015—Offerman has picked fascinating TV projects that display his range instead of limiting him to a sitcom-esque character. This week's The Last Of Us is a tremendous example of that. Along with Murray Bartlett, Offerman only needs a 75-minute installment to get the internet abuzz about his craft. The duo appears in the video-game adaptation's stellar third episode, "Long, Long Time," and they portray a heartbreaking but gratifying romance. Offerman's Bill is a loner who damn well knows how to prep for an apocalypse. (Okay, okay, Ron would be proud.)
His isolation ends when he meets Bartlett's Frank. Spoiler alert: They have a profoundly loving relationship for years before dying together. Make no mistake, "Long, Long Time" will leave you sobbing. It's a beautiful detour from Joel (Pedro Pascal) and Ellie's (Bella Ramsey) storyline, with Offerman adding humanity and vulnerability to a well-known video game character. The actor's skill lies in being tender and weird (it saved Ron from being cartoonish and one-note). Whether he's actively fighting off raiders or giggling (an Offerman special) while eating a strawberry in TLOU, he's got you hooked.
Offerman's TV career before Parks primarily included a few outings of well-known series (Gilmore Girls, 24, The West Wing, Children's Hospital, and the like). The NBC comedy put him in the spotlight, and he's now a standout in any show he lands a part in. Over the last few years, this has included turns as a chatty, inebriated lawyer in Fargo, Captain Holt's ex in Brooklyn Nine-Nine, a grieving dad in The Resort, a douchebag coach in A League Of Their Own, and Making It's co-host.
His first series regular role after Parks, though, was in Alex Garland's underrated (albeit complicated) sci-fi drama Devs. It's such a huge departure for the actor, with Offerman playing a villainous CEO with fervor. Yet, by the end, Devs makes us empathize with him to a certain extent. And it all works because the actor did the heavy lifting to sell the twist. His other main roles include Hulu's Pam And Tommy as the sleazy Miltie, who encouraged stealing and selling Pamela Anderson's sex tape, and as Colin Kaepernick's father, Rick, in Netflix's Colin In Black And White. Once again, those are tonally opposing roles that he aces.
I know it's not breaking news: An actor acts! However, Offerman has put in a range of work for (ahem) a long, long time, including in his most famous role to date. So while his artistry is not surprising, it's still a joy to see that his sublime The Last Of Us performance has made a lot of us notice and cheer for him. Let's just hope the TV Academy follows suit when they put together this year's Outstanding Guest Actor noms.