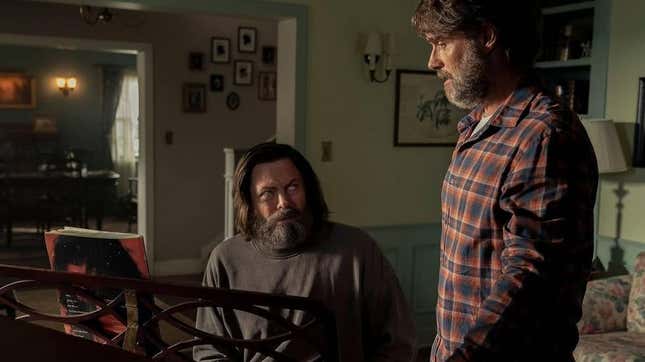 The Last Of Us co-creators Craig Mazin and Neil Druckmann needed to kick the storytelling up a notch in episode three to keep us watching. It's not that the first two were a snooze; they deliver plenty of tasty world-building, doomy atmospherics, scary action, and worthy heroes. But the culture has churned out a ton of grimdark dystopia in the past twenty years or so, no? Where's the human quirk, flamboyant characters, and artful dialogue?
I'm not pining for The Walking Dead's long shuffle into soap opera, just something a little less mechanical (especially needful in a game-based show). Pedro Pascal is a perfectly charismatic leading man. But part of me wishes that Joel had been not a construction worker, but instead, oh, a poetry professor at UT-Austin who also happens to be good at clambering over rubble and shooting zombies in the face. Imagine quoting The Waste Land before he slams a fresh magazine home. Just kidding (kind of). For all its epic sets and cinematic gloss, the series can be quite square and trope-y: the Indonesian mycologist who tells the authorities to nuke the cities, the worn-out Zippo Tess (Anna Torv) desperately flicks, the hardened antiheroes, and the sassy young sidekick.
All of which is cause to celebrate "Long Long Time," where the tropes are markedly different; it's a survivalist chic, rom-com, and disease-of-the-week weepie. The episode is essentially an artfully telescoped film sandwiched by Joel and Ellie hiking west of Boston, getting supplies and a truck, and driving out. Joel's Firefly brother Tommy is in Wyoming, so he can help Ellie (Bella Ramsey) get to the lab that may discover why she's immune to infection. Our heroes' story doesn't actually advance much. Ellie, who has been begging for a gun, finds one, which she stashes in her backpack without telling Joel. That will either be a problem or come in handy soon. Joel lays out the rules (I'm paraphrasing): 1) don't talk about grief 2) don't show anyone your bitten arm and 3) do what I say. We'll see how long before the rebellious Ellie breaks each commandment.
G/O Media may get a commission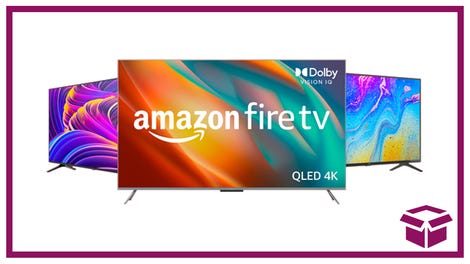 Ooh. stunning.
New Amazon Fire TVs
It's the extended flashback inside the frame that was so touching and refreshingly emotional. Bill (Nick Offerman) and Frank's (Murray Bartlett) funny and tragic love affair didn't establish new world rules or alter Joel and Ellie's objective, but it showed a tender, more adult side of the pandemic, and how two men nurtured a tempestuous passion and their version of civilization behind gates and tripwires. Before we get there, let's recap business with Joel and Ellie.
The first jump scare comes about nine minutes in. Joel searches for stashed supplies in a looted and abandoned Cumberland Farms store as Ellie unwisely descends through a trap door to explore the dusty basement. She hears a telltale raspy groan. A half-Clicker is trapped under a bunch of cinder blocks and rubble straining to get free, its mushroom head sticking out. Ellie inches close to the terror toadstool, shining her flashlight. After the close scrape in the museum in Boston, you'd think the girl would be more circumspect, but hey, she's immune—and badass. Flicking open her knife, she studies the beast, slices open part of its forehead to reveal white tendrils underneath, then plunges her blade into its brain. It's a chilling window into Ellie's strength and cold-bloodedness.
As they continue down the road, Ellie peppers Joel with questions about how the pandemic happened. Apparently, they didn't get an accurate account in "shitty FEDRA school." Joel explains that it was a mutated form of Cordyceps that got into the food supply, like flour, which went into products sold globally and thus infected people who started biting and attacking others on September 26, 2003. The two come across a field strewn with human skeletons. Twenty years back, a whole village of people was rounded up and massacred by FEDRA troops, because the Quarantine Zone (Q.Z.) was already full.
Flashback to September 30, 2003, in Lincoln, Massachusetts. A survivalist sits in a shadowy bunker (stuffed with guns, gallons of sulfuric acid, and back issues of Guns & Ammo), watching soldiers round up civilians on his CCTV monitors. Viewed from behind, the doomsday prepper grabs his rifle as he hears soldiers searching the house above. The goons are called away and he relaxes. "Not today, you New World Order jackboot fucks," the bearded stranger drawls. Wait a minute; we know that voice. Ladies and gentlemen, Ron Swanson has entered the room. And hotelier Armond is not far behind.

Casting inherently comical and likable stars from Parks and Recreation and The White Lotus is a risk that pays off. Their familiarity and sweetness (or, in Offerman's case, sweet-and-sourness) provide relief from Joel's 24/7 stone-faced doggedness and the existential dread that characterized the first two episodes. One man's apocalypse is another man's paradise.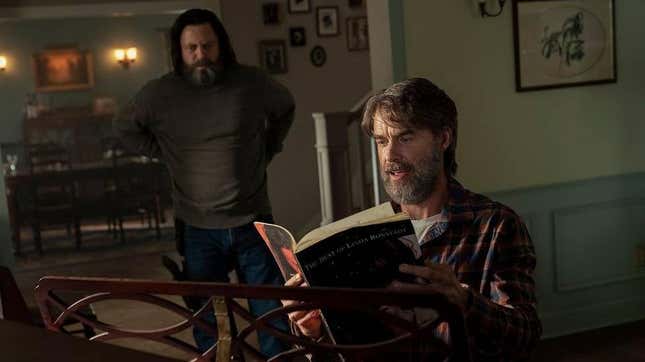 Bill's survivalist montage (set to a jangly rockabilly tune) shows him filling barrels with gas, raiding Home Depot, and setting up his own power generator. He's embracing the breakdown of society with the glee of a teenage kid who throws a party when his parents go on vacation. And hey, Offerman (an accomplished woodworker) sells it. Who wouldn't want to enjoy a home-cooked steak and a glass of red, then pause to check your surveillance monitor as an infected get a round in the head from the tripwire gun you set up? "Never gets old," our happy hermit murmurs contentedly.
Four years later, Bill has effectively turned Lincoln into a gated community. One afternoon he detects an intruder along the perimeter and confronts a filthy, bearded but charming man (Murray Bartlett) who has fallen into one of his pit traps. Ascertaining the guy is not armed or infected, Bill lowers a ladder. What then unfolds (over the span of 16 years) is the greatest romance you may ever see in a zombie thriller.

If The Last of Us is about the love that grows between a grieving father and the girl in his care, its parallel is the bond between Frank and Bill, which Mazin's script traces with tremendous heart and humor. Never lapsing into camp or cheesy softcore, their courtship proceeds with impressive delicacy; even innocence: a sensuous lunch (Bill is an excellent cook), then the touching business around the piano, leading to a kiss and then a hot yet tasteful scene in bed—in which we learn (unsurprisingly) that Bill has limited sexual experience. (Bartlett deserves an Emmy nod just for the look Frank gives the freshly showered Bill after tugging his towel away, a tiramisu of lust and solicitude.)
Three years later, they're like an old married couple, bickering over Frank's insistence on mowing lawns and fixing up the local abandoned shops. Frank reveals that he's been in contact with a woman over the radio, and that he and Bill should cultivate the friendship of other, you know, human beings. Next thing you know, Tess and Joel have slipped out of the Boston Q.Z. and are lunching with Bill and Frank on the lawn, discussing ways to share resources. Ever paranoid Bill remains on high alert, keeping his sidearm on the table pointed at Joel, until Joel insists he put it away. Joel warns Bill that his metal fence is rusting and raiders could easily break in and attack them in a year.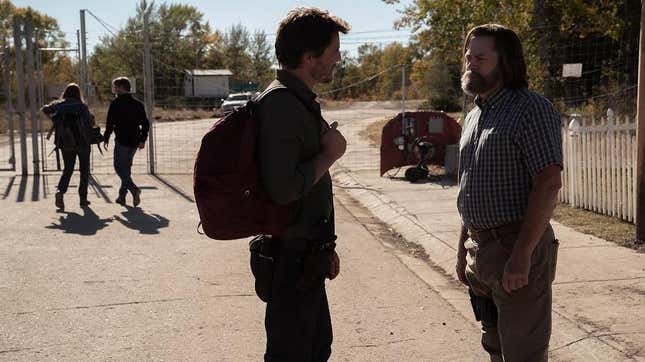 It's exactly what happens one night. Frank is woken up by explosions and gunshots outside. He grabs a pistol and races downstairs and out the front door. Bill is in the middle of the street with a rifle picking off raiders, some of whom are on fire from incendiary bombs or getting electrocuted on the fence. Bill takes round in his side. Frank drags his bleeding lover inside to dress the wound. Bill passes out and we fade to black.

Ten years later, Bill has recovered; it's Frank who is dying. The men are now old and gray. Frank, in the final stages of ALS, must use a wheelchair and passes the time painting watercolors. He takes pills to ease the pain, but there's no doctor or hospital they can turn to. Frank informs Bill one morning that today will be his last day. He's chosen euthanasia, rather than suffer and be a burden on his partner. Frank outlines the plan: they will put on nice suits, get married, have a delicious meal, and then Bill will dissolve a bag of crushed pills in Frank's wine. Bill weeps helplessly yet agrees.
Their final dinner (like their first: rabbit, green beans, a Beaujolais) ends with Bill informing Frank that he poisoned both of them. "I do not support this," Frank says. "But from an objective point of view, it's incredibly romantic." Bill wheels Frank to their bedroom. Acted with enormous sensitivity, wit, and nuance, it's a devastating scene of true love, a model of how one might face the end with dignity, and not alone.

And yet! The Discourse surely will ask: was the whole episode a big tarted-up example of Bury Your Gays? Did our doomsday bears have to die? Compared to the game's treatment of Bill's transformation of Lincoln and partnership with Frank, the HBO adaptation is a sexually explicit and emotionally layered portrait of a middle-aged gay relationship. The men get to love, squabble, make a home, and die in relative peace as old men. That's more than most characters enjoy in this world. In interviews, Mazin has promised to keep "the gay going"—i.e., Ellie will be gay. Her FEDRA schoolmate Riley, whom we'll meet in flashback (played by Euphoria actor Storm Reid), was more than a bud....although she died before the current story began (naturally).
After Bill and Frank's swan song, Joel and Ellie return to the narrative. They've made it to Lincoln some days or weeks after the final supper. Joel opens Bill's gate with the code. Bill left a letter and key for Joel, explaining everything and telling him to take whatever weapons or supplies he needs. Bill ends with a special message for Joel, which only he will understand: "I used to hate the world and I was happy when everyone died," Ellie reads aloud. "But I was wrong because there was one person worth saving. That's what I did: I saved him...That's why men like you and me are here: We have a job to do, and God help any motherfucker who stands in the way." Bill saw his misanthropic double in Joel, the man who didn't want to let anyone in. Joel is still in the process of giving his heart to this strange, jokey, fierce girl who needs his protection. Although now that Ellie has one of Bill's gats, she might do some saving.
Stray observations:
Lincoln is the hometown of the rock band They Might Be Giants' John Flansburgh and John Linnell. They named an album after it. Personally, I would have preferred "Birdhouse in Your Soul" over end credits, but the Ronstadt was inevitable.
Those searching for stereotypes in Bill's house will be confused. There's evidence of weekend antiquing and decent taste in crystal, but no framed Sondheim posters.
"Arby's didn't have free lunch; it was a restaurant." First legit LOL line of the season.
The scrupulous porting of details from game to series continues to impress. Note the one-eyed, double-horned purple monster head that dangles from Ellie's backpack.
Some in the commentariat keep shouting that those infected are NOT ZOMBIES, dammit. They are victims of a fungal pathogen that colonizes human bodies, effectively turning them into hybrid organisms. Joel points out the dead can't get infected. So, new nomenclature: Fungbies? Shroombies? Mushbies? Cordycepticons?
Surprised when Nick Offerman started crooning Linda Ronstadt's "Long Long Time"? You shouldn't be.
Cute meta gag: Ellie gushes over the Mortal Kombat arcade game.
Fifty minutes in, Bill helps Frank to bed, and director Peter Hoar uses the same medium-close framing as when Frank and Bill made love, but with reversed blocking: Frank in the foreground, Bill behind. The circle of their lives is closing.
Caymus Vineyards, which Bill stocks up on, is real.
"This isn't the tragic suicide at the end of the play." Bill could be referring to many well-known dramas: Hedda Gabler, The Seagull, Death of a Salesman, 'Night, Mother, and the list goes on.