A man stands outside a door, unwelcome and out of place. He's alert, focused, uncertain. When his moment comes, and a suspect leaps to a roof, he gives chase, but can't catch up. The city is unfamiliar, the subject of his pursuit unknown, and when he finally reaches the room in which his quarry is hiding, no one else present is willing to offer so much as a scrap of information.
So goes one of the more thrilling sequences in the first episode of The Looming Tower, a solid if somewhat ponderous start to what promises to be a gripping, expertly-made miniseries. Created by writer Dan Futterman (Capote), Oscar-winning documentarian Alex Gibney (Going Clear), and Lawrence Wright, who wrote the Pulitzer Prize-winning nonfiction book on which the series is based, Hulu's latest is a tense affair. Futterman, Gibney, Wright, and company deftly work upon our own knowledge and lived experiences, as well as the conventions of the espionage thriller and the television procedural, to look at the events leading up to September 11, 2001, and the dysfunction and inattention that may have contributed to the failure of the intelligence community to stop that event.
That's where things end, or at least where this particular chapter ends. The story, then, isn't one of following what happens, but of exploring the whys and hows. Before those questions can start to take precedence, however, there's a lot of housework to do. Introductions and info-dumping takes up much of the runtime of this first hour, appropriately (and obviously) titled "Now It Begins…". That's not to say that this is a dull outing. Nothing with a cast this good can fail to be engaging. But there's certainly a sense of putting pieces in motion, of director Gibney and writers Futterman (credited for the teleplay), Gibney, and Wright (both credited, with Futterman, for the story) checking items off a laundry list so that they can get down to the business at hand.
That's also the goal for John O'Neil (Jeff Daniels), head of the FBI's counterterrorism unit. O'Neil takes up most of the oxygen in this episode, dominating conversations, moving the plot forward, and navigating his unwieldy personal life. The scenes centered on his relationships with his two girlfriends and his wife are the only elements of this well-made hour that feel unnecessary, and not even Daniels' lumbering charm can save the "gun in your pocket" exchange that crops up early in the episode. Those stumbles aside, O'Neil is a compelling figure. Daniels is perfectly cast in the role, and he and Futterman never lose sight of the two seemingly contradictory forces that drive him: first, his sincere and understandable fear and frustration over the CIA's failure to share information that could lead to the capture of Osama bin Laden; second, his willingness to let his ego and temper get in the way of that very pursuit.
G/O Media may get a commission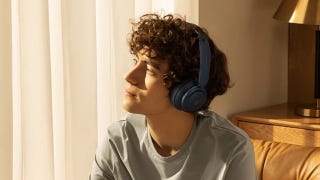 30% off
Soundcore Headphones and Earbuds
The person doing most of the withholding is the petulant Martin Schmidt (Peter Sarsgaard), head of the CIA's counterterrorism team; attempting to wrangle both of them is Richard Clarke (Michael Stuhlbarg). Both characters get more shading as the series progresses, but it's evident from their first appearances that both Stuhlbarg and Sarsgaard are giving unsurprisingly excellent performances. Stuhlbarg in particular seems well-suited to Gibney's direction, underplaying Clarke's exasperation, and later his distress, in a way that lends itself well to Gibney's matter-of-fact stye.
Good as Sarsgaard and Stuhlbarg are, it's the characters doing the pursuing, not those giving the orders, that prove the show's most compelling figures at this stage. As FBI Agent Robert Chesney, Bill Camp is a wonder, leaning hard into one aspect of Chesney's persona — gruff, foul-mouthed, all business — before peeling back the layers to show us someone of patience, warmth, and intelligence, who is extremely good at his job. In the scenes between Chesney and April Brightsky Ray, Camp paints Chesney as the kind of person who can build an aw-shucks, just-folks rapport with people who are understandably wary of him, setting them at their ease before they've quite realized it's happened. That's all there, in Futterman's script, but without a deft performance, it could play as condescending or smarmy. Camp walks the line perfectly, and if the people behind The Looming Tower have any sense at all, they'll have found a way to return to that well often.
Still, Camp's performance isn't the episode's best. That honor goes to French actor Tahar Rahim, whose Ali Soufan quickly becomes the episode's most compelling force. Rahim's performance is so good, so thoughtful, that it actually might seem a little overly mannered and forced at first. But by the episode's midpoint, Rahim's smartest choice is revealed: it's Soufan that's a little studied and mannered, and when Rahim lets Soufan's composure fall away, we see a person isolated but seeking connection, focused but conflicted, remote and distant but sometimes willing to let the mask fall away. I've watched this episode several times now, and his performance just gets better with each repeat visit. Look for the pause, slight but potent, before he tells O'Neil he hasn't practiced Islam in a long time; watch his jaw clench as he waits, just after praying, to testify before the commission.
As should be perfectly clear by this point in the review (or to anyone who watched the episode), this is a great cast. But Gibney deserves his fair share of praise for the success of this hour. It's not particularly subtle stuff, but it's effective nonetheless. Weaving back and forth between countries, offices, and years, Gibney creates the sense that the FBI isn't merely hurrying to catch up with Al-Qaeda; they're so far behind, it's not even the same race. The leaders we meet and those directed to carry out the attacks on the embassies move deliberately, not rushing, but with urgency nonetheless. The position of the FBI, on the other hand, is best captured in the scene in the scene described at the top of this review. Ali Soufan chases a target through back alleys and dark hallways in Albania, unable to catch or even glimpse him until the subject of his pursuit begins pounding from inside the washing machine in which he hid.
It's tense, thoughtful setup for a tense, thoughtful series, but it's setup all the same, and it's mad somewhat less compelling by a few heavy-handed moments. Chesney's trip to the Kenyan embassy plays as a transparent attempt to wring hearts a little harder when the explosion comes, one giggling child or charming employee at a time. When the moment of terror arrives, its impact is lessened by a shot of the employee in question, a CIA Station Chief winningly played by Leslie Silva, arriving at work. A billowing American flag is reflected in the glass of her windshield as she smiles at the parking garage attendant who, like her, will shortly be caught in the blast. It's no "is that a gun in your pocket," but it's not a subtle shot, and it, along with a few similarly heavy-handed moments, somewhat blunt the impact of an already slow-moving hour.
Still, it's a promising start. Now that the formalities have been dispensed with, The Looming Tower and its accomplished team should be perfectly positioned to rise to the occasion.
---
Stray observations
Welcome to The Looming Tower coverage! Hulu, as it often does, released the first three episodes of the series today. A review of episode two, "Losing My Religion," will publish at 10 a.m. CST, and coverage of episode three, "Mistakes Were Made," will follow at 1 p.m. CST. After that, reviews will appear weekly.
For those who are curious about the characters we've met so far, O'Neil, Soufan (credited as a producer of the episode), Al-Owhali, and obviously Clarke are based on actual people, as are several others. Schmidt and Chesney are both composite characters.
Speaking of heavy-handedness, once we had the Ann Curry footage, we probably didn't need any additional mentions of the Kenneth Starr investigation.
Pick your favorite snotty Sarsgaard moment. Mine's "I come from all the way across the river."