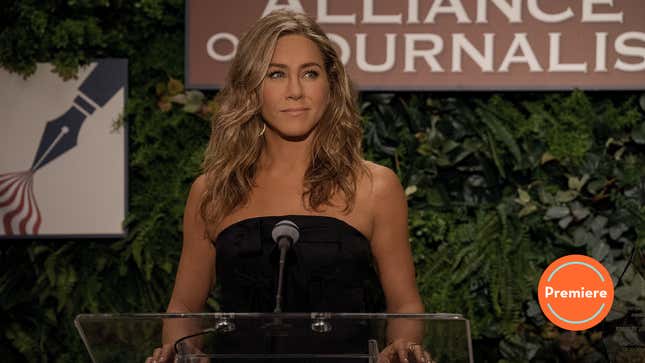 Welcome back to The Morning Show. It's been two years since television's most unhinged prestige drama wrapped up its messy but undeniably captivating sophomore season in the early days of the COVID-19 pandemic, leaving the fates of Alex Levy (Jennifer Aniston), who became seriously ill after contracting the virus, and her gaggle of UBA journalists and newsroom execs hanging in the balance.
Prince Harry regrets Googling Meghan Markle's Sex Scenes
The third 10-episode season picks up two years later, on March 10, 2022, with a darkly comedic nod to how the show has repeatedly tried to kill Alex for the last two seasons. Alex has been tasked with approving her own 90-second "in memoriam" package in the event that she doesn't survive a 13-minute trip to space, where she will be delivering the news in a suborbital rocket ship known as Hyperion One. The rocket belongs to Paul Marks (Jon Hamm), a tech titan who Cory says has "more money than god" and has taken a special interest in buying UBA to save the media conglomerate from impending financial ruin.
Meanwhile, Bradley (Reese Witherspoon)—who we last saw searching for her brother, Hal (Joe Tippett), while being caught in a love triangle with UBA CEO Cory Ellison (Billy Crudup) and anchor Laura Peterson (Julianna Margulies)—finds herself waking up next to a dark-haired woman who is most definitely not Laura. Bradley has been working on a story about Luna Garcia, a 19-year-old Texas woman who is part of an underground network of volunteers bringing abortion pills from Mexico into the United States every month. Luna is understandably reluctant to speak to the press about her work, despite Bradley's assurances that her identity will be concealed from the general public. Whereas the first two seasons focused on the fallout from the #MeToo movement, it appears that the third, which is set just a few months before the Supreme Court overturned Roe v. Wade, will focus on reproductive rights and female autonomy.
GRADE FOR SEASON 3, EPISODE 2, "GHOST IN THE MACHINE": B
---
We soon discover that Bradley, whose relationship with Cory is still strained, has been tapped to anchor the evening news. But that new position doesn't make Bradley, who once had an abortion herself, immune to the politics of UBA. Stella (Greta Lee), the head of the news division, says that Bradley needs to "punt" her story because she could be leaving the company open to lawsuits and boycotts if she breaks laws across state lines. Stella reasons that by virtue of where Bradley comes from and who she is, she is the only news anchor who can speak to both sides of the political aisle in the next presidential election. I must say, it feels almost aspirational to have a journalist who can speak to both political parties, in a media landscape where journalists are not only becoming more polarized but also forced to combat misinformation on either side.

That becomes particularly clear when Bradley accepts the First Amendment Award at the American Alliance of Journalists Awards for her coverage of the U.S. Capitol attacks on January 6. After coming face-to-face with both Laura and Cory, Bradley, still feeling guilty about not being able to tell Luna's story, makes her speech short and sweet: "One thing I've learned as a journalist—and this is important—there will always, always be someone who tries to silence you." Bradley later tells Alex that she just wants her work to mean something—that's the desire of any good journalist—and to make women feel less alone, but Alex tells her that she needs to pick her battles, which is advice that is admittedly easier said than done for a workaholic.
Having learned from her agent Doug that she has generated an estimated $2 billion in ad revenue for UBA, Alex tracks down Cory in his office one morning and tells him that she wants to become a partner, get a seat on the board, and have a say in the future of the company where she has worked for two decades. When Cory says what she is asking for is unprecedented, Alex—who has found her own way of playing dirty with her boss—reminds him that she is "unprecedented" and threatens to leave if her demands aren't being met. (It's at times like this when the show, with all its machinations and thinly-veiled threats, feels more like a soapy political/newsroom drama.)

Cory heads into another meeting with Stella and board president Cybil (Holland Taylor), who says that network division heads have been complaining about Cory's cost-cutting measures and decisions to feed more of the firm's money into UBA+. As it turns out, Cory has also spent the last little while attempting to woo Marks into the biggest media deal in a decade (no pressure!). Marks insists that Cory is the one who has been stalling negotiations and inflating numbers when UBA won't get a better deal than a 20-percent premium above market value. But here's the catch: No one else knows that Cory has been courting Marks. It isn't until Marks gives Alex a private tour around Hyperion's aerospace division headquarters that Alex discovers that she will likely be seeing a lot more of the charming but enigmatic billionaire, whether she likes it or not. For his part, Hamm, with his innate charisma, fits right into the chaos surrounding UBA and will be an interesting foil to Aniston.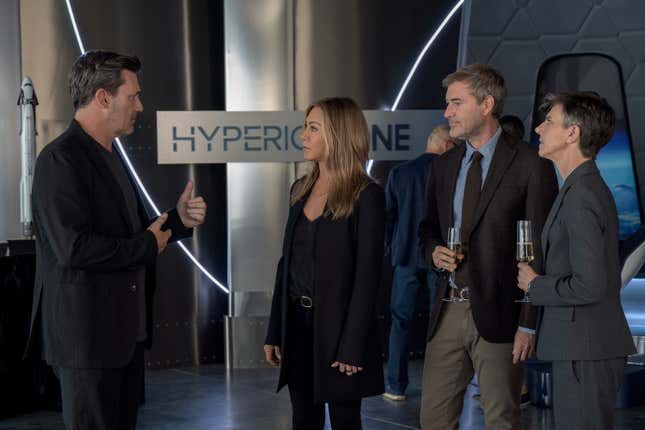 Alex, who is livid that she is being used as a pawn to close the deal between Marks and UBA, decides to abandon the maiden voyage of Hyperion One and drives with Chip to Del Rio, Texas to cover Luna's arrest. In a last-ditch effort, Cory meets Bradley outside San Antonio International Airport and reminds her that she owes him a favor. Cory may have been alluding to the fact that he helped track down Hal at the end of last season, but then we see intercuts of someone washing their hands and gripping the edge of a sink, suggesting that Bradley and Cory may be hiding another secret. "Well, since you're in the neighborhood," Cory asks rhetorically, "want to go to space?"
Bradley joins Cory and Marks on Hyperion One, where there are a few blissful seconds of zero-gravity before the live feed cuts to black, much to the horror of UBA. The second episode reveals that the live feed was cut out for unknown technical reasons, but the three people onboard were not harmed. Marks, however, is not happy because Alex was supposed to show that space was safe and appealing to a wider audience, but instead she's AWOL and people are blaming Paul for the transmission issue on his rocket. After Luna's charges are dropped, Alex and Chip drive back presumably to San Antonio, where they catch up with their colleagues on a private flight back to New York City.
Although she tells Alex privately that she doesn't think the sale to Marks will happen, Cybil tells Cory and Stella to punish Alex for skipping the rocket launch. Stella decides to make Alex anchor TMS five days a week instead of two to drive up ratings until upfronts—and there is nothing Alex can do to fight back since she breached her lucrative contract.
During that morning's live broadcast, TMS, once again, is plunged into mayhem. This time around, hackers have infiltrated UBA's internal system and wreaked havoc on its newsroom. Bradley and Chip stupidly decide to take the elevator instead of taking the stairs and get stuck in there for an hour. Alex and Christine (Nicole Beharie), a former track-and-field Olympian who is the most recent addition to UBA's roster of anchors, are sheltering in Alex's dressing room. The cyberattackers start blasting "Hard In Da Paint" by Waka Flocka Flame and revealing privileged information from private databases, including employee performance reviews, texts, and emails.
Cory receives a private video that Bradley had recorded on her personal phone when she was living with Laura in Montana during the early months of the pandemic. In a meeting with Cory, Bradley, and Laura, Stella says that anything that is connected to network servers has been compromised in the breach, and they're even more freaked out that the hackers, who are demanding $50 million in 48 hours, can record and listen in on their private conversations, so they, along with the rest of their co-workers, have to surrender their devices to the investigators.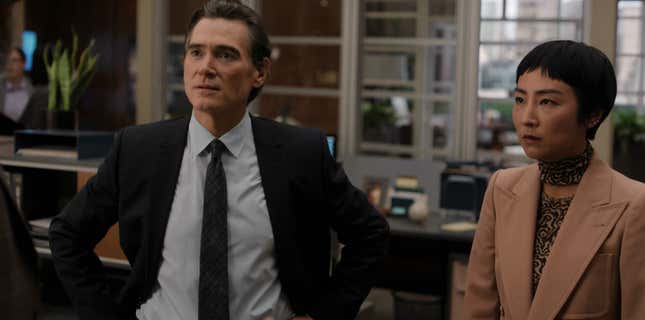 Cory, who famously told the last CEO that "chaos is the new cocaine," tries to find a positive spin for the hack. ("This hack proves that UBA is a beacon of democracy…a beloved network targeted by the shadowy enemies of free speech.") But between attending board meetings and trying to uncover the source of the hack, Cory calls Marks, who happens to be a cybersecurity expert, and raises the question if Marks is holding UBA hostage until Cory agrees to his buying price. (Marks rejects that theory.)
Bradley asks to see Cory in her office, and they discuss if they told anybody about what happened between them last year. (They haven't.) Fearing that more than just that revealing video will get leaked, Bradley begs Cory to convince the board to pay the ransom. And since Cory has always had a soft spot for her, he goes to bat for her with the board, insisting that the goodwill and dignity of employees, not to mention UBA's brand, are worth saving. But the board, believing that Russians are behind the attack and would use the funds to escalate the war in Ukraine, won't budge. (Leonard, a ruthless board member played by Stephen Fry, also appears for the first time.) As they leave the meeting, Cybil reminds Cory that he only became the CEO because he staged a coup at the end of the first season. Although Cory's masochistic nature lends itself to great entertainment, it's necessary to bring him down a peg from time to time.
Bradley is tasked with breaking the cyberattack on the evening news after the ransom deadline, at which time her video could be released. After Laura calls her about Bradley's video, Alex, who previously blew Bradley off without realizing that she was a victim of the hack, decides to show up at Bradley's door with a bottle of wine and a listening ear. "Honey, crisis management is my specialty. Let me help you through this," Alex says. Although the focus of the show has widened to include other dynamics, TMS is still at its strongest when it pairs Aniston and Witherspoon together.
Back inside the UBA building, Stella tells Cory to not fight a war on two fronts—either focus on convincing Cybil or Marks to move through with the deal—so Cory calls Earl and tells him to create a document with deal points for a merger with Marks and to leak it the next morning. Mia (Karen Pittman) gets ready to fall asleep on the couch in her office. Stella gets her phone back and just so happens to find a picture of her and Marks when they were younger, suggesting that they were once professionally or romantically linked!?
Stray observations
When Stella tells her to drop her abortion story, Bradley brings up how they were supposed to shake things up at UBA as the upstart and the disrupter but laments that now they're just part of the status quo. It'll be interesting to see how these women reckon with their new positions of power and if they will be able to make any kind of significant change inside the very hierarchical and male-dominated UBA.
In the opening hour, Alex interviews real-life psychotherapist Esther Perel, who says that, in addition to being in a physical lockdown, we've also been locked down emotionally and want to feel the difference between not being dead and being alive. When Alex says she feels the most alive when she's working, Esther puts her on the spot and asks when she felt that kind of immersion and intensity with another human being. Could Alex be falling in love this season?!
"Of course I read your book. Maybe someday you'll tell me what isn't in there?" Marks tells Alex. Sure, it may be more one-sided right now, but does anyone else get a vibe between these two?
"I would not put it past Cory to blow me up on live TV just for the ratings," Alex says half-jokingly after watching her "in memoriam" package. "Yeah, but then what would we do for sweeps week?" retorts Alex's executive producer Chip (Mark Duplass), who for whatever reason always seems to come back to working for a messy woman who has never reciprocated his romantic feelings. But that sure didn't stop him from having sex with Isabella (Hannah Leder), Alex's old assistant and the director of unscripted development, in Alex's home office and then getting caught by Alex! What happened to shame, Chip?
Why did Alex choose a Beach Boys song for her own "in memoriam" package? And are we really expected to believe that UBA is in so much financial ruin that they couldn't even afford the rights to an original song?
During the attack, Mia calls Andre Ford (Clive Standen), a rugged, dashing photojournalist covering the war in Ukraine, who essentially tells her to get a burner phone so that they can keep flirting. What's the story there?
Yanko (Néstor Carbonell) also admitted to calling Stella CBS—child bride of Satan—after she suspended him, but the C didn't really stand for child. Make of that what you will.