[This review reveals major plot points of the Crisis On Earth-X episodes of Supergirl, Arrow, The Flash, and DC's Legends Of Tomorrow.]
Last month, The CW's Arrowverse reached new heights of superhero TV excellence with the ambitious Crisis On Earth-X crossover, bringing together a huge group of costumed crusaders to stop an invasion of Nazis from another Earth. It was an exciting, inspiring action blockbuster about the forces of good triumphing against an all too familiar evil, and it introduced a new hero with a very different background than his colleagues. Ray Terrill (Russell Tovey) was born on the same Earth (Earth-1) as Arrow's Oliver Queen and The Flash's Barry Allen, but he was somehow transported to Earth-X, where he used his solar superpowers to fight against the Nazis as part of the Freedom Fighters. As a gay man, Ray was a target in and out of costume, and when the Freedom Fighters fell, he ended up in a concentration camp, where he met the heroes of Earth-1 and took on the mantle of The Ray once more. (Yes, his superhero name is just his first name with "the" added to it. Someone already made a joke about it during Crisis.)
CW Seed's new animated series, Freedom Fighters: The Ray, is a prequel to Crisis On Earth X, introducing the rest of Ray's old superhero team and delving into his backstory. The story has an interesting structure, beginning with two episodes showing the dire situation on Earth-X before making a sudden jump across dimensions for the third episode. The Freedom Fighters get top billing in the title, and those first two episodes are focused on the team, introducing new characters like Phantom Lady (Dilshad Vadsaria), Black Condor (Jason Mitchell), and Dollman (Matthew Mercer) by showing them in action. It does make The Ray feel like a supporting character in his own show, but it also sets high stakes for the character when he makes a daring escape that sets up the third episode's cliffhanger twist.
G/O Media may get a commission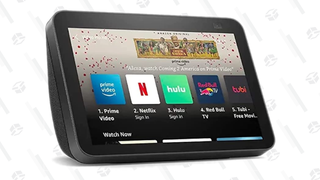 That third episode is when the series really comes to life, and the writers (Emilio Ortega Aldrich, Lauren Certo, Marc Guggenheim, Sarah Hernandez, Elizabeth Kim, and Sarah Tarkoff) pack a lot of story in seven minutes. This is when the audience learns the details about Ray Terrill's personal life: At 22 years old, he works for his city's fair-housing department and is closeted to his conservative parents. He knows that he's gay, but is afraid to act on his attraction to other men, and when his friend tries to get him to flirt, Ray shuts down and flees the scene. These are conflicts that are largely unexplored in the superhero genre, especially in film and television, and The Ray shows how they can quickly add tension and depth to fantastic narratives. Russell Tovey does strong work capturing Ray's anxiety and fear about coming out, and you can hear his disappointment in himself as he tries and fails to embrace his sexuality.
Set on an Earth where Nazis have taken over the world, The Ray has strong ties to the current political moment. The third episode doesn't take place on an Earth run by Nazi, so it's safe to assume that this is Ray's life on Earth-1, but that doesn't strip away the political commentary. Ray and his co-workers are all losing their jobs because a greedy politician promised tax cuts to his constituents and is shutting down the fair-housing department. He doesn't care how that will affect struggling communities because those people didn't vote for him, and this villain is especially believable given the Republican party's policies over the past year. That politician's name isn't mentioned in the episode, but it's revealed in the credits: Donald.
Earth-1 Ray's life changes drastically when he's visited by Earth-X Ray, who passes on his powers right before he dies. This twist puts all three episodes in a new context: That big fight takes place even further in the past than originally suggested, with a version of Ray that differs from the one who appeared in Crisis. On first viewing, the third episode seems like a flashback, but it's actually happening at the same time as the first two chapters but on a new Earth. It might sound confusing but that's the point, and viewers are caught off guard just like Ray.
The biggest strides for representation in the Arrowverse are coming from the animated shows on CW Seed, with Vixen giving this world its first black woman lead while The Ray spotlights a gay man. These aren't just firsts for the Arrowverse, but for all of superhero TV. While it's great to see the network highlight different superhero perspective, the fact that these digital series have seasons that run approximately half-an-hour shows that these perspectives are still being marginalized. These entire seasons are shorter than one episode of the live-action shows, resulting in shows that skim the surface when they could be going much deeper. Unlike Vixen, The Ray debuted in live action, giving him a more prominent place in this universe from the start, but that just makes the limitations on his continuing story all the more unfortunate.