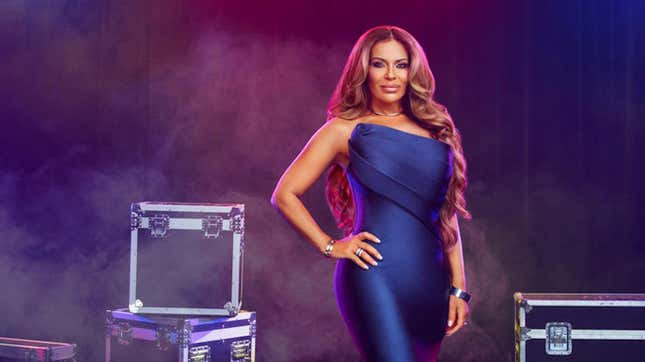 Another week, another episode of "What cultural practice can The Real Housewives Of New Jersey turn into a potentially offensive theme party?" This week's concept is Turkish coffee reading, a mystical tradition dating back to the 16th century that consists of studying the grounds leftover from a cup of Arabica joe and interpreting said sediment to assess a person's past and future.
Initially, the coffee reading ceremony is meant as a peace treaty between Dolores Catania and Jennifer Aydin, who want to co-host the fortune-telling event for the rest of the housewives as a way to publicly announce the end of their season-long feud, having aired out their grievances to one another over a sitdown lunch. Jen Aydin doesn't seem to be ready to make peace with Margaret, however, saying she won't personally host the party because she doesn't want Marge in her home. Dolores offers up boyfriend Paulie's house instead.

Before Angie, a fortune teller and psychic recommended by Teresa Giudice—who can't attend the shindig due to a positive COVID test and a mountain of snotty Kleenex—can even begin the reading, the women are already grappling with the reality of their futures.

Dolores and Jen Aydin announce to the group that, prior to the party, Teresa had called to ask them to be bridesmaids in her upcoming wedding. "While she was meditating, she said she pictured us in the wedding," Dolores tells them. Needless to say, Teresa's sister-in-law Melissa Gorga—who was emphatically not asked to be a bridesmaid—is miffed. "You weren't even at her engagement party!" Melissa yells at Dolores, who apparently was not invited to said soiree due to the presence of RHONJ alum Dina Manzo. ("Do you think Dina being at the engagement party had anything to do with you not being invited?" producers ask Dolores in an aside. Her reply? "I'm not talking about Dina, ever.")

Dolores' second announcement is received more positively: She wants to take the women on a group trip to Ireland, the homeland of her new love Paulie, in celebration of Teresa's impending nuptials. "Let's do something different. Maybe that will bring a different energy into the group," she reasons.

Speaking of Paulie, Angie's read of Dolores' coffee cup signals there might just be an Irish-Italian wedding in our future, as the psychic spots "a ring." Someone better pre-warn Frank about yet another change coming for the Catania crew. "Frank needs to grow up. He's got Brittany who is crazy about him, and you guys had a great relationship, but it's gone," Paulie told Dolores earlier in the episode. "You can't move forward hanging onto the past."

Rachel Fuda's reading is also a bright one, signified by a big "V" left in her coffee grounds. "Vagina!" yells Melissa but, no, it's "victory." "In the next three months or three years, something significant will happen," Angie tells her oh-so-specifically. Rachel takes it to mean that her plans to adopt her teenage stepson Jaiden, of whom her husband John Fuda has sole custody, will come to fruition.

Now onto the nitty-gritty of the grounds: Angie tells Margaret Josephs that her cup reveals both a friend with the letter "L" and a knife stabbing her in the back…which sounds suspiciously like the exact situation Marge is in with her chatty former friend, Laura.

A little too suspiciously, if you ask me, Jennifer Fessler, and anyone with a pulse. ("I've been to psychics. Usually they hold my hand and close their eyes and summon spirits. They're not often looking into a cup of Nescafé," Fessler jokes.)
Things get even more dubious when we move onto Jen Aydin's analysis, with Angie telling her that she will have time for "endorsements" after her children get older. "I've never seen such a set-up in my life. Endorsements! That's not a word you use every day," Marge says, with production flashing straight back to their fight back at Jen Fessler's house, during which Aydin claimed to be more financially "in demand" than Josephs. "Jennifer, nobody's endorsing you. You know who's endorsing you? Charmin. Because you have sixteen bathrooms and you're full of shit."

The housewives call out Jen Aydin for clearly having had a pre-talk with the psychic before the coffee reading, an accusation she balks at: "I think these women are just mad that someone is telling you that I am going to have good vibes in the future! These bitches are salty!"

And, of course, Danielle Cabral's coffee talk revolves around her much-contended conflict with her brother, which opens the floodgates yet again between the RHONJ rookie and the rest of the women. "I was so blindsided by you," Danielle barks at Rachel, "that going into our conversation with what I heard about my brother, I was already gone; I was left-right KO'ed; you knocked me the fuck out." "I don't care about this," Rachel responds, as done with this conversation as I am. "This is so beyond and completely unnecessary…just because I repeated something that you said doesn't mean I was using your words against you."

Rachel's not sorry, so she doesn't claim she is. "Guilty, insecure bitches have no capability of apologizing," Danielle ends it in a confessional. "You wanna be on your high horse, go ahead. Hope you fall off your horse and break your neck." Coffee talk? More like spilling tea.

Stray observations
The ever-changing accent of Dolores' beau, Dublin native Paulie Connell, is a curious one, going from barely-there brogue to "extra in a Martin McDonagh movie" in the span of a single sentence. With that said, the ladies' upcoming Emerald Isle adventures will no doubt mean more appearances from Jen Aydin's spoiled-potato take on an Irish lil, and for that, we are already mentally, physically, and spiritually preparing ourselves.
Speaking of Paulie, Dolores might have some competition over the Gaelic gent. "Where am I, the Taj Mahal?" Jen Fessler says upon arrival at Paulie's well-appointed abode, adding in a confessional: "I'm trying not to be jealous of Dolores but it is so Fifty Shades Of Grey." She tells her host: "If Paulie would look at me twice, I would dump your ass. 'Dolores, who?!'"
"John and I have our hands in a bunch of different businesses," Rachel says. "We have our parking company, we have concierge, we have tile, we have a burger store." We're going to need a PowerPoint presentation explaining exactly what it is that the Fudas do for a living.