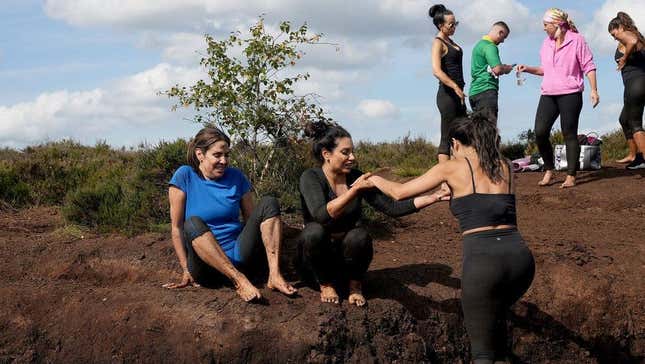 "Being around this group of women is a total mindfuck because when it's bad, it's terrible. When it's good, we actually laugh and have a really nice time," Danielle Cabral says at the top of this week's episode of The Real Housewives Of New Jersey, and it accurately sums up the experience of watching the flailing franchise these days. When it's good, it's great (e.g. Jennifer Aydin yelling "I feel like a dragon!" after shooting 43-percent ABV whiskey and then promptly falling asleep at the dinner table), but when it's bad—yet another ravenous gorging of drama well past its expiration date—it's not just terrible for them, it's terrible TV.
Thankfully, there is some fun to be had this episode before yet another ruined dinner at the castle. For their final breakfast, Paul's elderly Irish mother Claire comes to visit the women along with his sister and niece. "I fell in love with his mom before him," Dolores Catania says of her beau's parent, and it's clear to see why. Claire comes in all brogue and brassiness, loveably calling Dolores a "hussy" and shading the Househusbands' "sexy" charity calendar photoshoot. ("Do they think that they're hot?" "Do you think they're hot, Claire?" "No!")

When Paul's sister thanks Dolores for taking good care of her brother back in the states, Danielle gets emotional, thinking of her estrangement from her own sibling. But it reminds Teresa Giudice of good times when her parents were just meeting her sister-in-law Melissa Gorga, all those decades before the present family feud. "I know I'm hungover but I actually may still be drunk. I don't even know what's happening. I can't even remember the last time Teresa gave me a compliment, like anything positive at all," Melissa jokes of Teresa's praise.

Alas, we have to say goodbye to Queen Claire, as the women are off to Teresa's hen party—literally. Jennifer Aydin has planned a day of bonding activities at Causey Farm: "When we're working together, it means that we're not fighting," she reasons, warning the ladies, "I would like all of us to have an open mind…I don't want no diva-isn Jersey behavior!" The bride-to-be is less than enthused: "I'm not a farm person. This is definitely not what I expected to be doing today."

Maybe a game of "Catch the Cock'' will cheer her up? The ladies must race around a rooster coop and snatch the titular bird. Some of the women ("I have no fear of cocks. I've touched enough of them. Traumatized enough of them," Jennifer Fessler quips) are more game than others (Margaret Joseph whines: "This is a bachelorette party. I thought there'd be real cock. Like, dancing cock."), though they all give it a go, with Teresa even choosing Melissa as her poultry-hunting partner.

The sisterly vibes continue with the next activity, in which all but the bride are tasked with painting mini murals depicting moments in Teresa's life. "Only happy memories!" the women promise, though Jen Aydin chooses Giudice's infamous table-flipping moment from the show's season-one finale. The rest paint a more flattering portrait of the reality star, including an emotional Melissa, who depicts when Teresa's family came to the U.S. from Italy. "It's just sad to me that this was a family and to draw them from the beginning just struck me, like, look where we are now," Melissa cries in a confessional.

However, the good will ends short when Teresa yet again brings up her upcoming wedding, which is happening next week in TV time, of which Melissa and Joe Gorga and their children are not included in the bridal party. Saying that watching Dolores with Paul's mom made her emotional that morning, Teresa tells Melissa: "I want some part of you guys in my wedding…it would complete it if you guys were there with me."

"Are you asking them to be in the wedding, all of them?" Aydin asks for clarity, to which Teresa replies confusingly: "No, no, I just want happiness and peace!" Melissa is miffed: "It's such complete nonsense whatever she's asking, if she's even asking because she's barely asking…we're not props in your final hour." Things get worse later at lunch when Teresa announces that her fiance Louie has asked Bill Aydin to be in the wedding. "They've been so supportive from day one, and it's nice because I don't have family," Teresa proclaims. "This is why it's very hard for me…this is why we don't believe you," Melissa says in a confessional.

Again, all of the family talk stirs up emotions in Danielle, who breaks down in tears. "You might think it sucks but you're talking," she tells the women. "Put your guards down because nothing matters if you don't have your family."

Some relaxing spa time seems just what the women need after the tension-filled lunch, but the "Irish spa" they were expecting is a mud pit that "does not have cow shit in it," Farm Hand Peter promises. The women are tasked with jumping straight in and using the mud as an exfoliant on their skin. "It feels like muddy, loose diarrhea!" Danielle whines, whereas the ever-game Jen Fessler proclaims, "Oh my god, I like it!" before immediately slapping it onto her face. Less enthusiastic about the whole messy scene, Melissa and Teresa are the last ones in, but do end up jumping in together hand in hand. "Do you see how rolling around in mud can bring everyone together?" Aydin proudly says.

Back at the castle, Danielle FaceTimes her husband Nate to vent. "I miss my family, Rachel's coming at me, Margaret's coming at me…then I gotta watch Teresa and Melissa go at each other; it's like a merry-go-round that keeps going round and I want off," she says. And all of that stress comes to a head at the ladies' final gathering, a fancy whiskey-paired dinner, during which the RHONJ rookie regurgitates the Marge-Rachel-Laura business for the billionth time.

"You can forgive, but you can't forget," Danielle says of why she can't seem to let this storyline go, to which Marge fires back: "I'm gonna tell you something, point blank. That's why you will have problems in your family your fucking whole life. You will never have a clean slate with anybody if you keep bringing up old shit, and that 's a fucking fact. 'You can forgive, but you can't forget.' You pull that shit your whole life, you won't move past anything."

Though Fessler tries to call for peace by reminding everyone that it's their last night together in Ireland, Danielle leaves the table in tears. "There's only so much that one human can take…I have no more fight in me, nor do I want to waste my energy. I'm done."
Stray observations
It's commonly known that the go-to Irish drinking toast is "Sláinte," which means "health" in Gaelic. Try telling Melissa Gorga that: Her versions of the traditional cheers range from "Salantra!" to "Sanche!" and, most spectacular of all, "Salami!"
Margaret and Jennifer Fessler's close friendship is apparently even more intimate than we first thought. "I'm like the least hairy person ever…have you seen my insides?" Marge jokes of being dubbed a "boogawolf" by Jen Aydin, to which Fessler doesn't miss a beat: "I actually have."
While the ladies are in Ireland, Frank Catania basically hosts a blunt rotation for the Jersey boys to celebrate his new venture in the cannabis industry back home. "I just like to feel good, and that's what weed does, so who better to try it out on than my friends, who really need relaxation?" Frank reasons. Joe Gorga clearly benefits from the chill-down, though he at first is hesitant to partake. ("I'm an angel from god, I don't do that!") One shotgunned hit from Frank, and Joe is yelling about snacks and going googly-eyed over his arm veins. "My head's spinning!" he says, prompting Frank's perfect response: "Thank god you're only 4′ 2″; you don't have to fall too far."