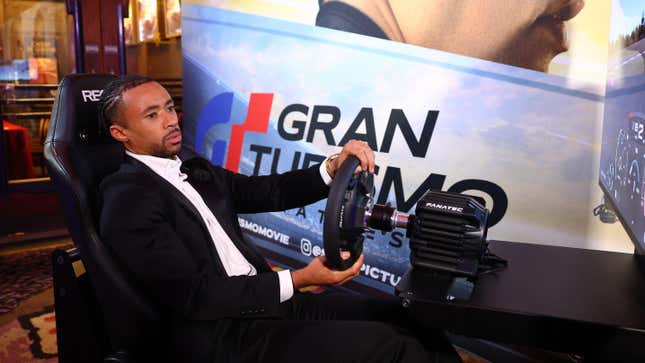 As far as true stories transformed into films go, few are as unlikely as the one surrounding Neill Blomkamp's new automotive biopic Gran Turismo. One of the planet's biggest car brands handing the keys to their high-performance racing vehicles to a teenager, just because he posted good times in a driving-based video game? It's absurd—the stuff of fevered gamer fantasies. But also, as it turns out, a whole lot truer than a lot of movies that have been touting their "based on a true stories" bona fides of late.
"The Amazing Race" host Phil Keoghan on auditions, and being prepared
Because while several of the film's leads—notably Orlando Bloom and David Harbour—are playing fake people loosely based on real-world counterparts, with narratives ginned up for maximum drama, Archie Madekwe's character Jann Mardenborough is pretty much the real deal: A Welsh teenager who entered a video game competition in 2011, he beat out tens of thousands of other competitors from across the planet and walked away with a position on one of Nissan's prestigious racing teams. Meanwhile, the film also outlines the story of one of the oddest cross-corporate promotions in gaming history: A collaboration between Nissan and PlayStation creators Sony, which developed the program that turned Mardenborough into a star.
Sony presumably participated in the GT Academy program for the obvious reason: It was an incredibly powerful advertisement for its own Gran Turismo gaming franchise, which supplanted a long series of mostly PC-based simulators as the most ruthlessly accurate driving sims on the mass market. There are, of course, car-driving games out there for people who like executing ludicrous drift turns, or setting up explosive crashes (or just bashing that smirking bastard Yoshi with a spiked blue turtle shell). But Gran Turismo has always been for the other kind of video game driver: The ones who buy their own steering wheels and pedals. The ones who talk seriously about "lines," and who know what's actually happening when they virtually "tune" their high-end motoring machines. The people who, in other words, would dearly like to actually get in and drive one of these incredibly expensive pieces of performance technology, and who have been very willing, over the last 20-plus years, to take Gran Turismo as an acceptable substitute.
These people, unsurprisingly, ate the concept of GT Academy up when it was rolled out back during the PlayStation 3 era: Supposedly more than 1 million players ended up downloading the in-game qualifying content for Gran Turismo 5 and 6, which tasked them with setting the fastest possible laps on a variety of real-life courses. (Said realism in the tracks being another major selling point for the games.) As depicted in the film, those who set the fastest times were invited to further rounds of competition, eventually ending up at a week-long "Race Camp" whose eventual winner would get a spot in Nissan's Driver Development Program. (This was also all a reality TV show, complete with various driving-adjacent challenges, because everyone involved understood the rags-to-riches dramatic potential of this story long before Blomkamp and his tiny cameras came along. As television, GT Academy was undeniably compelling; it's rare to see a competition show where the prize isn't just money, but a future dream career for people with no other real access to it.)
And all of it really couldn't have been a better advertisement for Gran Turismo itself, especially when it turned out the program actually worked. Although Gran Turismo, the movie, depicts Mardenborough as the first winner of the program, he was actually the third, following in the footsteps of previous winner Lucas Ordóñez, who had a multi-year career as a professional driver after getting his start with a controller in his hands. And so would many more who came after both of them: Not everyone who made it through the program, which ran from 2008 to 2016, went on to international driving stardom. But enough graduates have had enough success to lend a surprising amount of credence to the "turning gamers into drivers" concept.
Other places where Blomkamp's film diverge from reality are less sunny: Gran Turismo has faced criticism for its framing of the 2015 incident in which Mardenborough's car went off the track at the Nürburgring Nordschleife race, killing a spectator. Mardenborough has said in interviews that he felt that not including the incident—which, in its practical details, is presented true-to-life in the film—would have been a "disservice to the audience." But critics have pointed out that the real-life accident happened years after Mardenborough was already an established driver, while the film presents it as his very first professional race, re-contextualizing it as a painful obstacle to be overcome on his path to glory.
It's an odd choice, since Mardenborough's life is already as dramatic as a film like Gran Turismo might need, and the story of GT Academy compelling enough that it wasn't in any great need of the biopic's typical bag of tricks. The fact is that it would have been very easy for Nissan and Sony to have created something fake out of the GT Academy concept—paying lip service to the idea of putting fans into the seats of real cars without ever giving them a genuine shot at competing. Instead, a huge number of trainers, executives, support staff, coaches, and many others (who've been loosely condensed down into Bloom and Harbour for the movie) put their blood, sweat, and tears into testing the basic premise that skills as a video game driver could translate onto the track. It's a fascinating idea, and one that Blomkamp's movie mostly presents fairly, even if its positioning as a Jann Mardenborough biopic sometimes eclipses its place as a Gran Turismo film.