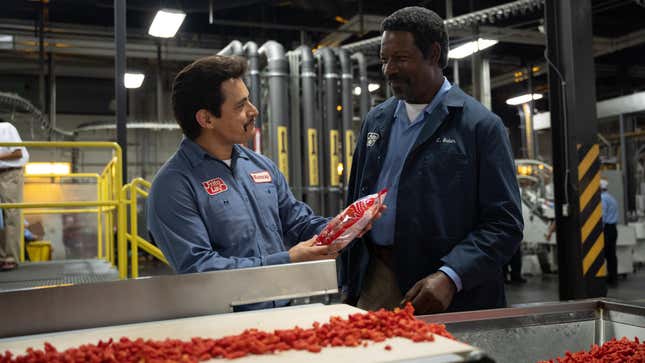 We wouldn't blame you if you sat down to watch Flamin' Hot on Hulu (premiering June 9) believing it's the true story of the man who invented Flamin' Hot Cheetos. All of the marketing leading up to the film has been designed to make you think that. Richard Montañez, the guy whose story inspired the film, has written two memoirs that come very close to making that claim.
The cast of The Menu sits down with The A.V. Club
Close, but not quite. The official logline of the film describes it as "the inspiring true story of Richard Montañez (Jesse Garcia) who as a Frito-Lay janitor disrupted the food industry by channeling his Mexican-American heritage to turn Flamin' Hot Cheetos from a snack into an iconic global pop culture phenomenon." Notice how it doesn't say anywhere in that statement that he actually invented the product himself. Because the truth is—he didn't.
Details of the creation of Flamin' Hot Cheetos are sketchy and conflicting, even in the various accounts told by Montañez himself. In 2021, The Los Angeles Times looked into claims he's made in his books and interviews, on social media, and at paid speaking engagements across the country (for which he receives five-figure fees). They were unable to corroborate a lot of it. The investigation included "interviews with more than a dozen former Frito-Lay employees, the archival record, and Frito-Lay itself." Montañez's tall tale was easily debunked by the evidence, which pointed to half-truths, exaggerations, and outright falsehoods. His timeline doesn't match up with the dates of the product rollout or the personnel working at the company when he says he pitched his idea for a line of chile-flavored snacks.

Fictionalizing the facts
The real story isn't quite as sexy. It starts with a Frito-Lay salesman in Chicago who noticed that the company was losing market share in stores to products with bold flavors and ends with a brand manager in Plano, Texas, who came up with the name "Flamin' Hot" and worked with the company's art department to design the spicy new line. As Frito-Lay stated to The Los Angeles Times, it was a team effort: "A product or flavor extension is the work of a number of people across functions as diverse as R&D, sales, and marketing, all of whom are proud of the products they help create." But that doesn't sound like a very compelling movie premise, does it?
In April 2019, Frito-Lay sent a letter to DeVon Franklin of Franklin Entertainment, which owned the rights to adapt Montañez's story into a film. It informed the producer that his main character's account of events was in dispute and outlined the real origins of the Flamin' Hot line, according to Lynne Greenfeld, the manager of the team actually responsible for its development.
Frito-Lay had already begun an internal investigation into the matter after receiving an email from Greenfeld in 2018. She was no longer with the company at that point, but after reading an Esquire article crediting Montañez with the creation of Flamin' Hot Cheetos she wanted to set the record straight. Despite the warning, Franklin forged ahead with the biopic anyway, with Searchlight Pictures set to co-produce and distribute the film and Eva Longoria attached as director. The project was picking up steam and nothing could slow it down, not even the truth.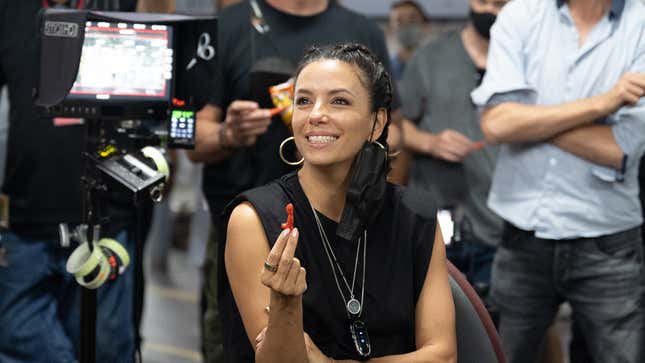 Following the L.A. Times article in 2021, Variety talked to Montañez and gave him an opportunity to respond to Frito-Lay's assertion that he had nothing to do with the invention of Flamin' Hot Cheetos. "The story isn't really about Hot Cheetos," he said. "The story is about overcoming adversity and racial discrimination."

Finding an emotional truth
Given the film's complicated hero and questionable history, Flamin' Hot does something rather clever—it presents Montañez as an unreliable narrator. Garcia, as Montañez, speaks directly to the audience through voiceover, and he sometimes gets a little carried away. In one scene we see Montañez peppering a white supervisor with questions about how one of the machines works, but the guy rudely brushes him off. Fed up with the racist attitude he's had to deal with his entire life, Montañez brutally attacks him with a mop handle as his co-workers cheer him on. Except that doesn't really happen; it's all in his head. You know the trope. Record scratch. Freeze frame. "Nah. Just kidding," Montañez tells us. "What'd you think? It was my first week on the job. I had to mind my gangster."

Scenes like this are signs we shouldn't completely trust Montañez or his version of the story. Flamin' Hot accomplishes a delicate balancing act, respecting his point of view without directly calling bullshit on any of his claims while leaving enough wiggle room to hedge its bets. In the film, he acknowledges there was a team working simultaneously to create spicier products, and that the "chile slurry" that eventually became the flavoring for Flamin' Hot Cheetos was developed by the McCormick Co., not Montañez. Modern audiences are savvy enough to know that phrases like "based on a true story" or "inspired by true events." are vague by design. The business of Hollywood is myth-making, not truth-telling.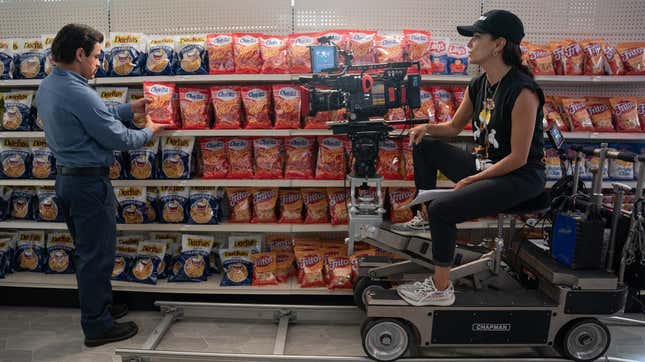 As a director, Longoria makes choices that show she gets it. In publicity materials for the film she states, "Richard Montañez's story resonated with me because his story is my story. Being underestimated, having the discipline and desire to be more—not have more, but be more. I definitely have that in me. I think everyone can identify with that and say there's a piece of me that is reflected on the screen and in this story."

A real Cinderella story
To give credit where it's due, Flamin' Hot isn't a complete fabrication. There are some things in it that can be verified. Montañez did work at the Frito-Lay plant in Rancho Cucamonga, California, as a janitor beginning in the late 1970s. He was inspired by a corporate initiative to reach out directly to the CEO of PepsiCo (which owns Frito-Lay), Roger Enrico (played in the film by Tony Shalhoub). He did pitch to executives an ethnic-food concept that would appeal to the Hispanic market by adding Mexican-inspired chile spice to Frito-Lay's products. He was later promoted to a job as a marketing executive and rose up the ranks, eventually becoming the vice president of multicultural sales & community promotions at PepsiCo.
The details of his personal life are more or less accurate too. He has been married to his childhood sweetheart Judy (played by Annie Gonzalez) for 48 years, and she's stood by his side during the good and bad times. By the time he retired in 2019, he'd been with the company for 42 years. The post-credit title cards call him the "godfather of Latino marketing" and no one is disputing that. Whether or not he had anything to do with the invention of Flamin' Hot Cheetos, he did help PepsiCo break into the Hispanic market and beyond.

Even with all the facts easily at hand, the urban legend of the janitor who turned a company onto the tastes of his community and helped launch a spicy snack revolution has stubbornly persisted for years, and it's not hard to see why. It's a Mexican twist on a classic American idea. Kind of like the Flamin' Hot products themselves.