Here's what's up in the world of TV for Wednesday, January 20. All times are Eastern.
Top pick
It's Always Sunny In Philadelphia (FXX, 10 p.m.): It's time for the moment everyone has been waiting for: "The Gang Hits The Slopes!" Tubular! Cowabunga! Wait, that's surfing. Snow bunnies! Sick… powder! Johnny Tsunami! That's more like it. Bless season 11 of It's Always Sunny In Philadelphia, as the synopsis for this episode is literally what you would expect: the synopsis for a classic '80s ski movie. "Dennis and Frank square off against Dee and Mac for control of the mountain, while Charlie learns that the slopes have their own set of rules." You could honestly replace all of the character names and you'd have your own version set. (That's probably how Boy Meets World should've done it instead of having Cory cheating on Topanga.) Thank you, Sunny. And thank you, Dennis Perkins, for hitting the slopes known as episode reviewing.
Top pick No. 2: The Legend Of Curly's Gold
The Challenge: Battle Of The Bloodlines (MTV, 10 p.m.): "The contestants face an underwater challenge while competing for the last time in two large teams; and players are shocked when CT and Zach arrive in the game." Two weeks in a row, CT? We think that means you're officially in the competition now. Oh. Hi, Zach. Try not to say anything misogynistic while you're here this time.
G/O Media may get a commission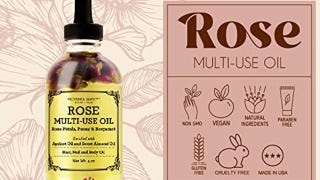 Provence Beauty Rose Multi-Use Oil
Also noted
Arrow (The CW, 8 p.m.): "Blood Debts," you say? Arrow's episode titles are almost as melodramatic as Oliver Queen. "Oliver must deal with the devastating consequences of Darhk's last attack. Seeking revenge, Oliver goes on a brutal manhunt looking for Dahrk." See? Melodramatic. You know what we're talking about, Alasdair Wilkins! By the way, remember when Arrow had the Suicide Squad? How could they not have gone with "Bohemian Rhapsody" at some point? Too much money? Too much money.
Younger (TV Land, 10 p.m.): And now we're back to the norm of one episode of Younger a night, with "Like A Boss." Props to the show for having episode titles that live the gimmick of using references "the kids" will like:
Alexa Planje is more of a "Dreamgirl" lady, but we really don't think Younger will dedicate an entire episode to Chex Mix. Unless TV Land is strapped for cash.
Man Seeking Woman (FXX, 10:30 p.m.): "Josh becomes desperate and decides to settle." Come on, Josh. Come on. This is Man Seeking Woman, not Man Settles For Woman! And what's the episode title? "Scythe"? Ruh roh. Don't do anything you're going to regret, Josh. Josh, this isn't you. (Good luck with this one, Kate Kulzick.)
Regular coverage
The Middle / The Goldbergs (ABC, 8 / 8:30 p.m.)
Black-ish (ABC, 9:30 p.m.)
American Crime (ABC, 10 p.m.)
What else is on?
Clarence (Cartoon Network, 5 p.m.): In "Freedom Cactus," "Clarence draws a class comic for the school paper and it becomes a huge hit with the kids." Clarence is going to be a star, baby! Clarence!
Lego Nexo Knights (Cartoon Network, 5:30 p.m.): Ooh. Ahh. It's "The Maze Of Amazement."
2 Broke Girls (CBS, 8 p.m.): "Oleg's pro-basketball playing cousin comes to town to play a game against Max's favorite team and gifts her with two free tickets, but chaos ensues when the girls interfere with the game and risk ruining their cupcake business' reputation in the process." This is why you always stay broke, girls.
American Idol (Fox, 8 p.m.): Have you watched From Justin To Kelly lately? You really should.
The Mysteries Of Laura (NBC, 8 p.m.): "It's a race against the clock as Laura fights to save her own life and take down a killer." Tick tock, Laura. Tick. Tock.
Mob Wives (VH1, 8 p.m.): "The ladies from Staten Island try to enjoy their last days in the Hamptons." Then just do it. Stop getting in your own ways, "ladies from Staten Island."
Mike & Molly (CBS, 8:30 p.m.): "Mike blames Molly for Peggy's heart attack following a heated argument and now Molly wants to make amends." Honestly, Molly should just dump Mike. Crisis averted.
Duck Dynasty (A&E, 9 p.m.): There are two hours of this.
Criminal Minds (CBS, 9 p.m.): We always forget about Criminal Minds. Sorry, Criminal Minds. But you've got to admit that Criminal Minds is a little crazy. Check it: "When bodies are discovered in public places throughout Boston, the BAU investigates whether a taxi or ride-share service the victims used before their deaths could lead the team to the UnSub." Uber (and Criminal Minds) strikes again.
Tia Mowry At Home (Cooking Channel, 9 p.m.): "Tia visits one of her favorite neighborhood pizza places, where she steals some tips from the chef on creating her own amazing pies. At home, she prepares a healthy cauliflower crust paired with a beet salad and sesame carrots. Also: She makes red wine sangria." Check out the buzzwords here: "steals"; "be[a]t…[A]l" (who's Al?); "[concoction made from the blood of her victims]". Tia, Tia, Tia. Can't you see? Sometimes your cooking show is a vehicle for destruction!
Supernatural (The CW, 9 p.m.): "Lucifer offers Sam a way out of the cage, but it comes with a steep price. Meanwhile, Dean and Castiel look into the angel smiting that could have killed Amara." We know it says "smiting," but we keep reading "smitten." Does it make sense? Not really. Is it an interesting direction to take things? Look, we're just waiting until the episode with The Miz.
Second Chance (Fox, 9 p.m.): Oh, this is still on. "Two killers are on the loose thanks to the power surge that brought Pritchard back to life and helped them escape from prison, but the former sheriff is determined to find them and save the city he still believes is his to protect. Meanwhile, Pritchard tries to gain Duval's trust by telling him they're half brothers." And then the episode ends with "Monster Mash," because Frankenstein stuff, right?
Property Brothers (HGTV, 9 p.m.): 100 EPISOOOOODES! That means Property Brothers is now eligible for a 100 Episodes piece—just sayin'. "The 100th episode of Property Brothers looks back at the best moments from the past five years of the show and offers a behind-the-scenes glimpse at how the renovations and reveals come together." That sounds like something.
Law & Order: Special Victims Unit (NBC, 9 p.m.): This week, there's "A Misunderstanding." Sure there is. According to the perps, there's always a misunderstanding. There was probably a misunderstanding last week when Benson got kidnapped. Think we're being glib? "A murky he-said, she-said date rape case ruins the futures of two high school students." This could be a season-17 episode of Law & Order: SVU. This could be a season-one episode of Law & Order: SVU. The only difference is that Mariska Hargitay directed this episode.
Face Off (Syfy, 9 p.m.): "Paul Reubens appears when the artists work in teams to create a whimsical makeup based on an oversized toy." When we found out that this episode was titled "Child's Play," we thought this was going into Chucky territory. We suppose Pee-wee Herman is fine. Whatever.
My 600-lb Life (TLC, 9 p.m.): Chad, Chad, Chad. Wait a minute, let us back up. This is "Chad's Story": "A 700-lb. man undergoes gastric-bypass surgery and loses a lot of weight in a short period of time, but his life is still in danger when he does not follow his doctor's orders." Like we said: Chad, Chad, Chad.
Newlyweds: The First Year (Bravo, 10 p.m.): "Erica and Adonis reach out to a counselor." You guys, it's only the first year! Just call it quits if you're already reaching out to a counselor. Consider yourselves marriage reffed.
Code Black (CBS, 10 p.m.): "Tommy Dewey Guest Stars as Dr. Mike Leighton, Angus' Older Brother and Jesse Bradford Guest Stars as a Patient, Gordon Heshman." Well, we're sold. Not for the same reasons we were sold on the Lion King musical episode, but we're sold.
Kocktails With Khloé (FYI, 10 p.m.): Enough with the damn K-naming scheme. We get it. It's not a brand. It's just misspelling stuff. Anyway, in the series premiere of… this, "Khloé's first show guests are: Snoop Dogg, Kendall Jenner, Aisha Tyler (co-host of The Talk), Brandi Glanville (The Real Housewives of Beverly Hills) and Kym Whitley (Raising Whitley and Young & Hungry)." By the way, did you know there's an accent in Khloe (er, Khloé) Kardashian's name? Does it change anything about the pronunciation? Nope? Of kourse not ("knot" is actually a word, so it doesn't work).
Chicago P.D. (NBC, 10 p.m.): Chicago Platt Update: Apparently Chicago Platt is turning into Chicago McQueen. On a shallow level, we're totally fine with that. But on every other level, damn you, Steven R. McQueen. You're ruining our fun.
Rich In Faith (Oxygen, 10 p.m): "Meanwhile, Graham sets his sights on getting cowboy boots." Finally, Oxygen is giving the people what they really want. (It's this, see?)
Teachers (TV Land, 10:30 p.m.): One episode of Younger means Teacher gets to move on down to its regular time slot of 10:30 p.m. Great. So what's a thing that happens at schools? "Picture Day," of course. "It's Picture Day so all the teachers try to look their best, things don't go as planned." Come on, Teachers. We like you, but a Picture Day not going as planned is just Life 101.
Watch What Happens: Live (Bravo, 11 p.m.): Dermot Mulroney (please be better than the lame joke, commenters) and Jenna Fischer are watching what happens tonight, and we've got to admit we're a little bummed it's not Dermot Mulroney and Debra Messing. When will it be The Wedding Date reunion time, world?
Nick Cannon Presents: Wild 'N Out (MTV2, 11 p.m.): "WNO Wildest Wildstyles"? So they've really just run out of episodes of this show and are looking for anything to fill air time, huh?
The Parent Trap (Freeform, 6:45 p.m.): ABC Family would always play the 1998 version of The Parent Trap, but Freeform is playing the 1961 version. Wow. Becomers really are a fascinating demographic.
Sports, sports, all type of sports
Women's Basketball: Texas Tech at Oklahoma (FSN, 11:30 a.m.)
NFLPA Collegiate Bowl Practice: From Carson, Cal. (ESPNU, 1 p.m.)
FA Cup Soccer: Leicester City vs. Tottenham (FS1, 2:30 p.m.)
College Basketball: Central Florida at South Florida (ESPNews, 6:15 p.m.)
College Basketball: Temple vs. La Salle (CBS Sports, 7 p.m.)
College Basketball: Wake Forest at North Carolina (ESPN2, 7 p.m.)
College Basketball: Texas at West Virginia (ESPNU, 7 p.m.)
NBA Basketball: 76ers at Magic (FSN, 7 p.m.)
NBA Basketball: Warriors at Bulls (ESPN, 8 p.m.)
NHL Hockey: Blues at Red Wings (NBC Sports, 8 p.m.)
College Basketball: Kansas State at Baylor (ESPNews, 8:15 p.m.)
College Basketball: Villanova at Seton Hall (CBS Sports, 9 p.m.)
Australian Open: Second-round play (ESPN2, 9 p.m.)
College Basketball: Florida State at Louisville (ESPNU, 9 p.m.)
NBA Basketball: Hawks at Trail Blazers (ESPN, 10:30 p.m.)
Golf: Abu Dhabi HSBC Championship (Golf Channel, 10:30 p.m.)
NHL Hockey: Wild at Ducks (NBC Sports, 10:30 p.m.)
College Basketball: UCLA at Oregon State (ESPNU, 11 p.m.)
WWE NXT (WWE Network, 8 p.m.)
Ring Of Honor (Comet TV, midnight)
In case you missed it
Marvel's Agent Carter: It's Peggy. Agent Carter, if you're nasty.