Looks like Robin got out at the right time.
With the competition thinned to what I think most would (or should) agree are the best final five chefs in the show's history, Top Chef morphed into another, more exciting season tonight. To torture a sports metaphor, it was like watching the regular season peter out and suddenly burst into the postseason, where the stakes are higher and only the very best come out to play. Can you even imagine Robin attempting the Elimination Challenge in this week's episode? To combine that level of technique, execution, and presentation in a relatively short time frame, under a strict set of conditions, and in front of a panel of judges that scary? There's just no chance you can fake your way through it; as good as these remaining chefs are, they all went down as noble failures to some degree. That's how steep the degree of difficult was here.
It's taken 12 episodes of chaff to get here, but "Culinary Olympics" struck me as by far the most entertaining episode of the season, which probably indicates my interest more in cooking than soap opera. (And not that it was lacking in the latter, either: After lurking in the douche-y weeds, Michael emerged full-force as the arrogant villain, noting at one point that "the food that Kevin cooks is the food that I cook on my day off." He got the minor comeuppance he deserved this time, but maybe the guy has a point, as jerkily as he expresses it.) It was great to see the final five stare down such an intimidating test, and actually a little touching to observe their comraderie. With Robin no longer the focus of their collective animus—or ours, for that matter—they can let the love-in commence.
The final Quickfire of the season was a strong one. Gavin Kaysen, a chef who competed on the American team in the Boucose D'Or—the "culinary Olympics" of the title—was guest judge on a challenge that asked the chefs to do their own version of the protein within a protein within a protein that he presented at the event. (Who else was reminded of the following Simpsons exchange? Moe: "Bring us your finest food stuffed with the second finest." Waiter: "Excellent, sir. Lobsters stuffed with tacos.") The favorites, Michael and Kevin, both surprisingly botched the challenge—Kevin by overcooking his catfish and Michael by getting too loose with the concept (which has been his Achilles heel, if he could be said to have one). But the big news—and big relief for those of us who have watched her mysterious meltdown in slow motion over the last few weeks—was Jennifer's return to form with her winning calamari steak/scallops/salmon dish. It was a much-needed confidence boost heading into the season's toughest Elimination challenge and a gloriously timed answer to Michael's snide putdown about how "there's not a whole lot left for her to do."
G/O Media may get a commission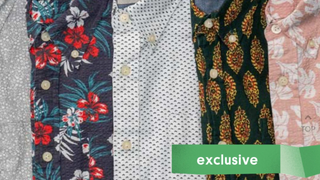 Grab three styles!
JACHS NY Summer Pack
The Elimination challenge was pretty fantastic. Not having traveled in culinary circles, I had never heard of the Boucose D'Or, but it's clear how awed and intimidated a chef would be at the prospect of sending their dishes out on a platter like that. You can't possibly get away with the "it might look bad but it tastes good" argument with all the pomp and circumstance involved in treating your dish like a peacock. You could criticize the challenge as near impossible to pull off, but I appreciated the exercise and it was clear the judges appreciated the effort, too, even if they frequently had trouble finding kind things to say about any of the dishes on offer.
In fact, this may have been the hardest challenge to fathom who was on top and who was on bottom. Kevin's victory was a complete surprise to me, based on what would seem to be the fatal simplicity of his dish. (And at a time when presentation and complex technique really mattered, too. Even Kevin thought he whiffed it, though that may be his trademark modesty going into overdrive.) Contrast that with Bryan, who didn't have the time to cook his dish properly, but had a strong and coherent vision that suggested he might have won under less insane circumstances. Michael was again humbled by his typically bold but loosely conceived Mediterranean-because-I-said-so dish, which underlined his overconfidence in much the same way as the Quickfire did. For her part, Jen seemed to acquit herself with her salmon dish, though inconsistencies in the cuts and cooking suggested that she may not have gotten over her nerves just yet. That left Eli to hit the bricks for his crudely butchered lamb.
In the end, we finally got the Final Four everyone likely predicted and I was happy to see a challenge that really laid bare the strengths and shortcomings of all involved. You can bluff your way through, say, a Bertolli-sponsored frozen foods challenge; but a mini-Boucose D'Or in front of Thomas Keller and a host of other culinary maestros? Not so much.
Stray observations:
• Wasn't aware until this episode that Richard Blais was not only Eli's mentor, but that Eli was Best Man at Blais' wedding. Small world.
• Eli: "I'm thinking, 'What the hell are you talking about, Padma?" A particularly colorful reading of a reality-show cliché.
• Great to see examples of the kitchen honor code at work in this episode, most notably when Bryan shared sous vide tips with Kevin and when Jen sacrificed some of her extra 30 minutes to help Bryan with plating.
• $30,000 for winning a challenge? Yowsa!
• Any one of the Final Four could win Top Chef now and I'd be pretty happy about it. That hasn't happened ever on this show. 

• Sorry for the generic (and old) Michael photo above. NBC's delightful, problem-free new media site wasn't working for me. I will now continue to grind my teeth into a fine dust.