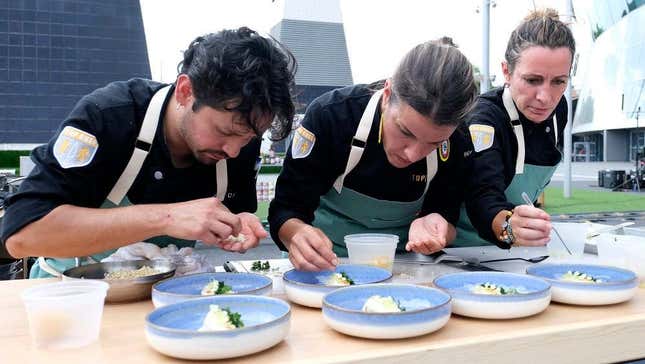 After a pub-food primer on Scotch eggs and bangers last episode, this week's Top Chef: World All-Stars offers up two more British specialties that American don't quite understand: football and biscuits. Sure, we may have versions of both on our side of the pond, but in jolly ol' England, football is played with your feet (wild, we know) and biscuits are less of those fluffy, flaky buttermilk-fortified rounds you find down South and more akin to very sad, very dry cookies.
"Top Chef" judge Gail Simmons on favorite cuisines and dream guests
The former English discipline informs the Elimination Challenge this week, while the Quickfire Challenge is dedicated to the latter. "We want you to create one sweet and one savory biscuit," Padma Lakshmi tells the chefs. "You can use either one dough and split it, or you can create two completely different biscuits." Adds our fabulously dressed guest judge, world-renowned pastry chef and master chocolatier Paul A. Young: "Will it be herby? Will it be cheesy? Will it be sandwiched with something? But make them look beautiful." The competitors have 45 minutes. "Don't crumble under the pressure!" Padma puns.

Most of the chefs are packing big flavors into their biscuits—there's a lot of parmesan happening, from Charbel's parmesan-walnut sable with creme fraiche to Luciana's parmesan biscuit with crispy bacon to Sylwia's Caesar-inspired cookie ("No potatoes, no beets!")—but Ali's focused flavorings have him worried that his bakes are, well, basic, especially after coming in the bottom last episode. But he stands firm in his concept: "For me, life should be simple, not complicated."

It turns out his instincts are spot on: Padma and Paul love his "really crispy" za'atar biscuit and orange sable. Nicole's cacio e pepe biscuit and pistachio-rose cookie also impresses the judges, as does Luciana's delightfully cheesy round. ("There's a lot of cheese in this one…in a good way!" Paul praises.) Ultimately, Ali bounces back from the bottom to take top marks, clinching him immunity later in the stamina-testing Elimination Challenge.

Victoire's mascarpone-bacon sable—made with gluten-free cassava flour—falls to pieces, literally, landing her in the bottom three. ("We don't bake in Congo. We don't bake!" she says with a snap.) Joining her are Gabri's corn-based Mexican shortbreads ("the middle was a little too soft," Padma reasons) and Tom's biscuit "clouds," which, as guest judge Paul sassily points out, are basically cake: "It wasn't a biscuit. The brief was very clear."

The chefs are given a rare night off after the Quickfire, which makes sense once you hear the scope of the Elimination Challenge. Set at Tottenham Hotspur Stadium, the challenge tasked the chefs to compete as four teams of three in three rounds of 45-minute matches, each judged by our usual trio of Padma, Tom Colicchio, and Gail Simmons, as well as guests Aquiles Chavez (a Top Chef Mexico judge) and Ledley King (a former football player and club ambassador for the Tottenham Hotspurs). The chefs quickly group themselves: Luciana, Begoña, and Gabri; Charbel, Sylwia and Sarah; Victoire, Amar, and Nicole; and Buddha, Tom, and Ali, the latter of whom gets chosen last due to his immunity, which puts his teammates in jeopardy.

"We're going to use the league system of relegation: Round one, there will be two head-to-head matches. Each team must make one dish featuring a beloved U.K. ingredient. If your team wins, you'll be safe from elimination. If your team loses, they must compete in the next round," Padma explains. A second round pits the two first-round losers against each other. Whichever team loses that match-up will then have to split up and compete as three individuals. "The team you just chose may ultimately be your competition," she adds. "If I knew that, I would never have stayed on the team with them," Luciana says of potentially having to go head-to-head against her friends.

The teams blind-pull knives marked with a specific type of British cheese that will be their first dishes' starring ingredient—Stilton and Wensleydale—to dictate who will compete against who. The green team is collaborating smoothly on their poached egg with Stilton foam and balsamic vinegar ("Begoña is taking the lead...I would follow her with blind eyes," says Gabri), while the same can't be said for Victoire's threesome.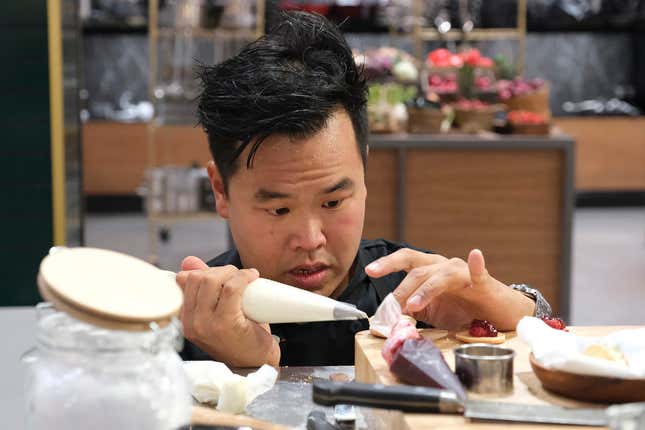 "Nicole, let me do for my way," Victoire complains when "aggressive" Nicole shows her how to "petal" an onion. Things get worse when the team's roasted duck breast with Stilton butter jus and walnut crumble starts irritating Victoire's nut allergy. By plating, the chef is wheezing. "I say to myself, 'Finish your dish and then you can die!'" she jokes. Medical does pull her off to the side for treatment, while teammates Amar and Nicole face the judges. Thankfully, the health scare isn't for naught: Victoire's team beats out Gabri's "muddled" egg, and they are safe from elimination.

Round two sees Team Charbel offering up a cauliflower Welsh rarebit with a stout-and-cheese sauce and caramelized shallots, up against Team Buddha's whole-braised onion with Wensleydale puree and pickled chilies. "You weren't afraid of this cheese, I loved it!" praises Tom Colicchio of the former creation, docking the latter for being "almost too aggressive with the spice."

That leaves Team Buddha and Team Gabri in the third round, this time spotlighting Bramley apples, the national fruit of the U.K. "You see a beast of a team," Tom says of his competition. "Three Top Chef winners and one runs a Michelin restaurant in Spain. Fuck my life!" However, Tom doesn't have to worry: The judges prefer the "intense apple flavor" of his team's apple tart with nut crumble and crème anglaise to Team Gabri's crab-apple cannelloni with apple mayonnaise.

Sadly, that means Gabri, Luciana, and Begoña have to compete against each other, with this round's featured ingredient being the English pea. "Another round, and against my friends. That sucks," Gabri mourns. Begoña agrees: "I can do a really nice plate just with peas, but I feel like shit. I don't want either one of them going home. I didn't want to be in this situation."

Alas, both of their dishes—his sauteed peas with cured beets and a pea-mint tuile, and her "very elegant" cream of peas with pea meringue and fried peas—beat out their brethren, Luciana, whose scallop carpaccio with pea veloute simply doesn't offer up "as much pea flavor" as her challengers' plates. "Today for me was a bit hard, being so close with Gabri and Begona," she says upon elimination. "This last challenge was a bit difficult. In Brazil, we don't eat much peas!" But, going into Last Chance Kitchen, she says: "My knives are all sharpened and I'm ready to remove my earrings and start chopping." Atta girl!
Stray observations
Competing in the midst of a medical emergency wasn't the only impressive feat Victoire displayed this week: The chef speaks a whopping seven languages and has only been speaking English for four short months. "I can't speak English fluently but I am focused on the competition. Nothing can stop me!"
We're already shipping Gabri with his cooking crush, pastry chef Paul. "He's got an Austin Powers vibe…I'd totally date him!" If Pastry Paul won't accept, Gabri can cozy up to a soccer star. "I don't like football but I do like the players."
More screen time needs to be dedicated to Buddha's pug Kroshka, whose name translates to "little crumb." "He's got more rolls than a bakery," the chef says of his adorable pet. Kroshka was going blind but Buddha's prize money from winning Top Chef season 19 helped to pay for the pup's eye surgery. Team Kroshka!