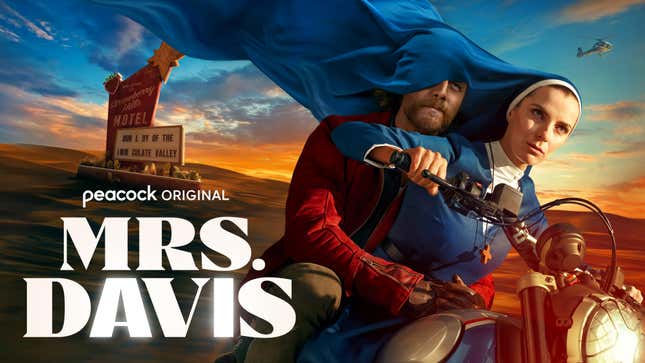 Damon Lindelof and Tara Hernandez's Mrs. Davis is as hard to describe as any of Lindelof's projects, which is probably part of the allure. The first teaser promised a Her-like story about an A.I. living in an earpiece. When the titular Mrs. Davis "wants to talk to you," the user pops the earbud in and follows its directions. When Mrs. Davis finally gets around to a nun named Simone (Betty Gilpin), though, the woman of God and her A.I.-hating ass are sent on a global quest for the Holy Grail. Yes, that Holy Grail.
Mrs. Davis looks like many things, and when Lindelof is involved, viewers can usually count on seeing all of those things, too. What starts as the classic story of a nun annoyed by algorithms turns into a globe-hopping adventure with resistance fighters, motorcycle chases, and people pledging fielty to a stupid computer program. Unfortunately, it feels all too relatable.

The scale of this thing is much larger than anticipated—and the teaser promised international locations. Well, now it's a motorcycle-riding nun searching for the Holy Grail that an artificial intelligence named "Mrs. Davis" sent her on. Along the way, she discovers a piano-infested wheat field, a cult of Davis obsessives, and a shower of green goo. Simone finds herself holed up with a group of resistance fighters aiming to pull down the algorithm.
Though we don't know how this adventure-comedy will play out, it does have those Lindelofian signatures that made Watchmen, The Leftovers, and Lost so compelling and divisive. Most importantly, there's a shot in the trailer of Margot Martindale, who is credited as Mother Superior, holding a bottle of brandy and saying, "Let's party." Yeah, we'll check that out.
Mrs. Davis would like to talk to you on April 20 on Peacock.