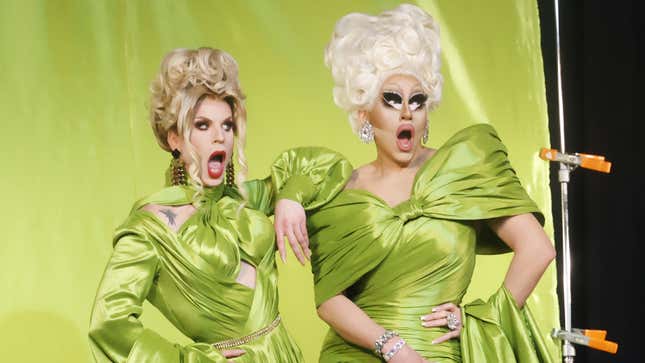 One award-winning web series, another hit podcast, a live theatrical show that sold out Radio City Music Hall, and two New York Times-bestselling books later, it's clear Trixie Mattel and Katya Zamolodchikova have built a post-RuPaul's Drag Race legacy to rival Drag Race itself. They've created a drag empire, built on the hilariously irreverent humor the two queens have shared since launching the show whose title captures all that inanity: UNHhhh, which returns for an eighth season March 15 on WOW Presents Plus.

Nick Frost on the joys of playing The Nevers' Beggar King
At a special photoshoot with photographer Franz Szony, Trixie and Katya are draped in vibrant chartreuse—a color they've never worn in the series' seven years, as the show is filmed in front of a green screen. Teams of assistants and producers mill about the two queens, for whom an early morning photo shoot is just another Monday. "The Ann Coulter and James Corden of drag are back," deadpans Katya.
In a candid conversation (do they have any other kind?) with The A.V. Club, Trixie and Katya explain why this feels like a full-circle moment in their partnership, talk about whether Katya's laissez-faire attitude is rubbing off on workaholic Trixie, and dish on Julia Roberts, Anya Taylor-Joy, and Hong Chau. As for what 2023 will hold, one thing's for sure: Trixie and Katya will continue to say whatever is on their minds, providing us all, in their brilliantly stupid way, lessons on how to live in the moment. As Katya herself said in one of UNHhhh's pearls of wisdom, "There's no point in looking back. There's also no point in looking forward. That's why I close my eyes when I skateboard."
---
The A.V. Club: Today is featuring even more green than usual on UNHhhh. Or are you both used to seeing this much green all day, every day?

G/O Media may get a commission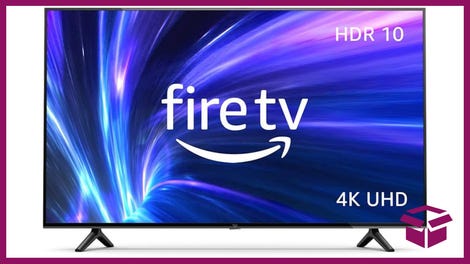 42% Off
Amazon Fire TV 50" 4K Smart TV
Katya Zamolodchikova: Well, if you see green all day, it becomes red. Yeah, this is huge for us.
Trixie Mattel: We never get to wear green. Turns out it's not our color ... This is the color they always put [you in] if you have red hair, right? You go to a red carpet and they make you wear green.
AVC: Like Julianne Moore.
KZ: Julianne Moore! Always emerald green.
AVC: I'd like to start by asking about something you've mentioned on UNHhhh itself, which is that it isn't exactly a show people watch when they're thriving. I have to say, that was a bit of a lightbulb moment for me.
KZ: A lipo moment? Oh, a lightbulb moment.
TM: [Laughs] "I was doing my lipo moment."
KZ: "Now when was the lipo moment for you?"
TM: I'd love to do a lipo moment. What's the healing process for that?
KZ: No, it's so horrible. You don't want it, trust me. It's so painful. But the lightbulb moment for you—
AVC: Yeah, I've heard fellow fans of UNHhhh say they look back on personally dark times and that's when they're tuning into you guys most. How do you feel about that?
KZ: I guess it's because we're so hot. So sexy. It's like when you're depressed and you just get horny.
TM: You know when you're hungover and you jerk off constantly? You know!
KZ: It's like grandma's comfort porridge.
TM: Yeah, people are always like, "This is my show I watch when I'm depressed." But, you know, that's me with The Office. Whenever I watch The Office, you know I'm struggling. I've watched it four times this year.
KZ: It's a compliment. I mean, how would the creator of penicillin feel? Probably great.
TM: I would say we help more people than fucking penicillin. You know how many people are allergic to penicillin? A lot. Nobody's allergic to our show. They're just homophobic.
KZ: Thank you. That's truth, that's tea, actually.
TM: Whenever we trend or something in a video like this, all the comments are like, "What am I watchin'!?"
KZ: "The end times're here!"
AVC: But how did they end up clicking there?
KZ: Exactly.
TM: Well, sometimes the comments are like, "These people need mental help!" And I'm like, [nodding] that is tea, though.
KZ: I need a little more than a Bible verse, though.
TM: "Thou shalt not wear synthetic wigs."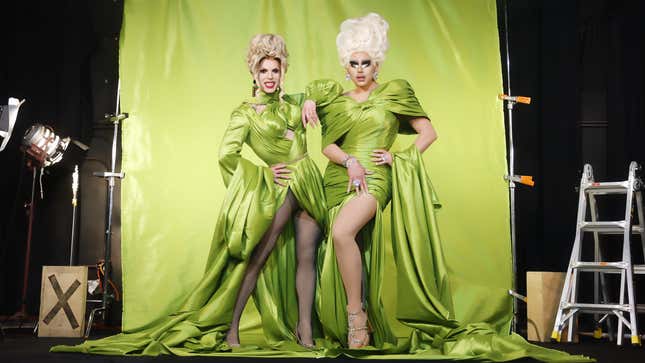 AVC: You've also said the real stars of this show are its editors, Ron Hill and Jeff Maccubbin. Care to comment on how their style has been copied by other video creators?
KZ: Always imitated, never duplicated. When you create a movement, it's like, how can you control that?
TM: It's all them. This [gesturing] is our only contribution. We're not in the editing bay. They don't let us back there.
AVC: Do you have a favorite episode? Of course you've been asked this throughout the 200 episodes, but I'm wondering if answers have changed.
TM: "Weather."
KZ: "Weather." I watched it while I was depressed, in fact! While we were experiencing weather here in Los Angeles. And it lifted me right up. I loved it.
TM: "Weather" is really good. It's so funny. It's our "Dinner Party" from The Office. And I really like "Space," that's a good throwback.
KZ: "Thanxgiving" is like our Killing Of A Sacred Deer.
TM: They all feel like one glob now. You know, I listen to a lot of recap show podcasts. And they'll be like, "Until a fan brought this up, I didn't even remember that was in that episode." And as a fan, I'm always like, "I can recite it, are you kidding me?" But now with this show, I don't know what we've talked about, what we said when we did that topic. This morning, I was picking outfits and went, oh, I don't know what I've worn.
KZ: It's that kind of spontaneity that really provides the show its heart.
TM: And we're two men in wigs on a green screen. Like, how good can it be? We try to do a good job. We go through phases where we'll get really into wanting to do it. But it's about time of the day. This morning, when I thought of getting in drag? I didn't think positively of it.
KZ: When I was wrapping this around [gesturing to dress neckline], I said, "Maybe a little tighter? Maybe a noose." [Laughs]
TM: And we shoot three [episodes] a day. It's quite a long day.
KZ: We used to do four, which is unimaginable to me.
AVC: Do you have getting into the emotional, psychological, comical zone here down to a science? How did you tap into the vibe for "Weather," what was going on that day?
TM: I remember what happened the day of "Weather." We were really, like, battling.
KZ: Oh, yeah! It was the eleventh hour. We had to rally.
TM: And it turned us into psychos, because we just were like, one foot out the door. So we were just screaming.
KZ: I don't even think I had shoes on, and that's how you know.
AVC: But also your outfit contributed to that insanity, right? Can each look dictate the vibe of each conversation?
KZ: That's right, the flying squirrel.
TM: We've gone through a lot of fashion journeys on the show.
KZ: Yeah. Hers are a little bit more linear. As in she's progressing and becoming more beautiful.
TM: No, mine's an EKG. It'll be one episode where I'm like, "Ooh, I knew what I was doing that day!" And then…
KZ: The bowl cut.
TM: Yeah, the bowl cut. That blue lip with that mushroom wig? I can't even—and I also had my old teeth. So we're talking a nice yellow gray.
KZ: Like bones sticking out. I mean, in the moment you just think, Oh, you know, whatever. And then it becomes a cultural juggernaut.
AVC: For real, though! Isn't 200 episodes an institution?
TM: It really is.
AVC: And it's interesting you're saying UNHhhh lives on more in the minds of fans than in your minds, as they remember more.
KZ: Well, do you think the Founding Fathers remembered the Declaration of Independence as they were writing it?
TM: I mean, some parts of it have gotten easier. We didn't used to have a hair and makeup person and now we have Fena Barbitall. Katya and I used to not have assistants, now we have help. And by the way, not to do a shout out—where is Pete? I hope he doesn't hear this—this show is taped and audio'ed and lit by one person. One person does lights, sound, and three cameras.
KZ: James Cameron.
TM: Pete [Williams] deserves an Emmy for this show … He needs an EGOT, a Golden Globe. I watched an interview with Rita Moreno the other day where she said, "Yeah, I've got two Golden Globes, but mine were back from when they mattered."
KZ: I love that. Flex!
AVC: Speaking of actresses, we of course love when you guys talk about film and are essentially cultural critics. What is great acting to you? Katya, why the Julia Roberts obsession? Trixie, what is it about Hong Chau?
KZ: Let's answer that question with a question: Why not? Julia Roberts is the last movie star.
TM: What? You don't think Anya Taylor-Joy is a movie star?
KZ: No, she's a fabulous starlet. The camera loves her. But [Julia Roberts] is a homegrown Georgia peach. [Laughs] A megawatt smile. You can't sort of locate her talent, it's just in her aura.
TM: We don't stan the same things that most people stan.
KZ: Yeah. I think it's funny to be a Julia Roberts fan because everybody likes her.
TM: Three weeks ago, I went to Atlanta to see the B-52s—two nights in a row, and I cried. I don't know my other gay friends who are like, "That's mother!" at the B-52s. So we stan things, but we don't stan the right things. [Laughs] The problem is I'm so mentally ill that sometimes a window will open and something will hit me at a time I'm very vulnerable and it will get really deep in. Like I saw Watchmen at the wrong time, and now—guess where I was last night? I went to a movie theater in L.A. to see Watchmen.
AVC: The 2009 movie version?
TM: Yeah, I should be shut down.
AVC: Is there acting and then movie stardom? How separate or overlapping are the two?
KZ: So [Hong Chau] is an Actor, with a capital A.
TM: I saw Hong Chau in Downsizing, which was kind of a weird film. I've never seen somebody who's, like, "Who is that?" act like this. Everyone left that movie being like, "Who is that?" I felt like I was hit by a tidal wave. She's playing like a Vietnamese refugee, and even somebody like me who doesn't know much about that world, she told me about that world. I watch that monologue eight times a day on YouTube. And then I saw her in Watchmen, obviously, and I was like, Something is happening. Then I saw her in The Menu. And then suddenly, I was with her in The Whale. She played opposite me.
AVC: Lastly, I want to ask about ambition. You've joked about how you, Trixie, are really motivated and ambitious, and you, Katya—
KZ: Well, I'm ambidextrous.
AVC: How has that dynamic resulted in a successful business partnership?
KZ: Well, she has all these wonderful goals and a lot of propulsion, a lot of drive. And I just kind of catch the tailwind, like once a month … If there's no pain, then there's no gain. If my gums aren't bleeding, what are we doing here?
TM: We were sort of diametrically [opposed], like, she's gained weight, I've lost weight.
KZ: I've retired, she's retiring.
TM: Yeah! Because I'm 33 now, which is the age she was when we started working together. So I told her, "This is all starting to make sense."
AVC: Trixie is becoming Katya? It's full circle.
TM: Now I'm like, "I want to work, but…" Yeah, I don't want to work as hard.
AVC: So do you have resolutions in 2023? Katya, are you scaling Trixie back?
KZ: Oh, no, she's pounding the pavement. I'm scaling a different thing. I have a Chinese New Year resolution and I have been cleaving to it so fiercely: I don't litter my cigarette butts. I know I shouldn't be doing that, it's deplorable. But I have not done it since Chinese New Year.
TM: We're praising her, but what she's saying is that for 40 years she's been doing that.
KZ: It's like, "I stopped killing children, please clap."
TM: And I'm whoring myself out all year again. I like money. But yeah, I'm starting to understand, "Wow, that sixth day a week in drag isn't appealing." Whereas I've always [said to Katya], "Come on, we can do it." And she's been like, "No"... And I get it now.