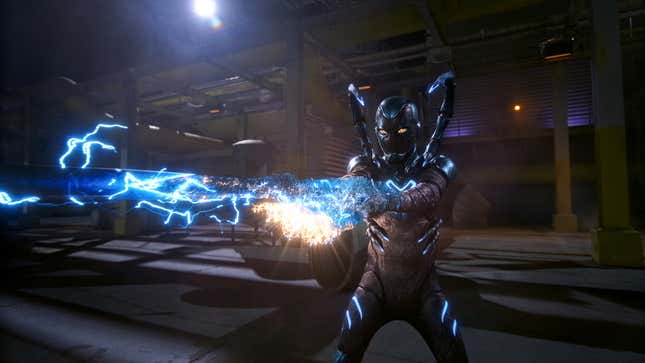 August 1: When Girls Ride - Samantha leaves the south for a fresh start, but gets caught up in the world of biker girls. Starring Alfred E. Rutherford, Deja Blaise, and Steven Strickland.
Why Christian Bale would love to be friends with Burt Berendsen
August 4: The Meg 2: The Trench - A research team encounters multiple threats while exploring the depths of the ocean, including a malevolent mining operation. Starring Jason Statham and Cliff Curtis.
August 4: Teenage Mutant Ninja Turtles: Mutant Mayhem - The Turtle brothers work to earn the love of New York City while facing down an army of mutants. Starring Giancarlo Esposito, Paul Rudd, Rose Byrne, and John Cena.
August 4: Jessica Frost - A young woman tries to discover why a time-traveling psychopath is after her, leading to a journey through the desert, time, space and her family's past.
August 4: Dragonkeeper - In ancient China, dragons were once friends of humans, but our greed ended their alliance, and these magical creatures were hunted down. Years later, in a remote fortress, a young slave girl, Ping, strikes up an unlikely friendship. Voiced by Bill Nighy, Anthony Howell, and Bill Bailey.

August 8: Modern Arcana - A kaleidoscopic reincarnation romance about two souls who meet in the afterlife and take turns living lives of their choice. Starring Michael Winslow, Martin Klebba, Lloyd Kaufman, and Mariah Salazar as Estelle.
August 11: Heart of Stone - An intelligence operative for a shadowy global peacekeeping agency races to stop a hacker from stealing its most valuable and dangerous weapon. Starring Gal Gadot and Jamie Dornan.

August 11: Chaaw - A celebration of hip-hop through beatboxing and unique storytelling by the Legendary Biz Markie, who rhymes while telling the stories of victims of injustice. Featuring Biz Markie, Big Daddy Kane, Richard Lawson, and Jimmie 'JJ' Walker.
August 11: Red, White & Royal Blue - The son of the American president sparks a feud with Britain's prince. Starring Uma Thurman, Nicholas Galitzine, and Taylor Zakhar Perez.
August 11: Jules - An unusual and unexpected visitor brings together several people living in a small city in rural Western Pennsylvania. Starring Zoë Winters, Ben Kingsley, Harriet Sansom Harris, and Jane Curtin.
August 11: Last Voyage of the Demeter - Based on a chapter from Bram Stoker's classic 1897 novel Dracula, Last Voyage of the Demeter details the strange events that befell the doomed crew of the Russian schooner Demeter. Starring Corey Hawkins, Aisling Franciosi, Liam Cunningham, and David Dastmalchian.
August 14: Yoyo and Doc Croc: The Movie - Follow the adventures of Yoyo and Doc Croc in this animated feature. Starring Dan P. Lyons, Julianna N. DePallo, Darren A. Nichols, and Almir Velovic.
August 16: The Strangers - A young couple driving cross-country towards a new beginning endures a night of terror against three masked strangers at a secluded Airbnb in Oregon. Starring Madelaine Petsch, Froy Gutierrez, and Rachel Shenton.
August 18: Back on the Strip - After losing the woman of his dreams, Merlin moves to Las Vegas to pursue work as a magician, only to get hired as the front man in a revival of the notorious black male stripper crew, The Chocolate Chips. Led by Luther - now broke and broken - the old, domesticated, out-of-shape Chips put aside former conflicts and reunite to save the hotel they used to perform in while helping Merlin win back his girl. Starring Kevin Hart, Colleen Camp, Wesley Snipes, and Tiffany Haddish.
August 18: Blue Beetle - A teenager finds an alien beetle that grants him superpowered armor. Starring Susan Sarandon, Xolo Maridueña, and Raoul Max Trujillo.
August 25: The Hill - The remarkable true-life story of Ricky Hill's improbable journey to play major league baseball. Starring Dennis Quaid, Joelle Carter, Bonnie Bedelia, and Scott Glenn.
August 25: Gran Turismo - A teenage Gran Turismo player's gaming skills leads him to become a professional race car driver. Based on a true story. Starring Orlando Bloom, David Harbour, and Darren Barnet.
August 25: Golda - Focuses on the intensely dramatic and high-stakes responsibilities and decisions that Golda Meir, also known as the 'Iron Lady of Israel' faced during the Yom Kippur War. Starring Helen Mirren, Zed Josef, Claudette Williams, and Henry Goodman.
August 25: Vacation Friends 2 - A couple meet up with another couple while on vacation in Mexico and see their friendship take an awkward turn when they get back home. Starring John Cena, Steve Buscemi, and Meredith Hagner.

This article is based on data from IMDb. Text was compiled by an AI engine that was then reviewed and edited by the editorial staff.