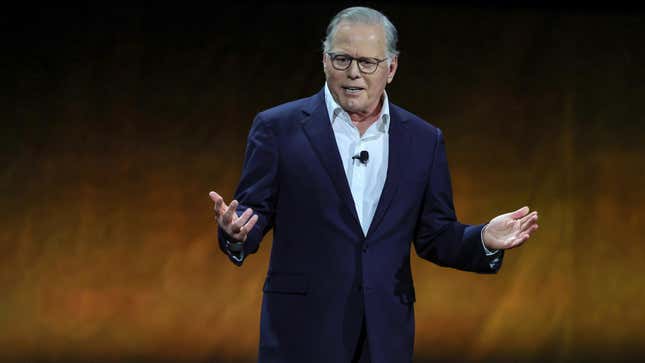 You wouldn't know it by David Zaslav's impressive salary, but Warner Bros. is coming off of "two of the worst years," as the boss himself said on the company's quarterly earnings call (via The Hollywood Reporter). To hear him tell it, the Discovery merger was indeed just the thing to right the ship, and the company is now able to "rebuild" historic WB "to its former glory." And what, pray tell, will restore the illustrious studio's glory? DC superheroes, of course.
David Ayer has a very specific metaphor for working in Hollywood
"We got James Gunn and Peter [Safran] working very hard on DC, which is going to be a very big growth driver for this company," the WBD CEO emphasized on the call (per THR). "We are very bullish on DC. The Superman script first draft is done. Gunn is on a mission from god. It is a really good moment to prove out on DC what we got and how strong it is globally for long-term sustainable growth."
From the start of his tenure, Zaslav has championed theatrical releases. That strategy saw straight-to-streaming fare like Batgirl struck from the record entirely while a film mired in controversy like The Flash has been positioned as DC's big comeback feature. "We got some more movies that are better; we have been working hard on fixing them and enhancing them and investing," Zaslav said. "We said no movie before its time. And with Barbie and Flash we have two very good movies. I think the slate coming up now will make a big difference. We have lost a lot of money in the motion picture business, and making that turn is important."
Like Paramount, Warner Bros. Discovery reported big losses in quarterly earnings (a net loss of $1.1 billion, according to CNBC). However, the streaming side apparently turned a $50 million profit, with the company expecting that segment of the business to be fully profitable earlier than predicted. The company did not comment on the ongoing writers strike in the earnings call, though the writers have been doing their own math about WBD earnings. "David Zaslav, the CEO of Warner Bros. Discovery, the parent company of the network I'm talking to you on right now, was paid $250 million last year," writer and comedian Adam Conover said on a recent appearance on CNN. "That's about the same as what 10,000 writers are asking him to pay us collectively."
The Alliance of Motion Picture and Television Producers released their own rebuttal regarding the negotiations with the Writers Guild of America (per Variety). The studios' bargaining unit provided its alternate perspective on certain WGA proposals (guaranteeing a certain amount of jobs in the writers' room, regulating the use of artificial intelligence, etc.) that AMPTP rejected and, in some cases, refused to counter.
As for WBD CEO Zaslav, he later expressed confidence that the two sides will come to an agreement. "A love for the business and a love for working. We all came into this business because we love storytelling," Zaslav said during an appearance on CNBC's Squawk Box (via Deadline). "That's what's going to bring us together." Those things may indeed bring people together, but they have to pay the bills, too. If the company makes big superhero bucks, shouldn't writers get to share the wealth?