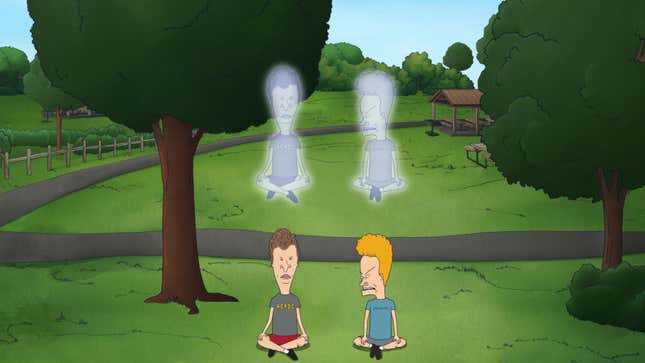 For many, clearing one's mind takes a lifetime of practice. It is said that only the Buddha himself has ever achieved such enlightenment, attaining Nirvana by extinguishing the three fires. For Beavis and Butt-head, it takes less than 90 seconds. It helps not to have much rattling around up there.
Why Benedict Cumberbatch Plans To Take A Break
The new season of Mike Judge's Beavis And Butt-Head is finally upon us. Appropriately premiering on 4/20 on Paramount+, the new season will see America's favorite teens, once again, running amok in their home of Highland, Texas. And in honor of the holiday, The A.V. Club received an exclusive clip from the season premiere featuring the show's most 4/20-friendly character Mr. Van Driessen, who has the unfortunate distinction of having to pull these two away from the television long enough to learn a thing or two about the world.
In the installment entitled "Meditation Sucks," Van Driessen attempts to use Tibetan singing bowls he picked up from Cost Plus World Market to teach the boys about experiencing lives outside of their bodies. That's all well and good for our heroes, who mostly think their bodies suck anyway.
Beavis and Butt-head have long been on the quest for enlightenment, facing elementals along the way that could help them on their path. In season one, for example, Beavis meets a fire spirit who tries to help him get in shape, read a book, and be a more responsible adult. As you can expect, it doesn't take. Nevertheless, Beavis And Butt-Head is undergoing something of a renaissance on Paramount+. The first season featured a string of form-breaking episodes, giving us a peek at the boys at the height of their powers, on dialysis, and as inter-dimensional travelers. By the looks of this clip, Mike Judge hasn't missed a chuckle.
The season premiere of Mike Judge's Beavis And Butt-Head streams on Paramount+ on April 20.