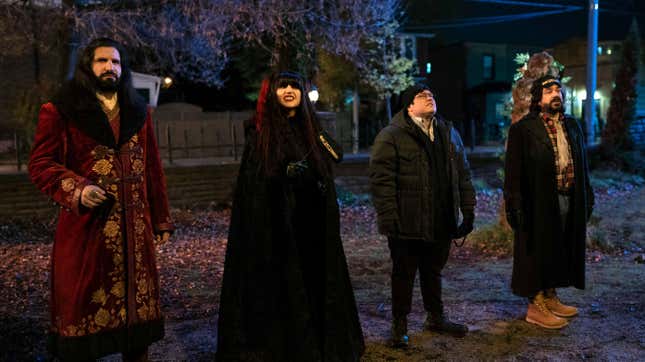 "Bikini Warehouse? Must be a front for a brothel," Laszlo Cravenworth (Matt Berry) announces while on a mall field trip. And just like that, the funniest vampires on television return via What We Do In The Shadows season five, continuing on their path of doing aimless things like discovering the mall, using a Ryan Seacrest cutout as a coupon, and hosting the news. Oh, it's good to have you back, WWDITS.
Michael J. Fox always thought the Oedipal stuff in "Back To The Future" was strange
Jemaine Clement's FX comedy, based on his 2014 film of the same name, follows a group of vampires who awaken after centuries and are unfamiliar with modern society. (Join the freaking club.) They plan on taking over the world but quickly abandon the idea when they realize they can barely figure out Staten Island. You can't fault them for that one, huh?
In the season four finale last year, Laszlo was disheartened when baby Colin Robinson (Mark Proksch) grew up into his usual, boring self. Nadja (Natasia Demetriou) tried to burn down her nightclub, accidentally spritzing a ton of blood over her stolen money instead. Guillermo (Harvey Guillén) left the mansion after realizing Nandor (Kayvan Novak) will never really turn him from a familiar to a vampire. He's going to accomplish that dream by himself.
In the season five trailer, Gizmo has seemingly turned into a vamp, but can't turn himself into a bat yet. Has he tried saying it like Laszlo yet? Probably not, but he's being trained anyway. The group also journeys into the mall; Nadja tries to get her doll to lose her virginity and tries to seduce Colin at one point. Thankfully, these Staten Island vampires love their raunchy agendas.
The mockumentary's cast includes Kristen Schaal, Anthony Atamanuik, and Doug Jones. Fingers crossed for another Nick Kroll cameo as Simon the Devious, simply because it will lead to Berry's exaggeratingly pronouncing "New York City" once again. We deserve something good. 
What We Do In The Shadows season five premieres July 13 on FX. You already know The A.V. Club will be recapping the comedy weekly.