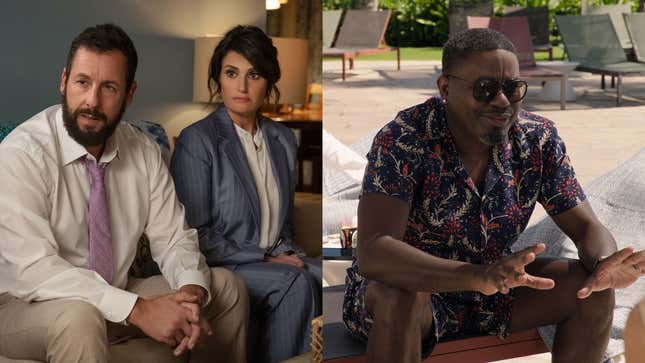 Welcome to the weekend edition of What's On. Here are the big things happening on TV from Friday, August 25 to Sunday, August 27. All times are Eastern. [Note: The weekly What's On will publish on Sundays.]

---
1. There's now a movie called You Are So Not Invited To My Bat Mitzvah
Netflix, Friday, 3:01 a.m.: As far as movie titles go, you could do a whole lot worse than the Adam Sandler-starring comedy You Are So Not Invited To My Bat Mitzvah. The film follows BFFs Stacy Friedman (Sunny Sandler) and Lydia Rodriguez (Samantha Lorraine), who have always dreamed of hosting an epic bat mitzvah. But their plans go awry when a teen boy—of course—gets in the way of their friendship. Idina Menzel, Sarah Sherman, Jackie Hoffman, and Luis Guzman co-star. Here's The A.V. Club's review.
---
2. Vacation Friends drops a sequel
Hulu, Friday, 12:01 a.m.: What would you do if you went on a holiday with your girlfriend and met a crazy couple who almost ruined your elopement? According to Vacation Friends 2, you'd plan another trip with them. The sequel to the 2021 film finds Marcus (Lil Rel Howrey) and Emily (Yvonne Orji) inviting the chaotic Ron (John Cena) and Kyla (Meredith Hagner) on a Caribbean getaway. Naturally, things quickly turn disastrous. Steve Buscemi and Ronny Chieng round out the cast.
---
3. Catch up on Telemarketers before it ends
HBO, Sunday, 10 p.m.: HBO's terrific docuseries Telemarketers wraps with its third episode. The show, executive produced by the Safdie brothers and Danny McBride, starts as a peek into the messed-up office life of a New Jersey telemarketing company and turns into an expose on an infuriating charity scam.
---
4. Apple adds to its docuseries lineup with Wanted: The Escape Of Carlos Ghosn
Apple TV+, Friday, 12:01 a.m.: Apple TV+ is also getting on the true-crime bandwagon with Wanted: The Escape Of Carlos Ghosn, which chronicles the riveting rise, fall, and flight from justice by a high-flying business executive who was once the CEO at companies like Nissan and Renault.
---
5. Zero Gravity sheds light on musician Wayne Shorter
Prime Video, Friday, 12:01 a.m.: Dorsay Alavi directs the three-part docuseries Zero Gravity, an intimate ode to jazz legend Wayne Shorter's life and music.