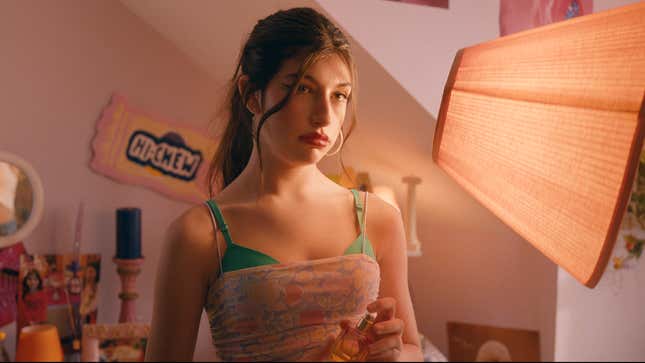 Good teen comedies work because of their ability to capture, with empathy and warmth, the whirlwind that is being a teenager. It's not just that everything is moving fast, changing constantly, and all burdened with the liminal force that is transitioning from childhood to adulthood. It's that all of that is happening and everything feels like the Most Important Thing all the time. There's no sense of triage in your brain, no ability to place things in the perspective that comes with aging and letting go of certain childhood visions of what your future is supposed to be. If you're able to convey that particular emotional maelstrom, there's a good chance your teen comedy will be not just funny, but moving.

Why Christian Bale would love to be friends with Burt Berendsen
You Are So Not Invited To My Bat Mitzvah, the new coming-of-age comedy from Adam Sandler's Happy Madison Productions, starts things off right by proving that it can nail that sense of emotional teen chaos. Based on Fiona Rosenbloom's book of the same name, and starring Sandler and two of his real-life daughters, it's a film that immediately creates a sense of warmth and inviting charm that allows us into the lives of the teenagers at its core, then proceeds to spectacularly mess those lives up in ways both hilarious and devastating. It might not be destined to join the ranks of teen comedy masterpieces, but in the short term, its ability to nail the right balance of emotional and comedic unpredictability makes it a very pleasant journey, and a must-see for teen movie aficionados.
The bat mitzvah of the title belongs to Stacy Friedman (Sunny Sandler), an adolescent girl who's spent her life surrounded by her family's Jewish culture, and a constant stream of elaborate, expensive bar and bat mitzvahs. Stacy's been planning her own elaborate bat mitzvah for years, no matter how much her parents (Adam Sandler and Idina Menzel) encourage her to lower her expectations, because she sees it as a true gateway not just to adulthood, but to defining herself forever. Stacy's best friend Lydia (Samantha Lorraine) shares her aspirations for bat mitzvah glory, and the two are determined to make each other's big day the best event possible.
Unfortunately, Lydia also apparently shares Stacy's crush on Andy Goldfarb (Dylan Hoffman), the cutest and coolest boy either of them knows, and Andy's apparently got eyes for Lydia, not Stacy. As Stacy's life, and best friendship as she knows it, unravels, she has to try to figure out who she really is and what she really wants, all while navigating the typical awkwardness of everyday Hebrew School adolescence.
Movies like this begin and end with winning personalities, and as with so many Happy Madison joints, Bat Mitzvah gets that part right. Sunny Sandler, joined by her own older sister Sadie as Stacy's older sister Ronnie, channels the awkward teenage years of actresses like Molly Ringwald and Natasha Lyonne before her, while adding her own Gen Z spin to the whole strange journey. She can carry much of the emotional weight, but it of course helps that she's surrounded by fellow chambers. Lorraine is sympathetic and endearing as Lydia, Sandler and Menzel are a wonderful (and wonderfully grumpy) couple, and the entire teenage Hebrew school ensemble is on board for walking the tonal lines required by the piece. The real star of the film, though, is SNL showstopper Sarah Sherman as Rabbi Rebecca, Stacy's patient, unconventional spiritual leader, who steals every scene with such force it makes you wonder why she doesn't have a sitcom as this character right now.
Together, these actors breathe life into Alison Peck's screenplay adaptation of the novel, a script smart enough to play with the expected teen comedy beats while also striking out to find its own particular tonal balance. Stacy herself sets the stakes at the beginning of the film, laying out why her bat mitzvah is so important and, thus allowing the film to take those ambitions down a peg, or two, or ten. Those are the comedic stakes, heaped on by the fallout between Stacy and Lydia, but they're not the only stakes present. Because Stacy really does believe that the next few weeks of her life have the chance to define her whole future, the film takes on a new emotional level as she navigates her troubles, trying to find not just the popular solution, but the moral one. That particular emotional hinge gives the film extra heft, and its only drawback is that it perhaps doesn't always go far enough into pure emotion.
Still, the emotion is there, as is the comedy, which nicely bridges the gap between Gen Z humor and Adam Sandler's own Gen X silliness to create a world in which kids and their parents can laugh together. That means You Are So Not Invited to My Bat Mitzvah ultimately delivers the epic bash its heroine dreamed of, and you'll be thankful for the invitation.
You Are So Not Invited to My Bat Mitzvah premieres on Netflix on August 25.