Here's what's up in the world of TV for Friday, October 24, and Saturday, October 25. All times are Eastern.
Top pick
Constantine (NBC, 10 p.m., Friday): DC Comics' John Constantine, the morally ambiguous, pansexual, chain-smoking, Liverpudlian supernatural detective—he of the mysterious, possibly dubious mystic powers—gets his own American network TV show! It seems a bold choice for NBC's entry into the superhero TV race, but Brandon Nowalk is just a wee bit concerned that the network has banned Constantine's Silk Cuts and that he's fighting all-American evil for some reason. Will Constantine be the magnificent bastard of comics legend, walking the razor's edge of damnation, or is his show just a watery version of Supernatural? Brandon's just glad they let star Matt Ryan keep his accent at least.
Also noted
Comedy Bang! Bang! (IFC, 11 p.m., Friday): Steven Yeun tells Scott Aukerman he's very worried about the coming zombie apocalypse. Which makes sense, as poor Glenn has been at the top of everyone's Walking Dead death pool for years. Emily L. Stephens lets us know if he survives an episode that includes Horatio Sanz as a gentleman who wants to rub pregnant women, and a possible zombie apocalypse. Plus, this happens—I have no further information:
G/O Media may get a commission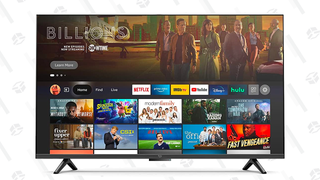 22% off
Amazon Fire TV - 50" Omni Series 4K - Early Access Deal
Doctor Who (BBC America, 9 p.m., Saturday): Peter Capaldi's Doctor investigates the slowest Earth invasion since the "Year Of The Slow Invasion," when London starts crawling with suspicious trees. Alasdair Wilkins suspects J.R.R. Tolkien, Peter Jackson, maybe a Lorax—he'll let us know.
Saturday Night Live (NBC, 11:30 p.m., Saturday): Reviews (like Dennis Perkins') suggest that the current SNL cast is still trying to find itself, something that's unlikely to happen when the rubber-faced comedy juggernaut that is Jim Carrey brings that all-devouring In Living Color energy to Studio 8H to promote that Dumb And Dumber sequel all the kids are so excited about. Australian rapstress/unwise Tweetstress Iggy Azalea tags along for extra subtlety.
Regular coverage
The Legend Of Korra (12 p.m., Friday)
TV Club Classic
Transparent (2 p.m., Friday): Eric Thurm's reviews of this Jeffrey Tambor series about a patriarch-turned-matriarch have been straight A's. All right, there was one B-plus in there, but that's just Eric trying to keep his "cool reviewer" cred.
Elsewhere in TV Club
Newest A.V. Club film reviewer Keith Uhlich might have drawn the short straw to review the risible Bigfoot Blair Witch-knockoff Exists (from one of the Blair Witch directors, no less), but at least he brought back the best screen shot of the week. (Damn this A.V. Club hazing!) Them in her column "Who In The World Is Cameron Esposito," the A.V. Club contributor and stand-up comic grades her childhood Halloween costumes and explains how the holiday acts as a potent metaphor for gay kids' (and adults') identities. (Bonus points for the 9-year-old Cameron's bloody pirate costume photo.) Meanwhile on the comics front, Oliver Sava eloquently bemoans the impending cancellation of one of his favorite titles, Marvel's She-Hulk. Praising the book (and urging the "House Of Ideas" to change its collective mind, Oliver states:
She-Hulk is the perfect comic for fans of TV shows like The Good Wife, offering sophisticated legal drama focused around a multi-dimensional female lead, but also incorporating humor and a classic sense of superhero fun to keep the tone light and breezy.
What else is on
Alpha House (Amazon): John Goodman and The Wire's Clark Johnson return for the second season of this political satire from legendary Doonesbury and Tanner '88 author Gary Trudeau about a quartet of Republican senators sharing a townhouse. "John, did you leave your obstructionist agenda open on top of my disenfranchising voting law again?" "Yeah, Clark—but the Pigeon sisters are coming over to watch Fox News later, and I needed room for them to lobby, if you know what I mean!" (Note: Not dialogue from Alpha House, as far as I know.)
Friday Night Lights (ESPN Classic, 7 p.m., Friday): A.V. Clubber Les Chappell has been suffering through this stellar show's admittedly misbegotten second season (if his Twitter feed is to be believed). Which no doubt has him longing for these back-to-back season one episodes, where showboating QB Voodoo supplants Matt Saracen on the Panthers. Poor Matt Saracen—he's like the Kansas City Royals of Dillon, Texas.
Cristela (ABC, 8:30 p.m., Friday): In his pre-air review, Erik Adams expressed his admiration for standup comic Cristela Alonzo's autobiographical sitcom, saying, "The show deals so well with identity because its own identity is sharply defined and hard-won." In tonight's episode, Cristela convinces Maddie to dress up as Hall and Oates with her—which has me hoping for an adorable musical confrontation with Kate Micucci and Riki Lindholm for some reason.
Shark Tank (ABC, 9 p.m., Friday): Humble, oft-delusional tinkerers try to get mean millionaires to fund their inventions. There's only one incarnation of this reality show I'd watch (okay, maybe two), but you guys have fun.
Grimm (NBC, 9 p.m., Friday): In the other supernatural season premiere tonight, Nick adjusts to the loss of his Grimm powers. Which does sound like something you'd need to process.
College football: Alabama at Tennessee (ESPN2, 7:30 p.m., Saturday): After actually losing a game earlier this year, the #4-ranked Crimson Tide have been pummeling teams like a bunch of Hulks with migraines. Pity poor, unranked Tennessee (3-4). Pray for them.
The World Series: Games 3 and 4: Giants and Royals (Fox, 8 p.m., Friday and Saturday, Fox): Everyone loves a good underdog story. Or at least they used to, if the abysmal ratings for this year's Series are any indication. Don't you people know that the small market, underfunded Royals are this year's Matt Saracen, for God's sake?
The Haunting (TCM, 8 p.m., Saturday), Village Of The Damned (TCM, 10 p.m., Saturday), The Curse Of Frankenstein (TCM, 11:30 p.m., Saturday): Turner Classic Movies presents a triple feature of classic black-and-white horrors involving stiff-upper-lipped doctors and scientists dealing stoically with, in turn, a haunted mansion, evil space children, and an undead monster man with a crazy brain. TCM knows full well that when George Sanders finally loses his cool, it's time to panic.
High School Possession (Lifetime, 8 p.m., Saturday): When Lifetime does Halloween, you know you'd better hang on for the demonic thrill ride of your life! In this original movie, a teen reporter suspects her friend has been seduced—not by an abusive boyfriend or any of the network's medicine chest of TV movie addictions—but by Satan himself! Ione Skye is on hand, perhaps asking, "Tanya!? What's wrong with you, Tanya!? Tanyaaaa!!!"
The Good Witch's Wonder (Hallmark, 9 p.m., Saturday): Not to be outdone by those masters of horror at Lifetime, Hallmark brings out its own tale of terror, with the seventh installment of this film series about Catherine Bell's good witch (Cassandra Nightingale!) playing matchmaker and running a darling little boutique. Watch it…if you dare! Really nailing the Hallmark horror vibe, here's Constantine on just the loveliest day, perhaps heading to buy some of Cassandra's scented candles!
They Live (Sundance, 9 p.m., Saturday): John Carpenter's satirical sci-fi cult semi-classic, in which Keith David's refusal to don a certain model of eyewear is questioned most strenuously by Rowdy Roddy Piper. For about six minutes.
In case you missed it
Black-ish: Pilot Viruet was a little taken aback by this promising new sitcom's take on the whole "to spank or not to spank" issue, but full of praise for the show's great child actors—whose fear of being physically abused was pretty adorable.