When Jack White announced two weeks ago that The White Stripes were no more, my Twitter and Facebook feeds were evenly split between people mourning the loss of one of the most exciting, entertaining rock bands of the '00s, and people shrugging the news off, saying, "Well, Jack White has half a dozen other bands to fall back on." Me, I'm a mourner. I'll grant that Jack White has stayed plenty busy between White Stripes albums: As the honcho of his own Nashville-based indie label/retailer Third Man Records, as the producer of various retro-rock and roots-music albums released by Third Man, and as a full partner in the bands The Raconteurs and The Dead Weather. And no doubt White could step into a studio tomorrow and record a solo album representing the principles of simplicity and spontaneity that The White Stripes stood for.
The real question here is: What does Jack White miss by not having his "sister" Meg on drums? Even people who like The White Stripes often treat Meg's primitive drumming, murmuring voice, and alien stage presence as a running joke. Mightn't a musical separation from Meg be liberating for Jack?
Well, maybe. I can't deny that I'm looking forward to hearing whatever Jack White does next, especially since in my opinion, the last White Stripes album, 2007's Icky Thump, was the band's best. But just because Jack was the primary creative force in The White Stripes doesn't mean Meg was inessential. I'll quote Jack himself, from an interview I did with him just before Icky Thump was released:
AVC: Does a White Stripes song have certain parameters?

JW: Oh yeah, lots of them do. There's an overall structure of simplicity, and it revolves around Meg's drumming style. And it can't be beat. We can't do those structures in The Raconteurs. We couldn't do them if we wanted to, and that's the beauty of Meg. In The Raconteurs, there's so many more components, so many more personalities involved. If you get another person in the room, you're dealing with something else. It's a different kind of collaboration, you know? The parameters of The White Stripes… you know, 70 to 80 percent of what we do is constriction, and the other 20 to 30 percent is us breaking that constriction to see what happens.
What I've always appreciated about The White Stripes is that while Jack White maintains a carefully constructed public persona, his approach to music is more of-the-moment. He's never been a big one for set lists, or for spending a year writing songs, then heading into a studio to record them. Each White Stripes album is—or was—a document of the weeks Jack and Meg spent on it, and of whatever they were inspired to do during that time. Like a painter who gets booked for a gallery show and then frantically starts filling up canvases, Jack and Meg didn't start a White Stripes record until they'd cleared their schedules and blocked out the studio time. And onstage, they strove to be just as extemporaneous. In that same 2007 interview with Jack, he told me:
I've always thought that if you say to somebody, "Okay, make sure you've got the lighter fluid and a box of matches on top of my amp, because I'm gonna set my guitar on fire tonight," and it gets managed in some way, there's no excitement to it. It becomes a different thing altogether, again, like a Broadway show. But if I just have lighter fluid in my pocket, and I have some matches tucked under my sleeve, and I come out and just do it, and I don't even tell Meg about it, then something explosive happens. I think the crowd immediately can smell when something's not planned. And I think they appreciate it very much. When the crowd notices something that wasn't planned, they notice that something unique happened tonight.
G/O Media may get a commission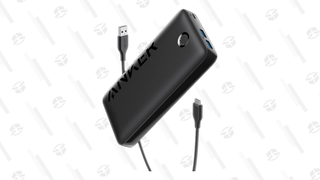 20% Off
Anker 335 Power Bank
Given the strange relationship between Jack and Meg—former spouses pretending to be siblings—and given that a big chunk of their 2007 tour was cancelled because of Meg's struggles with an anxiety disorder, and given the sometimes snippy give-and-take between the two evident in the documentary The White Stripes Under Great White Northern Lights, it's entirely likely that Meg lost interest in being the muse/obstacle to Jack's intense creative process. The statement on The White Stripes' website announcing the end of the band tries to put a positive spin on the dissolution, and there's no real reason to doubt its "everybody's healthy and happy and friendly" tone. (Because, honestly, while I'm curious to know if there's more to the story than what we're getting, I also realize that it's really none of my business.) But for everyone who thinks Jack White's music will be much the same without Meg by his side, I'd only ask if they think Paul Westerberg's solo albums are more or less the same as his albums with The Replacements, or if Frank Black's records are as good as the Pixies'. Granted, both Westerberg and Frank Black were losing a little of their creative fire even before they broke up their bands. Nevertheless, it's a mistake to think that even the most dictatorial lead singer-songwriters aren't influenced and inspired by their longtime mates—especially if they all started out together.
Sometimes it's a matter of bandleaders working around their colleagues' limitations as musicians. Sometimes it's a matter of them steering clear of songs that'll get them roundly mocked by people who've known them since they were all in junior high together. But the effect of tailoring music to a certain group of people is never as negligible as we might think.
Collaboration is one of the most mysterious and misunderstood aspects of art—and misunderstood not just by fans and critics, but by the artists themselves. In Don Letts' excellent documentary about The Clash, Westway To The World, Joe Strummer talks about the reasons why the band broke up, and sounds generally angry at himself for not working harder to resolve what amounted to petty problems. By the end of his life, Strummer knew what he didn't know in the early '80s: that what made The Clash special wasn't the individual efforts of Strummer, Mick Jones, Paul Simonon and Topper Headon, but how they competed with and fed off each other. Along the same lines, someday soon Quentin Tarantino will make his first movie without editor Sally Menke, who died suddenly last year. Menke wasn't the sole contributor to Tarantino's success (any more than his former pal and collaborator Roger Avary was), but she played a significant role in shaping his work and guiding his thinking, and a Tarantino film without her hand will likely be different in ways both perceptible and unpredictable.
So it will be with Jack White. Some may wonder why he'd abandon the White Stripes name just because he's down one drummer, but to me, the choice makes sense. That particular White Stripes feeling, born from two people who've spent more than a decade gathering to make new noises out of nothing… Well, that's over for now. Jack's going to have to start again, remembering his own words:
Well you're in your little room
and you're working on something good
but if it's really good
you're gonna need a bigger room.
And when you're in the bigger room
you might not know what to do.
You might have to think of
how you got started 
sitting in your little room.