Like most of us, Will Smith found After Earth to be an unpleasant experience. While promoting the upcoming thriller Focus, he opened up to Esquire about his worst movie. How bad was it? Worse than Wild Wild West, the previously accepted benchmark for lousy Will Smith experiences.
In After Earth, Smith plays high-ranking space general Cypher Raige, who finds himself marooned on a post-apocalyptic Earth. Injured and immobilized, he must remotely observe his son as he traverses an unforgiving landscape populated with savage predators. That synopsis is also a pretty apt metaphor for how After Earth was received by audience and critics, and why Smith doesn't care for it.
"Wild Wild West was less painful than After Earth," Smith confesses, "because my son was involved in After Earth and I led him into it." In what was probably the worst Monday in the Smith's life, he got the news that After Earth tanked just before the news that his father had cancer.
It was this low that led him to change his entire perspective on success. Smith shares, "I just remember that day I made the shift from wanting to be a winner to wanting to have the most powerful, deep and beautiful relationships I could possibly have." He says that the failure led to a long hiatus and soul-searching, admitting, "I had to dive into why it was so important for me to have number-one movies." (Presumably this introspection included an appreciation of the $2.7 billion his movies have grossed, the level of influence that it takes to get a turd like After Earth made in the first place, and his movie star wife. There's also that $2.6 million set trailer.)
Realizing that he could find happiness in beautiful relationships (and a net worth greater than the GDP of Palau), Smith has since realized that you have to take the good with the bad. That's wisdom he tries to share with his now-famous kids when they feel like social media piñatas. "There's a certain amount of suffering that you have to be willing to sustain if you want to have a good life," Smith advises. "The trick is to be able to sustain it with your heart open and still be loving."
G/O Media may get a commission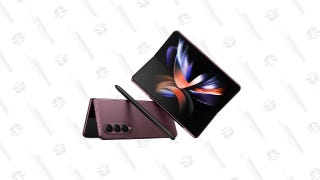 Save Up to $300
Galaxy Z Fold4
So take heed from The Fresh Prince: Open your hearts, be loving, and don't make shitty movies with your son.