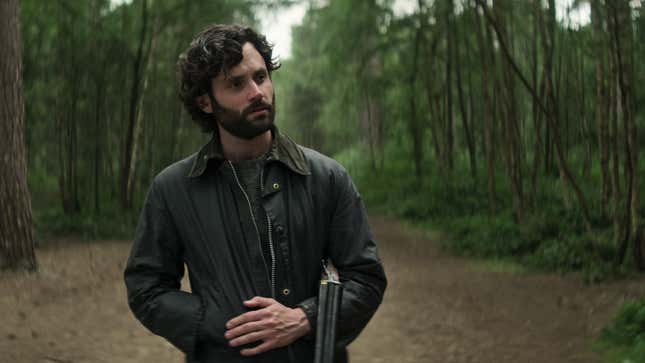 Anyone who's watched You knows that Joe Goldberg (Penn Badgley) can't help but attract murderous drama. The man is drawn to it, whether he's living in a New York City walkup, an affluent Los Angeles suburb with his family, or a spacious London loft by himself. He'll always find someone to spy on, stalk, save, and slash while narrating his incredulous thoughts in a deep voice. It's the show's amusing selling point but also its repetitive downfall. Season four, which is divided into two parts, kicks off with five episodes that, while overstuffed, are engaging because of Badgley's committed performance and the script's dark humor.

You's sharp commentary on Joe's pathological behavior is relevant even as the mystery changes into a humdrum whodunit. The suspense is bland but binge-worthy, proving that You belongs on Netflix (although the streamer's decision to split the season is a ridiculous choice), which brought new life to the Lifetime original after picking it up for season two in 2019. Sera Gamble and Greg Berlanti's psychological thriller, based on Caroline Kepnes' novels, thrives on unpacking Joe's toxic and terrible actions without defending them. He's not a swoon-worthy anti-hero; he's a straight-up villain.
The show also wisely attempts to deconstruct years of programming about who is considered a romantic lead. Joe seems like a disarming, considerate lover boy who can do no wrong, except he's a stalker who dangerously projects his insecurities on the women he latches onto. Each season provides character development and backstory as he sincerely thinks he's trying to improve. In seasons two and three this included Joe facing off against his unhinged match, Love Quinn (Victoria Pedretti, who is sorely missed in season four). Any growth by Joe is stunted because he still kills despite saying in voiceovers that he really, really doesn't want to. (Blaming the universe for putting you in these positions isn't actually being self-aware, Joe!)
At this stage, You has to work hard to justify its existence, subvert its own structure, and explain how Joe keeps getting away with his many crimes. Yes, he's a good-looking white man so it's easier for him to evade authorities. Still, with the number of bodies he leaves behind every time he runs, how long can this go on? Season four isn't immediately concerned with these burning questions, however, which is kind of a problem if you're breaking it into two parts.
G/O Media may get a commission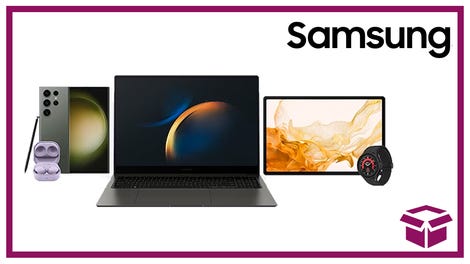 24 hour deals
Discover Samsung - Daily Deal
The initial episodes suffer by focusing on establishing Joe's new life. He's left his sins behind (or so he believes) when he rushes to Europe to reunite with Marienne (Tati Gabrielle) after killing his wife, Love, assuming Marienne is willing and ready to take him back. The show's action swiftly moves to London, explaining why Joe isn't in Paris with his so-called dream woman but has instead transformed into English professor Jonathan Moore. The class he's teaching? American Iconoclasts of the Short Story, of course. His pretentiousness doesn't go away with a new identity, job, and outfits; neither do his blue cap or body-disposing skills, both of which he uses in the premiere.
Joe ingratiates himself with London's elite crowd, thanks to a wealthy coworker named Malcolm (Stephen Hagan), and he's captivated by Malcolm's icy girlfriend, Kate (Charlotte Ritchie). After partying with their friends one night, Joe wakes up the next morning with a dead body in his kitchen. He spends the next few installments mingling with a crowd he loathes, desperate to find out who is framing him for murder. The hunter becomes the hunted once the real killer takes a page out of Pretty Little Liars, taunting Joe via texts and making him do their dirty work. He's not wholly innocent, of course, and finds himself in a bloody mess of his own making once again.
You partly succeeds with this whodunit angle because it's admittedly fun to watch a curmudgeon like Joe faking his way through a posh society to learn who knows the truth about him. It's a wild diversion from anything You has done so far. (Beyond that, the show just needs to keep spicing up its structure to remain fresh.) Badgley unsurprisingly pulls it off. His expressions and body language switch from affable and charming to maniacal and self-loathing depending on Joe's circumstances. One of the strongest hooks of previous seasons was Badgley and Pedretti's incredibly chaotic back-and-forths. In her absence, he's the sole notable performer of season four so far.
There's a slew of new faces, yes, but all of them are haphazardly introduced in a rushed premiere. EastEnders' Tilly Keeper is hilarious as Lady Phoebe, an heiress who quickly befriends Joe. The White Lotus' Lukas Gage plays her partner, Adam, and makes the most of his one-note character. Ultimately, though, the first five episodes are entertaining but mostly serve as an exposition-heavy launchpad for the second half of season four, which arrives on March 9. Hopefully, those last five eps pay off.
---
You season 4A premieres February 9 on Netflix.