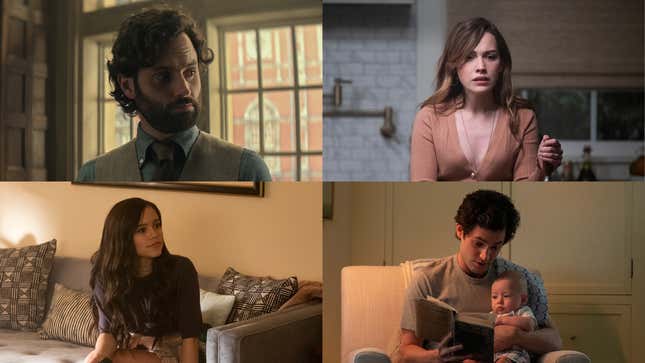 Hello, You.
The Lifetime-turned-Netflix thriller returns for season four on February 9, with the streaming platform (frustratingly) splitting the upcoming batch into two parts. So that means five episodes will premiere this month, and the remaining five will drop on March 9. On the plus side: A bearded Penn Badgley is back as Joe Goldberg, taking his stalking, bludgeoning, book-loving skills across the pond.
In case you need a refresher—big spoilers abound—Joe adopted a new identity to flee the country at the end of season three. He killed his wife, Love (Victoria Pedretti), and burned their house so everybody assumed he was dead too. Now he's on the hunt for Marienne (Tati Gabrielle), the library coworker he had an affair with. Love was able to warn her of Joe's dangerous tendencies just in time (well, Love's initial plan was to kill her, let's not forget), so Marienne ran away to Paris with her daughter. Joe, an A-grade stalker, ends up there too.
Except You's fourth season is set in London. Joe has found a new job as a university professor (sure, why not). With his trusted blue cap, he's still looking for Marienne while hobnobbing with an elite U.K. crowd. The upcoming episodes will reveal new victims, deaths, and brand-new suspense. With all that in mind, here are the questions The A.V Club would most like to see answered.