What Are You Listening To? is a weekly rundown of what The A.V. Club staff has in rotation. Listen to these songs and more on our Spotify playlist, updated weekly. 

---
Drake, "Nice For What"
Drake's 2018 rehabilitation tour continues unabated. Last week he released a full, glossy video for "Nice For What," and it's probably the best thing the rapper's done in his very-good 2018. By now, you've either heard the track or heard about it, flipping an angelic Lauryn Hill sample into a corny but heartfelt night-out anthem, with a video full of Hollywood firepower: Issa Rae, Olivia Wilde, Letitia Wright, Tiffany Haddish, and more, all filmed in luxurious blues and pinks and reds. It's a classic Drake track, particularly in the way it pilfers regional sounds, here taking New Orleans bounce to the stratosphere on the outro, when air-raid sirens sound out and Murda Beatz unleashes an avalanche of vocal clips over the snappiest hi-hats 2018 technology can muster.
Following the feel-good "God's Plan" and its goofy, semi-philanthropic video, it's clear Drake is ditching the aggrieved tone of Views and the bachelor-pad nihilism he had been descending into in favor of something lighter and poppier. (The videos, both directed by Karena Evans, help matters immeasurably.) He even made BlocBoy JB sound fun on their excellent collaboration "Look Alive." This is a fundamentally good development. Drake's done excellent, angry rap before, but his most transcendent moments are his poppiest. Last year's More Life was fun, but diffuse; his collected releases in 2018 point toward something just as light and gently experimental but built more around his self-aware public persona. If you hate Drake, which many people do and always will, this may sound ominous. The music, as ever, is its own counterargument. [Clayton Purdom]
---
Kamasi Washington, "Fists Of Fury"
Jazz hasn't yielded a figure like Kamasi Washington in decades: a visionary rock-star performer who has transcended the genre's towering boundaries and who adherents hope can lead it out of stuffiness and obscurity. And it's no wonder why his compositions are connecting. They're virtuosic without sacrificing spirit, arranged with a poetic grandeur that makes them ornate, evocative, and eminently accessible. June will bring his second proper LP, Heaven And Earth, the first samples of which were shared this week. "The Space Traveler's Lullaby" is another gorgeous Washington creation: sweeping, aspirational, and every bit as delicate and cosmic as its title implies. (And it has coda that'll send shivers down your spine.) The track I've been stuck on, though, is "Fists Of Fury," a call to action against injustice that builds a direct thematic bridge between our current moment and the jazz of the civil-rights era that Washington so expertly channels. It comes swinging out of the gate with an undercurrent of blaxploitation-era funk that becomes entwined with cacophonous Latin percussion, laying down an electrifying foundation for the vocalists and providing an ingenious rhythmic counterpart to Washington's dizzying solo. [Matt Gerardi]
G/O Media may get a commission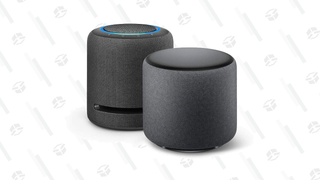 25% off - Prime Exclusive
Echo Studio + Echo Sub Bundle
---
SCB, "The Cut"
SCB is the alias of British producer Scuba, a.k.a. Paul Rose, where the moody dubstep artist exorcises his darker, more techno-driven impulses. This week's Caibu marks the first proper SCB full-length after several years of singles and EPs, and Rose certainly went all in on its ambitions: Caibu concerns a "fictional narrative in which a hypothetical timeline is corrupted by a climate-related disaster," while its title "refers to an imagined surgical procedure where cognitive ability is augmented through transplant from one brain to another." That's a lot to ask of music that's built on a minimalist arrangement of dryly crisp snare figures, laser-strobes, and arpeggiated pulses, even with track names like "Laboratory Conditions" and some dialogue samples thrown in—and Rose probably didn't do the album any favors last year, when he promoted it by hypothetically, maybe joking about eugenics by way of framing its dystopian themes. But Caibu gets there (and overcomes those lingering qualms) through its acute focus and rigid aesthetics, where standout tracks like "The Cut" convey plenty of cinematic sweep and rising tensions—its anxious '80s medical-drama synths and respirator hiss subliminally evoking doctors racing to save a patient. There's nothing new about techno adopting a bleak sci-fi theme, of course, but Caibu approaches it with admirable and unusual intensity. [Sean O'Neal]