It's not a new idea that reality-show competitions are rigged by the producers, but Thorgy Thor is the rare contestant who speaks out when she sees that the odds are stacked in favor of some queens more than others. It's an easy way to get eliminated, but in the case of this week's RuPaul Drag Race All Stars, I can understand why Thorgy gives in to the conspiracy theorist in her head. The queens are all assigned different iconic singers for a one-night revival of VH1 Divas saluting RuPaul, but the quality of the material they're performing varies greatly and has a significant impact on the performances. Thorgy recognizes this early on, and while she loves Stevie Nicks, she doesn't think her diva and her song will be enough to elevate her to the top of the competition.

Thorgy is bad at playing the Drag Race game, but she does make a valid point that the game isn't fair this week. Shangela is the big winner of "Divas Lip Sync Live," but that's because she doesn't have the shackles forced on the other queens. While everyone else goes out and lip syncs to a number recorded in the style of their specific diva, Shangela gets a comedy routine where she channels Mariah Carey's catastrophic 2016 New Year's Eve performance, giving her a much richer character to play than the people who have to deal with following the music. There's a concept baked into the recording of Shangela's track whereas most of the other songs are straightforward celebrity impersonations of RuPaul music, and that gives her a major leg up.
Shangela's track tells her what kind of character the judges are expecting to see from her Mariah, and she goes way overboard with it when she shifts into "method acting" mode and gets into character for dance rehearsal with Todrick Hall. Pretty much everyone is annoyed, but Todrick also applauds Shangela for committing to her character so much, even when she was under pressure to drop it. Shangela is obsessed with the Drag Race game because it's been part of her drag identity from the start, and she's playing to win this season. It's not easy to stay in character when you know you're pissing people off, and it takes courage and confidence for Shangela to show up late and not listen to direction because you're being Mariah.
Shangela knows that the judges and viewers want drama, and she does that through this entire episode. She sets up a rivalry between herself and Milk (which I am actually pretty interested in), has the most spectacular Rudemption runway look, and starts floating the idea of Survivor-style alliances with the bottom two queens during deliberation time. She emphasizes her personal relationship with Kennedy, and uses it to find out how big of a role personal friendships play in the elimination process. Would Kennedy eliminate her if the positions were switched? Kennedy says that losing that friendship isn't worth the $100,000, and while we may never know if Kennedy would stay true to that in practice, that affirmation is worth more to Shangela than Thorgy's flimsy alliance.
G/O Media may get a commission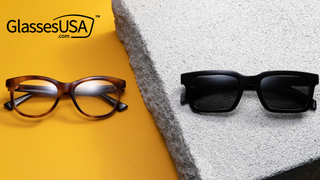 60% off frames
GlassesUSA.com Back to School Sales
BenDeLa is the other winning queen this week, and like Shangela, she also gets a bigger concept for her performance as Dame Julie Andrews singing "Call Me Mother," a contrast of character and music that gives her a lot to work with in performance. She doesn't have an easy task given the difficulty of the quick-spitting track, which took RuPaul five days to record, but she nails the performance and earns that mic drop at the end. Her choreography is tough but she hits all of her moves, using them to feed her Julie Andrews pep. Her Rudemption outfit is very much keeping with the BenDeLa norm, and the explosion of beads gives the dress a pleasing aural element, jingling with each step she takes. She deserves to be a winner for that Julie Andrews performance, but it's another example of a queen having a much stronger foundation to build on thanks to her character and song assignments.
The judges admit that Stevie Nicks is a challenging diva, but the entire purpose of Drag Race is to give you challenges that test your limits as a drag queen. How do you make Stevie Nicks into a "yass queen" drag diva? I think Aja has the right instinct with leaning into the witchy aspect of Nicks' persona, and I would have found a way to get naked given the song is "Born Naked." I don't know how comfortable Thorgy is in a nude bodysuit, but tearing away Stevie's bohemian ensemble and performing half of the number in the nude would certainly be memorable. But Thorgy would never do that because she has too much respect for her diva. Her reverence of Stevie gets in her way, and she's afraid to do a big drag version because that doesn't match her mental image of Stevie and how she behaves.
At the end of the day, RuPaul's Drag Race is a game, and queens that know how to play get the farthest. Thorgy Thor isn't in a good headspace to compete in All Stars. She's still completely caught up in the past, and can't let go of insecurities that grew during her season. She talks a lot about how there was no room for anyone but Bob in season 8, which is already wrong because each of the final five queens was a big presence in the season, and I think Thorgy has turned Bob into this giant supervillain because she doesn't want to accept that she might be inferior to those other contestants. That's not to say that she's an inferior drag queen. She's just not as good at playing the Drag Race game, which is a completely different thing than being a working drag queen who tours clubs and does live shows. But as we've already seen this season, your performance on drag race is how most of the world will judge you as a drag queen, and Thorgy drowns under that pressure.
BeBe Zahara Benet also lands in the top, which enrages Thorgy because she sees the judges praising her for what Thorgy believes to be the bare minimum. BeBe doesn't do much for her Diana Ross impression, but there's a specificity to those small gestures that makes her transform in a way most of the others do not. The hair bounce is the best moment, and it works especially well because the facial expression and the make-up are so on point. BeBe's Rudemption look gives us sharp executive realness, but it's also her redoing her original entrance look from season 1, which is not a challenge. It feels like she didn't listen to the directions, but as was made clear last week, BeBe also didn't ever do badly in her season. If RuPaul is giving them the option to repeat any look they weren't happy with, then I guess I shouldn't be irritated that BeBe picks this one, but there's no theme for the entrance looks, which takes away some of the imagination.
Aja and Trixie give totally serviceable impressions of Amy Winehouse and Dolly Parton, respectively, but they don't really have anything fun to do outside of the lip syncing and the choreography. They both shine on the Rudemption runway, and Aja continues to show why she belongs in All Stars with her polished, glamorous, and very traditional take on Princess Disasta. Trixie goes in the opposite direction as she brings out the ugliest dress in the world, wearing a multi-tiered, full-body, baggy pink monstrosity covered in growths of fabric. The dress is so ugly it made me burst out laughing, and the cringes from the judges make it even better. Aja and Trixie are both safe and happy with that outcome, unlike Milk, who cries because the judges won't celebrate her mediocrity.
MIlk has a wildly inflated ego that isn't going to be stroked by her competitors, and when she doesn't end up in the top, she has a mini-breakdown that is uncalled for at this early point in the competition. Milk thinks that she deserves to be commended because she was in 8 of 10 numbers and did everything that was asked of her, but that's not enough on this show. Without the track, I wouldn't know Milk is Celine Dion. The hair and makeup don't do it, and even though I scroll through Met Gala pics every year, I don't have total recall of what Celine wore, so the outfit would just confuse me. Celine occasionally does some wacky things with her body when she sings, but Milk goes too far with the exaggeration and ends up accentuating the masculine aspects of her body. The backwards suit is the most obvious choice for Celine, and it also would have been the smartest one, showcasing Milk's androgyny as she goes hyper-femme for her runway look. She wears her dress well, but it's a pretty garment on a pretty queen, nothing that really demands attention like Shangela in a plastic ball.
Chi Chi lands in the weird not-quite-bottom slot that Thorgy was in last episode, where she gives a solid performance, but there are still aspects that bug the judges. The judges like her Patti LaBelle and Michelle thinks her neon runway look is a big improvement over her first attempt, but there's still a roughness around the edges that Chi Chi could clean up. I love that roughness, and there's a charming clumsiness to Chi Chi that makes her very endearing. She's extremely confident even when she's a disaster (see: last week's dance routine), and when she pulls it together, she's a hell of a lot of fun to watch. Her Patti LaBelle is overflowing with enthusiasm even though she looks damn goofy most of the time, and there's an excitement at the core of Chi Chi's performance that makes it very joyful and pure.
Todrick thinks that because Kennedy can dance she'll be fine with the toughest choreography, but Kennedy is a freestyle dancer who doesn't learn steps very well. She struggles in rehearsal and that struggle continues in her performance, where everything is out of whack. She doesn't know the lyrics and the dancing isn't staccato enough to evoke Janet's signature moves, and it lands her in the bottom. She admits that she spent a lot more time on her runway look than her performance, but those priorities needed to be switched. That ice look did not need any more stones. Her brain and body needed a lot more time with lyrics and choreography.
The lip sync to The Pointer Sisters' "Jump (For Your Love)" isn't phenomenal, but it has some fun moments like Shangela whipping out a jump rope. Shangela plays it straight while BenDeLa goes in her typical comedic direction, and she embodies a character who is similar to the one in her "Anaconda" lip sync, but different in important ways that inform the performance. That "Anaconda" performance was fun because it had a passionately clueless quality, but this week BenDeLa makes exhaustion her primary comedic tool. She's energetic at the start, but once she tears away the bottom of her dress she's wiped out from jumping and needs to calm down. She mimics Shangela's moves as she catches her breath, and it's a good example of interaction bringing some extra character to a lip sync and making it feel like a fuller performance rather than two queens frantically trying to grab the judges' attention.
After having to listen to Thorgy's whining for the entire challenge, Shangela eliminates her in a totally unsurprising turn of events. She wasn't going to send her friend home, and Thorgy has already shown that her inner saboteur is in complete control, so there was no hope in their potential alliance. Thorgy was obnoxious as hell in these last two episodes, and I think it would be a good idea for her to take some time to reach a more stable place in her emotional relationship with Drag Race. She needs to regain the spark that made her love drag and get back in touch with that positive energy, because she runs the risk of letting bitterness take over her entire persona.
Stray observations

I really hope this challenge isn't replacing Snatch Game. And if it's not, I hope Trixie gets the chance to do Dolly again and do more with that character. Although maybe it's best to do someone different at this point and break out of the country corner.

The deliberation scenes are no replacement for Untucked.

I didn't mention last episode's final moment of Chad and Alaska appearing behind Morgan because Drag Race screeners cut off just before the elimination, but the bar I was in went berserk when it happened. It's a final twist that makes me really excited to see how this all factors into the competition later, and it gives the episode some nice symmetry as the opening scene comes back into play.

I hope Shangela doesn't keep this Game Of Thrones thing up for the entire season. I expect her to get very far, and that will get really annoying.

I gave Dame Julie Andrews a high-five and a hug at a book talk/signing when I was 19. It is the greatest moment of my life.

Kennedy Davenport really loves putting shiny things all over her face.

Vanessa Williams uses the word "divaliciousness," throws shade at her former choreographer Sean Cheeseman, and delivers an epic Wilhelmina Slater clapback at Todrick Hall. She's absolutely wonderful as a guest judge.

There's a lot of taint-related humor in this episode, most of it involving Carson. It's pretty awkward.

"Milk, your talent can't be velcro."

"The Big And Milky, she is mighty confident, mama. Because a friend of a friend of a friend, who was a friend of a friend of a friend of Celine's said that it was, 'Lovely, gurl!'"

"We gave our wind machine to Beyoncé."

"Shush Valentina."

"She is straight-up not edited, not filtered, not watered down. Those lips are going to be pressed together and those eyes are going to be clocked and you're going to get two double blinks."

"Kennedy's just like a grumpy old man. She's like a grandpa. A grandpa who can't hear well, and is just kind of angry, but he's your grandpa! It's your grandpa in a wig!"

"You're beautiful."

"You know, this outfit reminds me I have pots in my sink I need to scrub."

"Reclaiming my lime! Reclaiming my lime!"

"Shangela, if you can hear me, there's only 30 more seconds of oxygen left in there."

"Can I just say, I loved you in Eraser. Oh my god. Eraser, baby! Eraser."

"I'm a huge Mariah fan, and I hope when she meets me, she won't know me."

BenDeLa: "These are actually the earrings that were given to us for that challenge in season 6." Ru: "I've been looking for those."

Ru: "Have you met the first lady of Cameroon." Bebe: "I have no met her, but she's heard of me, honey."

Todrick Hall: "This is like Bebe Priestly, Devil Wears Prada, the black version." Vanessa Williams: "Can we just say the black version of Devil Wears Prada is Wilhelmina Slater, hello, thank you very much."

"Girl, do you want Celine to come over here and sing you a song."